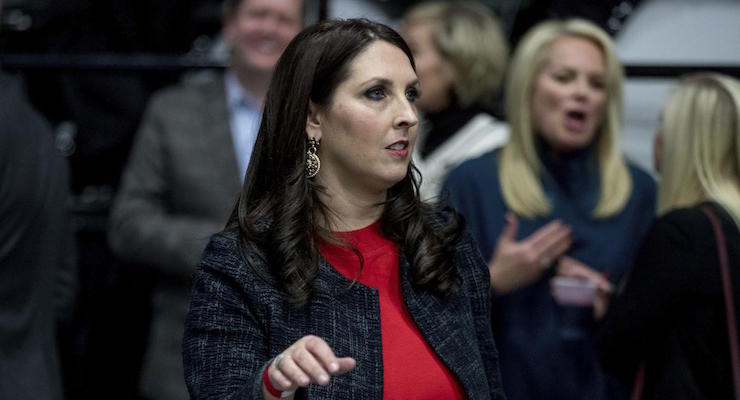 Republican National Committee (RNC) Chairwoman Ronna McDaniel slammed DNC Chair Tom Perez for vulgar comments he made during a rally Friday night. Chairwomen McDaniel called Perez's remarks were "dangerous" and his statements "undermine our democratic process."
"Chairman Perez's comments are dangerous and undermine our democratic process," Chairwoman McDaniel said in an emailed statement to People's Pundit Daily (PPD). "Perhaps Mr. Perez needs a lesson on how the Electoral College works but whether he likes it or not, Donald Trump is our president. He should be ashamed of himself for insulting the millions of Americans who don't share his liberal vision for our country."
At an event hosted by the New Jersey Working Families Alliance Friday night, Mr. Perez told the crowd President Trump "didn't win this election," and that he doesn't "care" if people are upset with his speech because "Republicans don't give a shit about people."
"Donald Trump, you don't stand for our values," Mr. Perez said. "Donald Trump, you didn't win this election."
Before calling the president's legitimacy into question, he praised protestors who showed up on Inauguration Day to "resist" the newly elected president and Republican majority. The protestors, in D.C. and elsewhere, were holding signs that read "Not My President" and "Impeach Trump" even though he hadn't yet taken the Oath of Office.
"The Democrats are the minority party because of comments like those, and if he thinks this is the way back from the wilderness, he's sorely mistaken," Chairwoman McDaniel added. "Mr. Perez should apologize and Democrats should denounce the rhetoric coming from the new leader of their Party."
Chairwoman McDaniel was the former head of the Michigan GOP before she was nominated to take over for Reince Priebus, who now serves as the White House chief of staff. She is the first women to lead the GOP in 40 years and an early supporter of President Trump. With Chairwoman McDaniel as the head of the Michigan GOP, the New York businessman became the first Republican presidential candidate to carry The Great Lakes State since 1988.