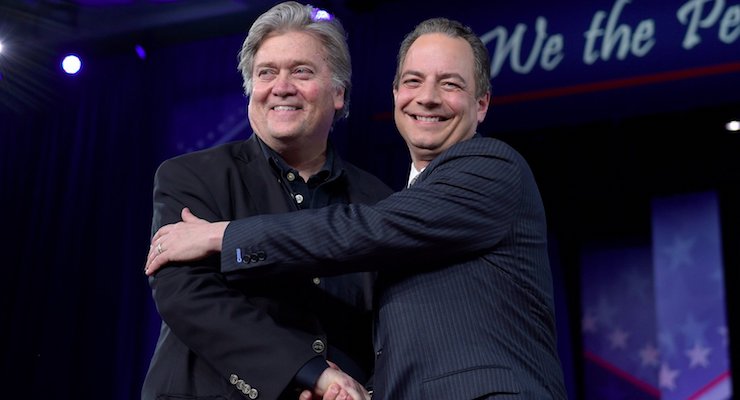 Steven Bannon is out as chief strategist at the White House in is the latest in a series of big moves to reset and shake up the Trump Administration.
"White House Chief of Staff John Kelly and Steve Bannon have mutually agreed today would be Steve's last day," White House Press Secretary Sarah Sanders said in a statement on Friday. "We are grateful for his service and wish him the best."
While reports indicate President Donald Trump had made the decision to fire him, People's Pundit Daily has learned Mr. Bannon submitted his resignation in writing two weeks ago on August 7. He apparently may return to Breitbart News, which he led before joining the Trump campaign.
Still, there are other sources saying he was fired and needed to go before the summit in Afghanistan at Camp David, at which remaining advisors led by H.R. McMaster will attempt to convince the president to approve the new surge.
The news outlet is gearing up to launch a full assault against globalists in the media and both political parties who sought to tank the Trump presidency.
President Trump briefly spoke to the speculation about Mr. Bannon's possible departure during a wide-ranging interview with reporters at Trump Tower on Tuesday. He downplayed his role in the campaign and praised him at the same time.
"I like Mr. Bannon, he's a friend of mine," he said. "I like him. He's a good man. He's not a racist. He is treated very unfairly by the media. But we'll see what happens with Mr. Bannon."