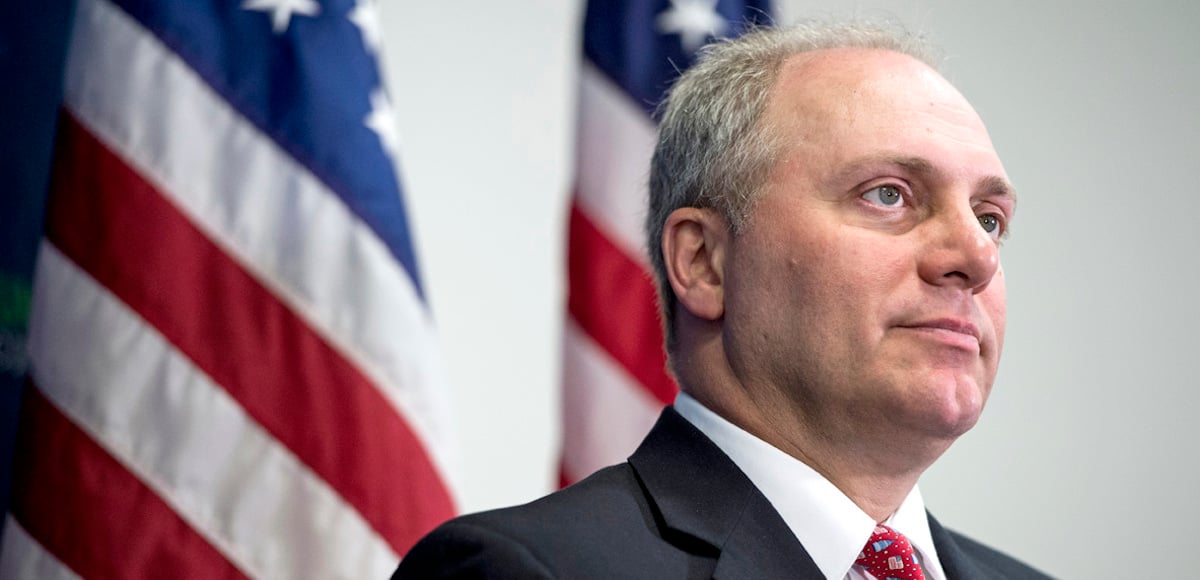 House Majority Whip Steve Scalise, R-La., made an emotional and triumphant return to the U.S. House of Representatives on Thursday. It has been a long road to recovery after he was shot and critically wounded in June by a leftwing gunman at Eugene Simpson Stadium Park.
Republicans were practicing for the charity Congressional Baseball Game.
"Our prayers have been answered," a visibly moved House Speaker Paul Ryan, R-Wis., said presiding over members gathered in the House.
As is customary in the lower chamber, Speaker Ryan asked the Majority Whip for what reason he was requesting the floor.
"To speak out of order," he quipped, a response that drew cheers and laughter from lawmakers and colleagues. "Thank you, Mr. Speaker. You have no idea how great this is to be back here doing work at the People's House."
Members of the House have long-used the closeness of the lower chamber to the People as a bragging right against the more elitist, disconnected upper chamber. There's always been a healthy reverence of each chamber and competition between members who serve in them.
When the House quieted down from the cheers and applause, Rep. Scalise began recalling that day and rattling off a list of those whom he believed deserved gratitude.
"It starts with God," he said. "When I was laying out on that ball field, the first thing I started to do when I was down and couldn't get up, was pray."
Rep. Scalise thanked the U.S. Capitol Police, who he called "real-life angels." He specifically named Capitol Police special agents Crystal Griner and David Bailey, two officers assigned to the House Whip's security detail.
"They're part of our family," he said. "As soon as those shots were fired, I'll tell you the first thing I prayed for was for David and Crystal to be successful in their duties."
Rep. Scalise said he could hear a different firearms discharge a different caliber, indicating they had immediately sprung into action. "If they didn't act so quickly," the Whip said, he would have been killed and others on the field that day would have either been killed, or at least gravely injured as he was.
"The power of prayer is something you just cannot underestimate," he insisted. "I'm a living example that miracles really do happen."
Ms. Griner couldn't be present for highly-anticipated return to the House on Thursday, but he had a message to deliver to Mr. Bailey who was in attendance.
"David, you are my hero," he said fighting back the tears. "You saved my life. Thank you so much."
President Donald J. Trump presented Ms. Griner and Mr. Bailey with the Medal of Valor, the highest honor a President of the United States can bestow on a civilian.
"It changed me," Rep. Scalise said of the event, "but not in the way you might think. It strengthened my faith in God and I got to see the good in people."
"As we fight the issues of the day let's rise about the differences of the day. People all over the world are counting on us."
James Hodgkinson, of Belleville, Illinois, was identified as the man who shot the House Whip and three others–including Special Agent Griner, Tysons Food lobbyist Matt Mika and congressional staffer Zach Barth–as Republicans were practicing for the Congressional Baseball Game.
Hodgkinson, 66, a leftwing activist supporter of Sen. Bernie Sanders, I-Vt., was shot and killed during the attack. He carried a hit list containing the names of six Republicans. On Facebook, he repeatedly posted Democratic claims that repealing ObamaCare would result in the death of Americans, and was obsessed with theories of Trump-Russian collusion.
After being shot and transferred to MedStar Washington Hospital Center, Rep. Scalise received several blood transfusions to combat blood loss and needed multiple surgeries on his hip area. Doctors were having trouble controlling post-trauma bleeding and MedStar warned his recovery would be a difficult battle for him and his family.
On Thursday, June 22, he was transferred out of the Intensive Care Unit (ICU) and doctors warned of "an extended period of healing and rehabilitation." But in July, MedStar readmitted and downgraded his condition to "serious" amid new concerns of infection.