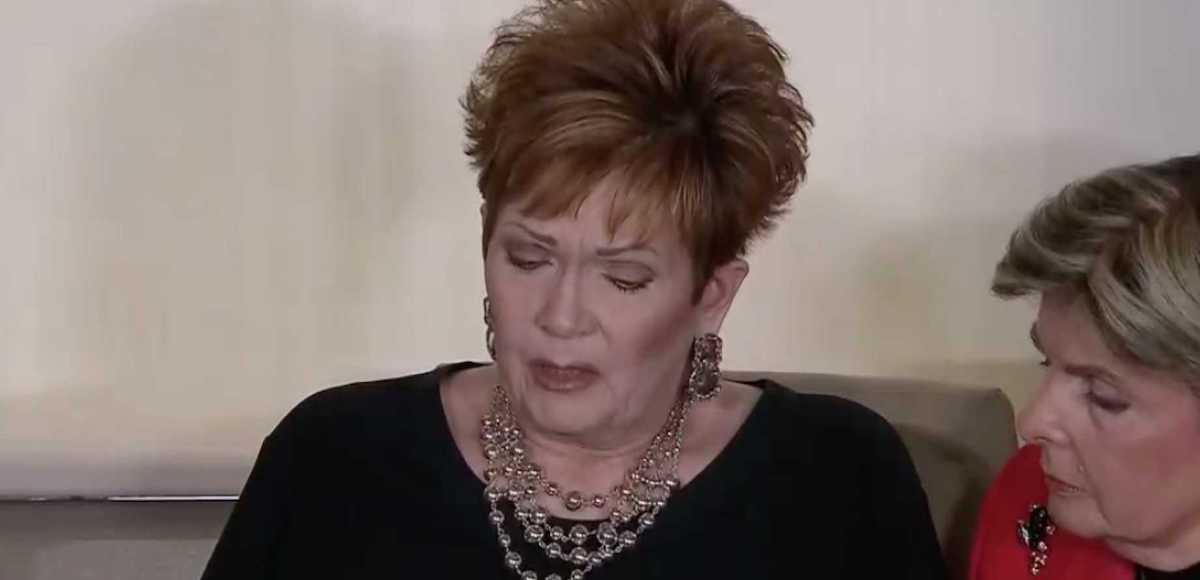 Beverly Young Nelson accused Republican candidate for U.S. Senate Judge Roy Moore of sexually assaulting her when she was a 16 year-old waitress in Alabama. Nelson, 55 (she turns 56 this week), made the allegations at a press conference on Monday with high profile attorney Gloria Allred.
She said Judge Moore was a regular at the Old Hickory House, a restaurant off of Highway 431 in Gadsden, Alabama. According to her allegation, Judge Moore had offered to give her a ride home but instead pulled the car around behind the restaurant.
She says he then locked his car doors, grabbed her, and attempted to violently force her face into his crotch. She resisted fiercely, the statement read, incurring bruises before he released her.
"I thought he was going to rape me," Nelson said. "At some point, he gave up."
Mrs. Nelson said Judge Moore told her, "You are just a child and I am the District Attorney of Etowah County; if you tell anyone, no one will believe you." He then let her out of the car.
According to Ms. Allred, her client's sister told her law firm that she told the story to her while still a teenager, that her mother heard of the alleged assault a few years ago, and her husband of 13 years discussed the matter with his wife before they were married.
She says that Moore offered to write a note in her yearbook, which she accepted. "I felt flattered and I said yes," she stated. Moore then allegedly wrote in her yearbook a flirtatious note: "To a sweeter, more beautiful girl I could not say Merry Christmas. Christmas 1977, Love, Roy Moore, Old Hickory House."
On Thursday, The Washington Post ran a story citing on-the-record interviews with four women who claim that when they were teenagers Judge Moore — in his 30s at the time — attempted to court or date them. Judge Moore vehemently denied the allegations and Campaign Chairman Bill Armistead released a preemptive statement in response to Mrs. Nelson.
Gloria Allred is a sensationalist leading a witch hunt, and she is only around to create a spectacle. Allred was the attorney who claims credit for giving us Roe v. Wade which has resulted in the murder of tens of millions of unborn babies.

We've said this before and we'll say it again: Judge Moore is an innocent man and has never had any sexual misconduct with anyone. This is a witch hunt against a man who has had an impeccable career for over 30 years and has always been known as a man of high character.

Let it be understood: the truth will come forward, we will pursue all legal options against these false claims and Judge Moore will be vindicated.
As People's Pundit Daily (PPD) reported, The Washington Post made an obvious effort to purify the political motivations of the initial accusers, but clearly omitted significant details about at least one of them. Deborah Wesson Gibson posted a "Doug Jones for U.S. Senate" video on her very liberal Facebook page and was clearly a Democratic activist.
The latest charges against Judge Moore increased the growing chorus of Establishment Republicans in D.C. calling on him to step aside, though the Secretary of State says his name will still appear on the ballot in December. According to the latest poll conducted by Emerson College, Alabama voters believe the stories are the result of a political hit job and still overwhelmingly back Judge Moore.
Roy Moore and his wife speak about the allegations brought forth by Beverly Nelson. pic.twitter.com/PXLQrxtV73

— Based Monitored??? (@BasedMonitored) November 14, 2017
UPDATE: While accusations as serious as this cannot be outright dismissed, they should also be vetted and there does appear to be some questions surrounding the story. Mrs. Nelson claimed Judge Moore locked the doors while they were inside the vehicle, trapping her inside. While automatic door locks were technically offered in limited high-end vehicles in the 1970s, someone inside the vehicle was not locked inside. The door opened from the inside. Child locks were not available in automobiles until the 1980s.
We will continue to responsibly report these allegations.