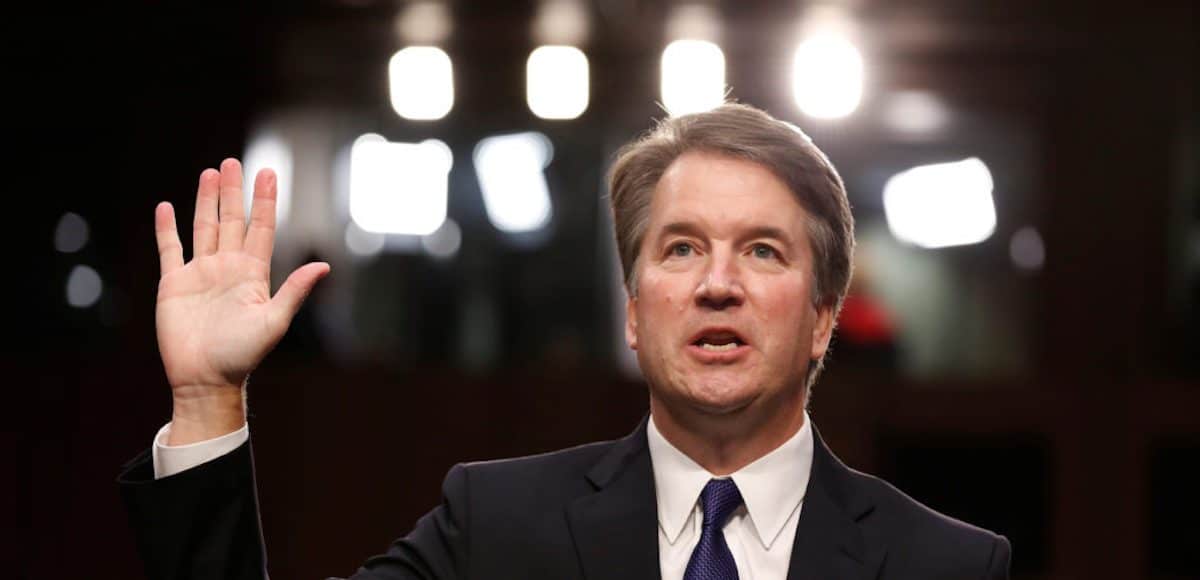 The U.S. Senate voted 51-49 to limit debate on the confirmation of Judge Brett Kavanaugh to the U.S. Supreme Court, setting up a floor vote as early as Saturday. The confirmation, once seen as almost certain, is now being threatened by decades-old, witness-disputed, uncorroborated allegations of sexual misconduct.
Judge Kavanaugh, 53, serves on the U.S. Court of Appeals for the District of Columbia Circuit. President Trump nominated the "Judge's Judge" to replace Justice Anthony Kennedy, who announced a few weeks before that he would retire, effective July 31.
The Senate Judiciary Committee began holding hearings for the confirmation on September 4. Despite Democrats' repeated attempts to obstruct, pay protestors and stage outbursts, they didn't land a glove on him.
Then, Professor Christine Blasey Ford, a liberal activist and Palo Alto University psychology professor, alleged Judge Kavanaugh attempted to rape her at a high-school party in or about 1982, when he was 17 and she was 15. She can't be certain of the year, how she got to and from the event, and has even given various versions of the story.
There is no contemporaneous evidence. The persons named in her accounts have changed, depending on the various versions told to the Washington Post, her therapist or to lawmakers in the U.S. Senate.
The allegation, which has been disputed by all parties mentioned in her account, including by her own friend, was made in a letter to Senator Dianne Feinstein, D-Calif., the Ranking Member of the Senate Judiciary Committee. She withheld it for 6 weeks and it was only until after the committee held the confirmation hearings that the letter was leaked against Professor Ford's wishes to remain anonymous.
Unsurprisingly, multiple women subsequently came forward with their own allegations, all of which crumbled under scrutiny.
The FBI was ordered by President Trump last week to look into "recent and credible" allegations of sexual misconduct leveled against Judge Kavanaugh. Senator Jeff Flake, R-Ariz., joined Senate Democrats in calling for the investigation after Professor Ford testified before the Senate Judiciary Committee last week.
Over the last few days, with the FBI conducting their investigation, Judge Kavanaugh's accusers have received greater media scrutiny, and it's casting even more doubt on their credibility.
For instance, Professor Ford's testimony conflicted with both her therapist's notes and text message she sent to the Washington Post. The therapist's notes stated Ford had been the victim of an attempted rape in her late teens. At that time, Judge Kavanaugh was already attending Yale University. In fact, Professor Ford initially told reporter Emma Brown she had been assaulted in the mid-1980s.
The Senate Judiciary Committee received a signed statement from a man claiming to be Professor Ford's ex-boyfriend. He said he "found her truthful and maintain no animus" during their relationship from 1992-1998, but that he "witnessed Dr. Ford help McLean prepare for a potential polygraph exam."
"During that time, it was my understanding that [Ford's roommate, Monica] McLean was interviewing for jobs with the FBI and US Attorney's Office," he claimed under penalty of perjury. "I witnessed Dr. Ford help McLean prepare for a potential polygraph exam."
Senate Judiciary Committee Chairman Chuck Grassley, R-Ia., said Friday morning before the cloture vote that FBI form 302s from the investigation indicate multiple witnesses were pressured to change their stories so that they'd corroborate accusations. The chairman was responding to a report in The Wall Street Journal claiming a friend of Christine Blasey Ford told FBI investigators that she felt pressured to change her initial statement that did not corroborate the alleged sexual assault.
"There is evidence I can't speak about because it's in the FBI report. But there's evidence about other people that have been questioned — that they were led into it, as well," Chairman Grassley said. "So, this is another example for headquarters for the Resistance being right here on Capitol Hill."
Senators Susan Collins, R-Me., Lisa Murkowski, R-Alas., and Joe Manchin, D-W. Va., along with Mr. Flake are the only remaining senators to not have announced their final decision. Senator Flake, who voted "Yes" on cloture, had committed to supporting the nomination under the condition the FBI conducted a seventh background investigation surrounding the allegations.
But he has since backtracked, pressured by his friend Chris Coons, D-Dela., and paid protestors following and harassing senators around the Capitol. Senator Murkowski voted "No" on cloture, filling the room with an audible gasp.
Senator Collins will announce her final decision at 3:00 PM EST.
Republican can afford to lose only one of their own votes. Vice President Mike Pence will be needed to cast a tie-breaking vote if one of them votes "No" on the final confirmation. It would be the first time in American history a vice president was needed to cast the tie-breaking vote on a nominee for the U.S. Supreme Court.