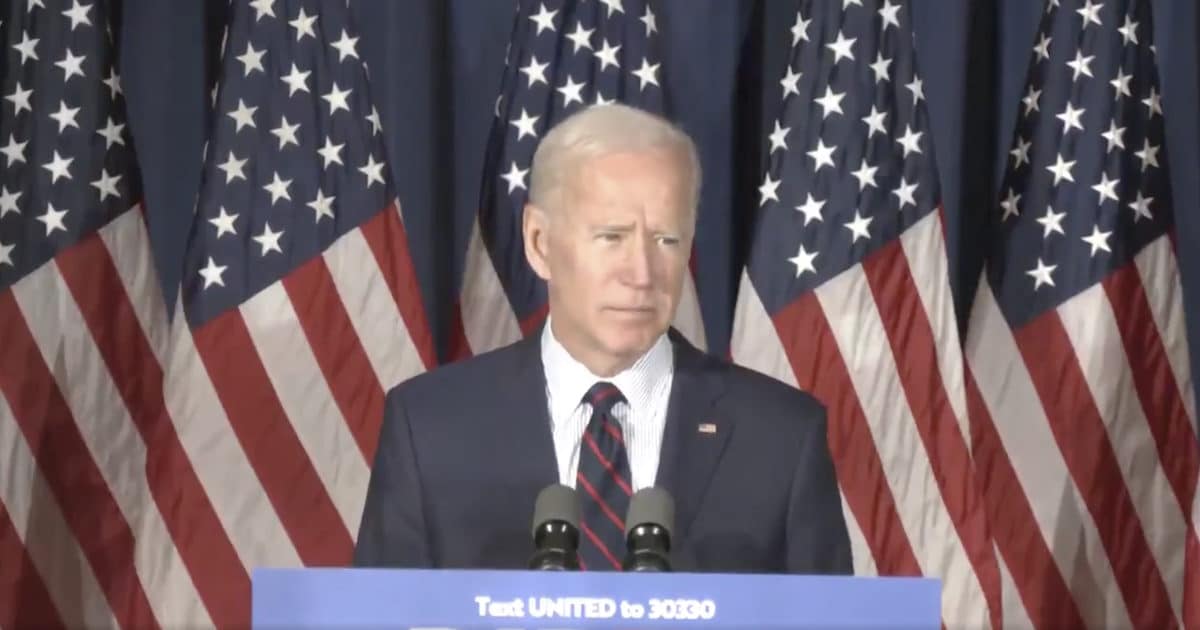 Joe Biden, the former 2020 Democratic frontrunner, called for the impeachment of President Donald J. Trump on Wednesday. The announcement represents a change in position for the former vice president and comes as his poll and fundraising numbers are in decline.
"Donald Trump has violated his oath of office, betrayed this nation, and committed impeachable acts," the former vice president said. "To preserve our Constitution, our democracy, our basic integrity, he should be impeached."
Mr. Biden was referring to the telephone conversation between President Trump and Ukrainian President Volodymyr Zelenskyy, which took place on July 25th, 2019. A "whistleblower" complaint filed by an anonymous source at the Central Intelligence Agency (CIA) sparked what Democrats have referred to as an impeachment inquiry, though no such procedure has ever taken place in U.S. history.
Democrats announced the inquiry even before the president released the transcript of the telephone call. At the time, Mr. Biden refused to endorse impeachment and only called for an inquiry.
The evidence since released has not supported the impeachment narrative, which argues the president held up military aid to Ukraine in exchange for a quid pro quo to investigate potential corruption in the country connected to the Bidens.
The anonymous "whistleblower" has been outed as a registered Democrat who had "a professional relationship with one of the 2020 candidates" vying to challenge President Trump.
In a letter dated August 26, the Intelligence Community Inspector General Michael Atkinson wrote the whistleblower showed "some indicia of an arguable political bias … in favor of a rival political candidate."
When asked about the claim by Republican members of the House Intelligence Committee last Friday, the inspector general revealed the clearly partisan connection.
Kurt Volker, the former U.S. envoy to Ukraine, "blew a massive hole" in the accusations against President Trump, telling the committee on six separation occasions that the military aid was never tied to a quid pro quo. He further testified the Ukrainians weren't aware the aid was held up until a full month after the telephone conversation.
Nevertheless, Mr. Biden argued in his speech on Wednesday that impeachment isn't only for committed crimes. It's about preventing the president from serving in his elected office.
"We have to remember that impeachment isn't only about what the president's done," Mr. Biden added. "It's about the threat the president poses to the nation if allowed to remain in office."
On Twitter, President Trump responded to Mr. Biden endorsing and calling for his impeachment.
"So pathetic to see Sleepy Joe Biden, who with his son, Hunter, and to the detriment of the American Taxpayer, has ripped off at least two countries for millions of dollars, calling for my impeachment – and I did nothing wrong," he tweeted. "Joe's Failing Campaign gave him no other choice!"
The president is referring questions surrounding the Bidens that are driving down his poll numbers, both in the 2020 Democratic presidential nomination and in a hypothetical general election. That being said, it's worth noting Mr. Biden's poll position was deteriorating prior to renewed scrutiny, a movement fueled by questions surrounding his competency.
As People's Pundit Daily (PPD) previously reported, former General Prosecutor for Ukraine Viktor Shokin testified under oath in a sworn affidavit he was fired as a result of "direct and intense pressure from Joe Biden and the U.S. administration."
Burisma Holdings — a corrupt gas company in Ukraine — hired Hunter Biden only weeks after his father was appointed to head up U.S Ukrainian relations. Hunter Biden has no experience in the industry, region, didn't speak the language or have any relevant qualifications.
At the time of his firing, Mr. Shokin had plans to question Hunter Biden about millions of dollars in fees he and his partner, Devin Archer, collected from Burisma through Blue Star Strategies, a U.S. lobbying firm. He testified former Ukrainian President Petro Poroshenko told him on numerous occasions Joe Biden wanted him to close the investigation.
When he refused, he was fired.
"The truth is that I was forced out because I was leading a wide-ranging corruption probe into Burisma Holdings ("Burisma"), a natural gas firm active in Ukraine, and Joe Biden's Son, Hunter Biden, was a member of the Board Of Directors," Mr. Shokin testified. "I assume Burisma, which was connected with gas extraction, had the support of the U.S. Vice-President Joe Biden because his son was on the Board of Directors."
Senate Judiciary Committee Chairman Lindsey Graham, R-S.C., on Tuesday invited Rudy Giuliani to testify "about corruption and other improprieties involving Ukraine." The chairman specifically mentioned the firing of Mr. Shokin.
Mr. Biden now trails Senator Elizabeth Warren, D-Mass., in 2020 Democratic presidential nomination polls. While he's now several points behind in the horserace, self-reporting puts Mr. Biden in fourth place in the money race with roughly 6 days before the filing deadline.
The Biden Campaign raised only $15.2 million for the third quarter (Q3) 2019, putting him behind Bernie Sanders ($25.3 million), Senator Warren ($24.6 million), and Pete Buttigieg ($19.1 million).