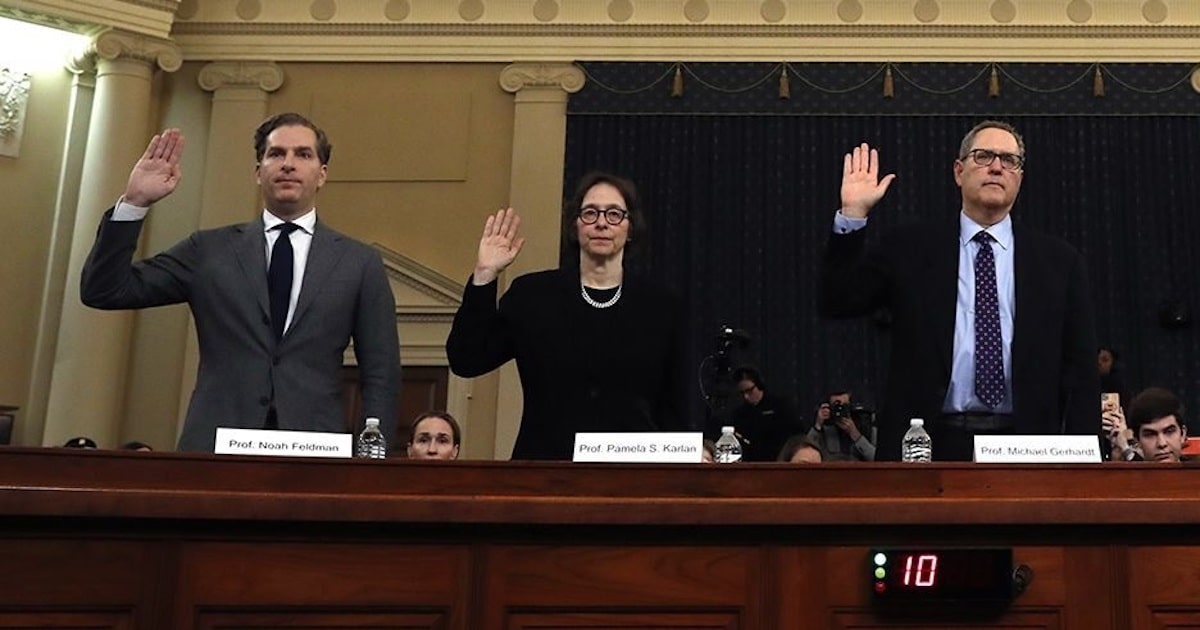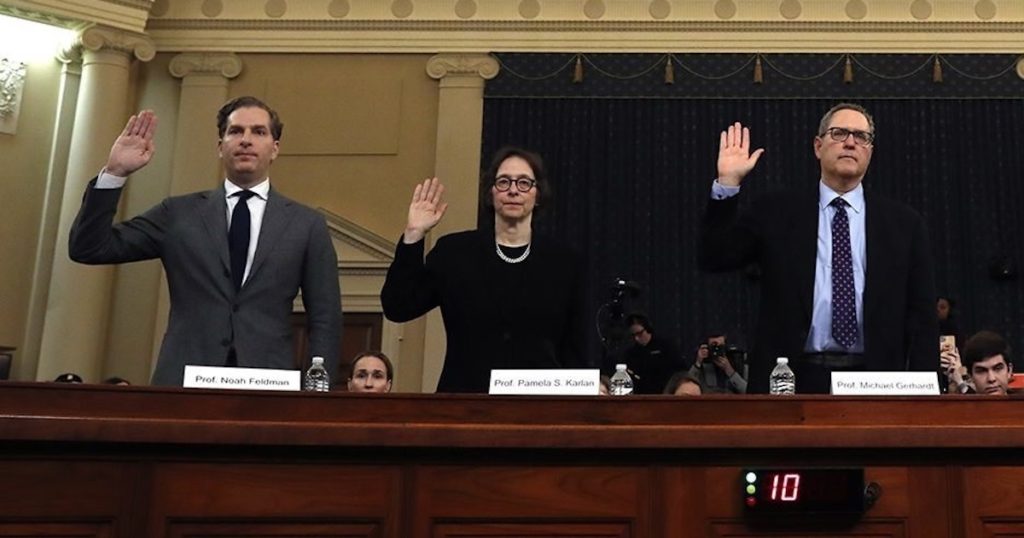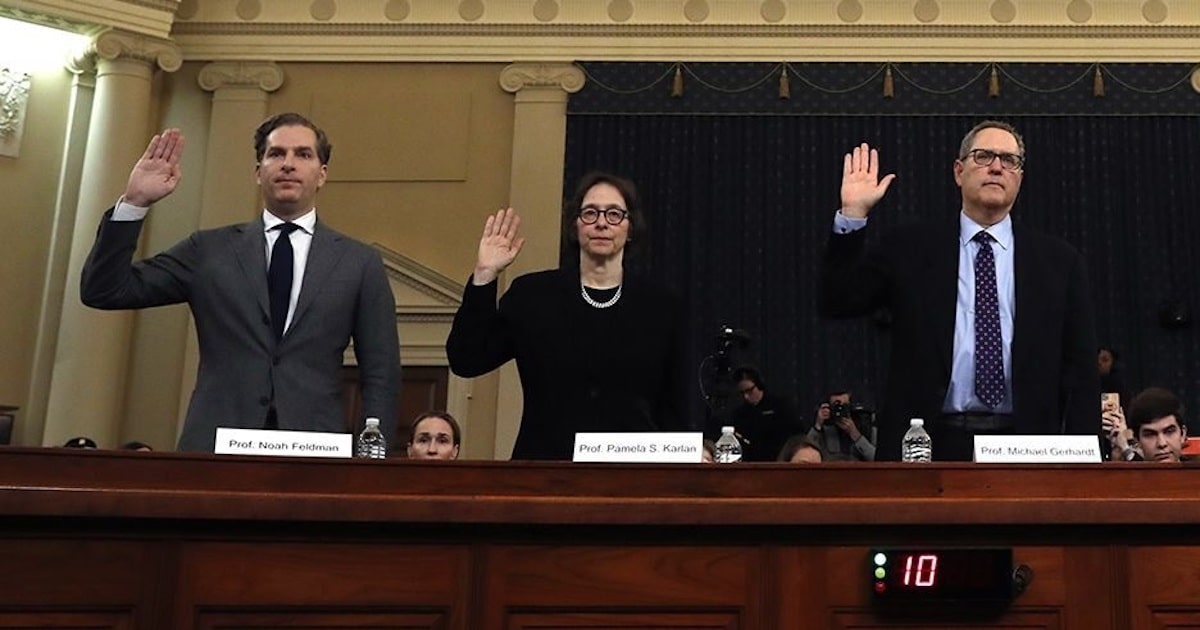 The liberal law professors Democrats called to testify as "legal experts" before the House Judiciary Committee have been pushing for and cashing in on impeachment since 2017. The counsel for House Judiciary Committee Democrats first tweeted about impeaching President Donald J. Trump more than a month before he was sworn into office.
Indeed, they have all used impeachment for personal gain, be it political, professional or financial.
On Wednesday, Rep. Jerry Nadler, D-N.Y., the Chairman of the Judiciary Committee, held an impeachment hearing with 3 Democratic witnesses and 1 Republican witness. All are liberals.
Noah Feldman
Harvard Law professor Noah Feldman led the Judiciary Committee to believe he was "an impeachment skeptic" until recently. That was how it was framed in a question by Norm Elsen, the counsel for House Judiciary Committee Democrats.
However, Mr. Feldman has been pushing for impeachment at least as early as March 7, 2017. In an opinion piece at Bloomberg just 46 days into the presidency of Donald J. Trump, he argued the president's tweets regarding a wiretap put him at "risk of impeachment."
The president was lambasted for accusing the Obama Administration of "wiretapping" Trump Tower, which turned out to be fundamentally true.
On April 18, 2017, he appeared on 'Trumpcast' — a "resistance" podcast on the very liberal website Slate — to discuss "the three most pressing cases for impeaching President Trump."
He argued the president's criticism of the media and "corruption of the electoral process" was an impeachable offense. The latter was a play on the disproven and debunked conspiracy theory alleging President Trump "colluded" with Russia to influence the 2016 election.
On April 25, 2017, he wrote another column adding an ad for Mar-a-Lago to the "impeachment file."
The argument is predicated on violations of the Emoluments Clause, an argument accepted only among the fringe left.
On May 16, 2017, Mr. Feldman suggested in a tweet sharing a story that President Trump committed an impeachable offense outlined in the memos leaked by fired former FBI director James Comey.
Worth noting, the Justice Department (DOJ) Inspector General (IG) concluded James Comey violated guidelines and policy leaking the memos. The DOJ declined to prosecute despite the IG sharing the findings.
On May 4, 2018, Mr. Feldman wrote 'Crooked Trump' surrounding Michael Cohen, another angle to impeach the president that failed. Mr. Cohen lied under oath to the U.S. Congress multiple times.
Most recently in October 2019, Mr. Feldman wrote an opinion piece offering Democrats advice on how to impeach the president over Ukraine, the latest in a long list of stuff being thrown at a wall.
Pamela Karlan
Stanford Law professor Pamela Karlan was floated as a potential nominee to the U.S. Supreme Court under Barack Obama because she was "stridently liberal" and named a potential pick for Hillary Clinton as an "unapologetic liberal".
While she wasn't tapped for the high court, she worked at the very liberal Civil Rights Division at DOJ under Mr. Obama.
Ms. Karlan has come under scrutiny for donating thousands of dollars to the president's political opponents, including, $2,000 to Hillary Clinton — the 2016 Democratic nominee. She continues to fund the president's rivals to this day, including a $1,000 donation to Senator Elizabeth Warren. D-Mass., now a top-tier candidate for the 2020 Democratic nomination.
On May 17, 2017, she among other liberal activists — to include the third witness — were cited in a BBC article pushing for impeachment. As with Mr. Feldman, the core of the obstruction argument surrounded the Comey memos.
Michael Gerhardt
University of North Carolina School of Law professor Michael Gerhardt also was available for comment to contribute to the same BBC report, in which he and Ms. Karlan cited obstruction to push impeachment.
Before the Ukraine story broke and just before the investigation headed up by Robert Mueller failed to establish connections between the Trump Campaign and Russia, he was cited by The New York Times in an article to pressure House Speaker Nancy Pelosi, D-Calif., to take up impeachment.
In the summer of 2018, he was cashing in on the impeachment fervor, releasing a book titled 'Impeachment: What Everyone Needs to Know'. It gained little traction. The $57 hardcover version boasts just 6 reviews on Amazon and the tweet below — meant to promote the book — had just 6 "Likes" at the published time for this article.
Jonathan Turley
George Washington University Law professor Jonathan Turley, who is also a liberal Democrat, was the only witness for the Republicans. He attacked the impeachment inquiry by quoting 'A Man For All Seasons'.
Norm Elsen
Norm Elsen, the counselor for Democrats on the House Judiciary Committee, all but ignored Mr. Turley in questioning. He asked the most respected legal scholar on the witness list just one question and cut him off to prevent him from providing context to his answer.
Mr. Elsen first tweeted about impeachment on December 11, 2016. That's more than a month before President Trump even took the Oath of Office. He continued to push impeachment and the Russia Collusion Hoax throughout 2017, 2018 and 2019.