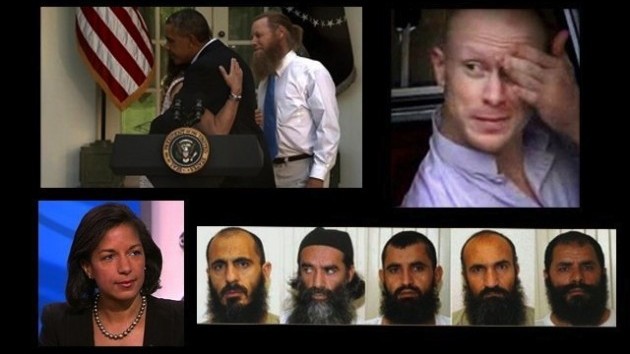 In January 2015, PPD reported that Army Sgt. Bowe Bergdahl would be charged with a watered down "leaving a post to avoid duty"desertion charge unless he took a plea deal and forfeited the $200,000 in back pay he received for the time in captivity.
Pentagon spokesperson Rear Admiral John Kirby denied the report, stating that the decision to file charges against Sgt. Bowe Bergdahl was not made.
However, the Army announced Wednesday that Bergdahl, who was captured by the Taliban after deserting his post in Afghanistan and then freed five years later in a controversial trade for five Guantanamo detainees, was charged with "Desertion with Intent to Shirk Important or Hazardous Duty" and "Misbehavior Before The Enemy by Endangering the Safety of a Command, Unit or Place."
U.S. Army Forces Command announced the decision at Fort Bragg, North Carolina, and said the case has been referred to an Article 32 preliminary hearing.
While the focus of Bergdahl's actions have remained on desertion, the charge of "misbehavior before the enemy" carries a maximum sentence of up to life in prison. Meanwhile, desertion carries a maximum of five years.
"Sgt. Robert Bowdrie ("Bowe") Bergdahl remains assigned to and physically located with U.S. Army North headquarters at Fort Sam Houston," said Chief of Public Affairs Paul Boyce. "He is not in pretrial confinement or any form of arrest or restriction."
The announcement from the U.S. Army comes a whopping 10 months after his May 2014 release, which initially was actually celebrated by the White House, who invited his parents to join President Obama in the Rose Garden. Bob Bergdahl, who had studied Islam during his son's captivity, raised eyebrows and criticisms for appearing with a full beard and reading a Muslim prayer, while his wife embraced the president.
But while the Obama administration thought the exchange would increase the president's approval ratings and earn the White House a badly needed political victory, the celebration was short-lived.
In an effort to answer mounting criticisms surrounding the circumstances of Bergdahl's disappearance and revelations of six fellow-serviceman losing their lives in missions to recover the deserter, National Security Advisor said Bergdahl served with "honor and distinction." That narrative was quickly shattered after several soldiers, who served in Bergdahl's unit, gave multiple public interviews telling media that he was — unequivocally — a deserter.
Public opinion in the face of the facts inevitably sourced on Bergdahl and the commander-in-chief, who saw his approval ratings on foreign policy hit all-time lows. In fact, they never recovered. But that was not the end of the Bergdahl controversy, or the administration's problems.
Further, the trade of hardened Taliban fighters detained at Guantanamo Bay for a deserter was met with charges from lawmakers on Capitol Hill that the administration broke the law by not consulting Congress. In response, the White House pivoted to a new narrative claiming they had made the decision based on intelligence suggesting the captive's health was deteriorating. But that didn't hold up to scrutiny, either.
Senate Intelligence Committee Chairwoman Dianne Feinstein, D-Calif., said in an interview on Bloomberg that there was no "credible threat" against Bergdahl's life that could have motivated the White House to keep its prisoner exchange plan a secret from Congress. House Speaker Boehner reenforced Fienstein's claim, stating Obama's claim "just isn't true."
Then, the nonpartisan Government Accountability Office, an internal government watchdog agency, said in August 2014 that the administration's failure to notify the relevant congressional committees at least 30 days in advance of the exchange, was a clear violation of the law. The executive branch is prohibited under law from releasing Guantanamo Bay detainees without first giving the aforementioned notice and receiving congressional approval.
"This proves once again that the president's political motivations for closing Guantanamo Bay are causing him to make reckless decisions and will put more American lives at risk," House Homeland Security Committee Chairman Michael McCaul, R-Texas, said Wednesday in a statement.
The case now goes to an Article 32 hearing to be held at Fort Sam Houston in San Antonio, where Bergdahl has been performing administrative duties as he awaits the conclusion of the case. That proceeding is similar to a grand jury. From there, it could be referred to a court-martial and go to trial.
A date for that hearing was not announced.
Meanwhile, of the "Taliban Five" — Mohammad Fazl, the former Taliban army chief of staff; Khairullah Khairkhwa, a Taliban intelligence official; Abdul Haq Wasiq, a former Taliban government official; and Norullah Noori and Mohammad Nabi Omari — at least three have attempted to reconnect with their old Islamic terrorist brothers.