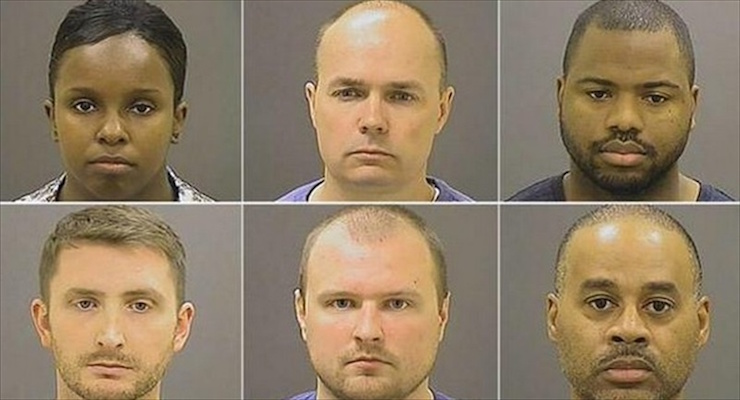 All of the criminal charges against all six Baltimore police officers charged with the death of Freddie Gray have been dropped. The development came after Baltimore Circuit Court Judge Barry Williams found Lt. Brian Rice, the highest ranking officer charged in the Freddie Gray case, not guilty. Lt. Rice was the fourth officer to stand trial was tried after Judge Williams previously acquitted Officers Edward Nero and Caesar Goodson Jr. of all charges.
Prosecutors tried to argue Gray was illegally arrested after he ran away from a bike patrol officer and the officers failed to buckle him into his seat belt or call a medic when he indicated he wanted to go to a hospital. Gray was well-known by police and had a habit of "putting on a show" when he was arrested in the past.
The death added fuel to the growing fire surrounding race relations and policing in the nation. The Black Lives Matter movement and others protested in the wake of his death and riots erupted in Baltimore, causing the worst damage the city had seen in decades.
Meanwhile, there are growing calls to disbar Baltimore State's Attorney Marilyn Mosby over her conduct during the investigation and prosecution. Professor John F. Banzhaf, a law professor at George Washington University School of Law, filed a disciplinary complaint with the Maryland Bar Counsel that states Mosby violated multiple provisions of the Maryland Lawyer's Rules of Professional Conduct (RPC), to include withholding exculpatory evidence, making inappropriate statements in public (to poison the jury) and continuing to prosecute a case after it has been established there is insufficient evidence to support a conviction.
The professor is known for bringing complaints against against overzealous prosecutors in high profile cases, giving him the reputation for being a justice system watchdog. He played a pivotal role in the disbarment and successful civil lawsuits against Mike Nifong, the prosecutor who continued to proceed in the Duke lacrosse case even when it became clear it was a race-baiting, manufactured incident.
Professor Banzahaf called Marilyn Mosby "a runaway prosecutor" and claims she never even had probable cause to charge the six officers in the death of Freddie Gray. Further, he accuses Ms. Mosby of only filing those charges to stop the destructive rioting in Baltimore, something Mayor Stephanie Rawlings-Blake infamously said she wanted to give them "space" to do.
"I heard your call for 'No justice, no peace.' Your peace is sincerely needed as I work to deliver justice on behalf of this young man," Mrs. Mosby said in May of 2015. Now, with more "not guilty" verdicts almost assuredly on their way (from the bench of a black judge), a repeat riot in an already economically depressed city is increasingly likely.