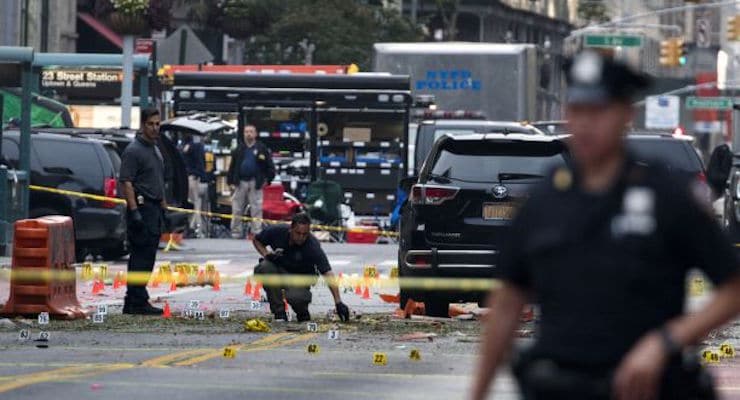 The Federal Bureau of Investigation (FBI) will release a "Wanted" poster identifying 28-year-old Ahmad Khan, a suspect in the bomb blast in New York City Saturday night. People's Pundit Daily has confirmed that Khan is a naturalized U.S. citizen from Afghanistan and is believed to be linked to all three incidents in New York and New Jersey.
The bomb in Manhattan was placed near a large dumpster in front of a building under construction, according to a law enforcement source. The second device, which was described as a pressure cooker with wires and a cellphone attached to it, was removed early Sunday by a bomb squad robot, which lost an arm during a controlled explosion later in the day.
Federal authorities conducted a traffic stop on a "vehicle of interest" in connection with the Chelsea bombing Sunday night in Brooklyn. A law enforcement source said that a "number of individuals" who are possibly connected to the explosion were taken into custody, all of which are allegedly of Afghani decent.
Law enforcement said officials believe the explosive devices found in Seaside Park, N.J. and New York City, N.Y. are from the same person. That sentiment was backed up by New York Gov. Andrew Cuomo Monday morning, who said he would "not be surprised" if investigators eventually determined the "same group or entity" were responsible. The governor's reaction differed greatly from Bill de Blasio, the mayor of New York, who first refused to admit the attack was an act of terrorism.
Gov. Cuomo immediately called the attack terrorism, but did say Sunday that it was unclear whether there was an international connection. Monday morning that changed when he called out his fellow Democrat for playing politics and over-pandering to political correctness. Now, Mayor de Blasio is changing his tune.
"I want to be very clear that this individual could be armed and dangerous," Mayor de Blasio said on Monday morning. "Anyone seeing him should call 911 immediately."
Members of the Federal Bureau of Investigation (FBI) Joint Terrorism Task Force joined with New York Police Department detectives, fire marshals and other federal officials to investigate the attack. The FBI and ATF have launched a joint raid in Elizabeth, New Jersey, specifically the home of Khan, which is above his parent's fried chicken restaurant.