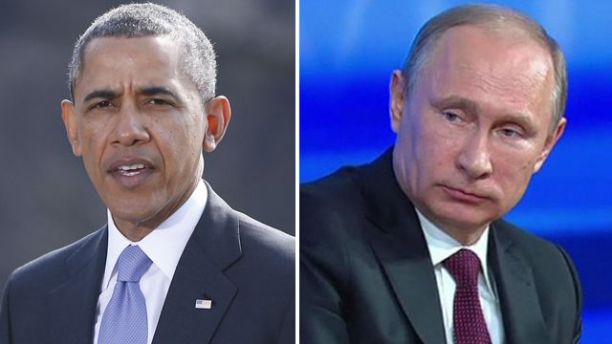 Just moments after President Obama signed an executive order authorizing future economic sanctions on Russia, including penalties on 20 Russians inside and outside the government, Putin banned nine American officials from entering Russia. At the top of the list you will find House Speaker John Boehner (R-OH), Senate Majority Leader Harry Reid (D-NV) and Senator John McCain (R-AZ).
Earlier this week, Vladimir Putin scoffed at U.S. sanctions on 7 Russian officials, and now it is the Americans' turn to scoff at Moscow.
"I guess this means my spring break in Siberia is off, my Gazprom stock is lost, and my secret bank account in Moscow is frozen," McCain said in a statement. "Nonetheless, I will never cease my efforts on behalf of the freedom, independence, and territorial integrity of Ukraine, including Crimea."
A spokesman for Speaker Boehner, Michael Steel, said the speaker "is proud to be included on a list of those willing to stand against Putin's aggression."
Meanwhile, Obama signed an executive order that would allow the U.S. to place economic sanctions on key sectors of the Russian economy. Officials said Obama may act on that authority if Russian presence increases into other regions of Ukraine. 
The order freed up the U.S. government's ability to hit Russia's economic sectors, including banking, energy, metals and mining, engineering and defense companies. "This is not our preferred outcome… However, Russia must know that further escalation will only isolate it further from the international community," the president said.
The president, speaking on the South Lawn of the White House, stated that the current locations of the Russian military suggests they could be contemplating "further incursions" into southern and eastern Ukraine.
The president cautioned that the threatened economic sanctions if implemented could hurt the global economy, as well as the Russian economy, but "Russia must know that further escalation will only isolate it further from the international community."
Obama said the U.S. will impose sanctions on more "senior officials of the Russian government," as well as "a number of individuals" who are known for supporting Russian leadership. And a bank — Bank Rossiya — which is also providing "material support," will be targeted, as well. The list also includes Putin's chief of staff and his banker.
The president, in an interview only a day earlier, ruled out the military option in response to Crimea. Yet the administration says they continue to assure NATO allies in the region that America's support is "unwavering."
Still, Obama stressed Thursday that "diplomacy between the United States and Russia continues."