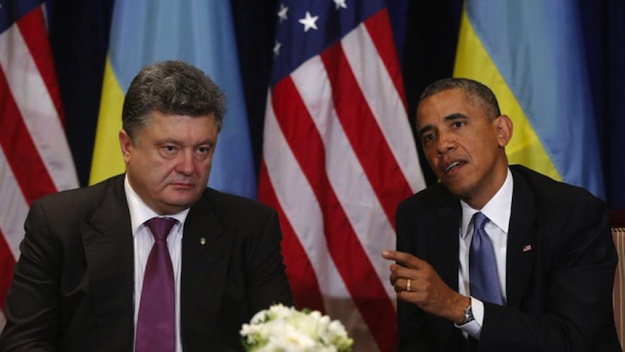 President Obama criticized Russian President Vladimir Putin for using "dark tactics" in eastern Ukraine, characterizing them as the actions of a by-gone era that won't stand in the 21st Century.
"Our free nations will stand united so that further Russian provocations will only mean more isolation and costs for Russia," he said behind protective glass. "Because after investing so much blood and treasure to bring Europe together, we refuse to allow the dark tactics of the 20th century to define the 21st."
Prior to the speech, President Obama also announced Wednesday that the U.S. has pledged to the Ukrainian government another $5 million to supply body armor, night-vision goggles and communication equipment. The aid is desperately needed by the new government in Kiev's ongoing struggle against Russian-backed separatists in the east.
Obama announced the aid following a meeting with Ukrainian President-Elect Petro Poroshenko in Warsaw, and the new leader is due to be sworn into office this weekend.
"The Ukrainian people made a wise selection in someone to lead them thru this period," Obama said of Poroshenko. "I have been deeply impressed by his vision, partly because of his experience as a businessman (though unsurprisingly, he didn't feel so warm about Mitt Romney)."
Administration officials told People's Pundit Daily that Obama has approved more than $23 million in non-lethal security assistance to Ukraine since early March, including meals ready-to-eat, money for medical supplies, clothing, sleeping bags and generators.
Poroshenko vehemently thanked the American people for offering their support, and pledged to enter a crucial phase aimed to bring about a peaceful political process to end the current crisis.
Obama was in Warsaw to help commemorate the 25th anniversary of Poland's first partially free election, a prime example of democratic progress that the U.S. president plans to point to in a speech later Wednesday as a model for Ukraine. He used the platform ahead of a D-Day anniversary ceremony later this week, where Mr. Obama and Mr. Putin will come face to face, to slam Russia for the same accusations frequently hurled at the U.S. by the Russian leader.
"Bigger nations must not be allowed to bully the small, or impose their will at the barrel of a gun or with masked men taking over buildings," the president said addressing a Freedom Day celebration in Royal Castle Square. "And the stroke of a pen can never legitimize the theft of a neighbor's land. So we will never accept Russia's occupation of Crimea or its violations of Ukraine's sovereignty."
Though Crimea voted earlier this year to secede from Ukraine, the U.S. and its European allies do not recognize the vote, a vote that was largely seen as illegitimate and fraudulent. While many in the region — perhaps even a majority — supported Russian annexation, opposition parties refused or feared voting.
Meanwhile, Mr. Obama and new G7 will meet Wednesday night in Brussels. The meeting — which will include the U.S., Britain, Germany, France, Canada, Italy and Japan — was originally set to be held in Sochi, Russia, and obviously it was supposed to include Russian President Vladimir Putin. But the U.S. and its allies canceled the meeting to punish Russia for meddling in Ukraine.
Obama's meeting with Poroshenko came just 10 days after he became Ukraine's first elected leader since its pro-Russian president fled and Moscow annexed the Crimean Peninsula, in a confrontation that's reignited old global divisions.
"He won everywhere, and clearly has been given a mandate to try to lead the country into a new era," Secretary of State John Kerry after meeting here with Poroshenko ahead of the president.