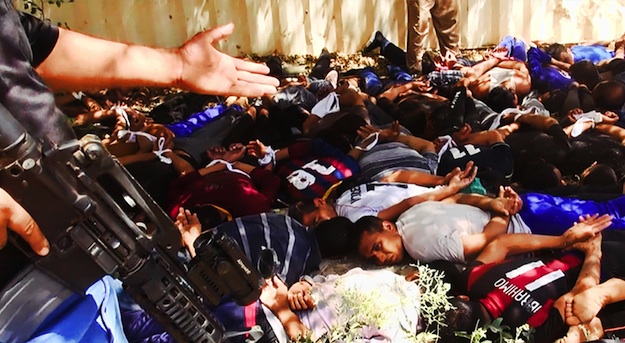 Sunni Islamist militants from the ISIS, the Islamic State of Iraq and Syria, claimed Sunday that they have massacred hundreds of captive Shiite members of Iraq's security forces, posting shocking pictures of a mass execution in Tikrit.
Iraq's government has reportedly increased Baghdad's defenses Sunday, after the Islamic militant group captured two major cities last week. The Iraqi's will have to go it alone, at least, until the president get's back from another mini vacation. After giving a hyper-partisan commencement speech Saturday at the University of California, which centered on climate change, Obama decided to take a bit of time for himself.
"While we cannot confirm these reports, one of the primary goals of [ISIS] is to set fear into the hearts of all Iraqis and drive sectarian division among its people," State Department Spokeswoman Jen Psaki said Sunday. "We condemn these tactics in the strongest possible terms and stand in solidarity with the Iraqi people against these horrendous and senseless acts of violence."
Over the weekend, the city of Tal Afar, which is west of Mosul, also fell to the ISIS, who now control roughly one-third of Iraq and far more than any other Islamic terrorist organization. While developments may put more pressure on the Obama administration to aid Iraq militarily, the militants openly mocked President Obama and the United States. After uploading the pictures depicting mass killings in Iraq to an ISIS Twitter feed, the group's leader, Abu Bakr al-Baghdadi, took aim at the U.S.
"Soon we will face you, and we are waiting for this day," he said.
The images' captions hurled threat after threat at the country's Shiite population. "The filthy Shiites are killed in the hundreds," one read. "The liquidation of the Shiites who ran away from their military bases," read another, and, "This is the destiny of Maliki's Shiites," referring to Prime Minister Nuri Kamal al-Maliki.
Prime Minister Nouri al-Maliki and Grand Ayatollah Ali al-Sistani have called on everyday citizens to wage war against the ISIS, and have reportedly seen large numbers of Shiites respond to their plea. Thousands of Shiites have reportedly volunteered to fight against the ISIS.
"The Iraqi fighter is well known for his courage and valor, he has never been known to be defeated or deserted," Maliki's office said in a statement after the images were released.
Unbelievably, the Obama administration is reportedly preparing to talk with Iran about how they may help to repel the insurgents. And even though the two nation's clearly have opposing interests in Iraq — the U.S. preferring peace between the nation's top three sects to the Iranian desire for Shia dominance — Obama may just get bipartisan support for the plan.
"Why did we deal with Stalin? Because he was not as bad as Hitler," Sen. Lindsey Graham, (R-SC) said Sunday on CNN. "The Iranians can provide some assets to make sure Baghdad doesn't fall."
U.S. allies in Sunni-dominated countries, including Saudi Arabia, Turkey and Jordan, say they will be alienated by such a dialogue, while allies in Israel and others in the Middle East fear that Iran will use the perceived U.S. weakness to gain an even greater advantage in the ongoing nuclear negotiations.