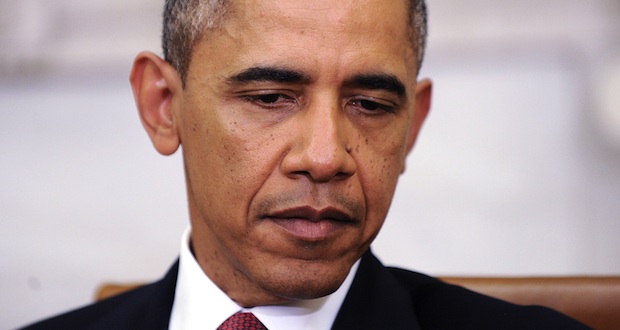 President Obama said at a press conference Friday that Iraq must "solve their problems," despite the fact Prime Minister Nouri al-Maliki had been pleading for U.S. help for nearly two years. Last month, when the situation in Iraq became dire, al-Maliki requested manned and unmanned airstrikes from President Obama, who offered little in response.
"Unfortunately, Iraq's leaders have been unable to overcome too often the mistrust and sectarian differences that have long been simmering there, and that's created vulnerabilities within the Iraqi government as well as their security forces," Obama said.
Chief White House correspondent for Fox News, Ed Henry, is in New York today. With Henry out of the fold, the remaining White House press core tossed soft-ball questions to Obama, who initially said he would take just one question. President Obama said he is reviewing possible military responses to the attacks by Al Qaeda-inspired militants in the Islamic State of Iraq and Syria, but cautioned the process would not be immediate.
The president offered little information on his administration's actual plan to deal with the Middle East crisis in Iraq. On one hand, the president admitted that the waste of American blood and treasure would be a disaster. He also conceded that the fall of Iraq would be a foreign policy nightmare for America's long-term security interests.
"Nobody has an interest in seeing terrorists gain a foothold inside of Iraq, and nobody is going to benefit from seeing Iraq descend into chaos," Obama said.
However, he offered no explanation of how he intends to juggle the need for response with his lack of will to put military options on the table. Certainly, no reporter bothered to ask the president if he regrets prematurely pulling U.S. forces out of the country before establishing a status of forces agreement.
"Clearly, the US withdrawal from Iraq has not brought the peace the White House promised," foreign policy analyst Michael Rubin of AEI said. "Historians will judge the wisdom of George W. Bush's decision to invade Iraq and oust Saddam Hussein, but the situation Iraq currently faces was not inevitable."
President Obama also insinuated that Iraqi security forces don't deserve a significant U.S. response due to the low moral and abandonment of posts. Yet, moral could be attributed to a number of factors, some of which the U.S. could have prevented. Prime Minister al-Maliki favored a status of forces agreement with the U.S., but requested jurisdiction over U.S. troops stationed in the country. However, neither President Obama or Vice President Joe Biden even bothered to negotiate the terms of the agreement, leading to the situation Iraq finds itself in now.
Meanwhile, ISIS has been overrunning cities and moving toward Baghdad, with some forces as close as 35 miles from the city. The group took control of Saddam Hussein's hometown of Tikrit on Wednesday, as Iraqi soldiers and security forces fled their posts. The ISIS's spokesman, Abu Mohammed al-Adnani, threatened Thursday that Sunni ISIS fighters would capture the southern Iraqi Shiite cities of Karbala and Najaf, two locations of the holiest shrines for Shiite Muslims.
Mosul, the capital of Ninevah province, fell on Thursday, leaving one of the country's largest banks vulnerable to attack. The group robbed nearly $500 million and is currently in possession of all the American-made military hardware left behind by the overwhelmed Iraqi security forces.