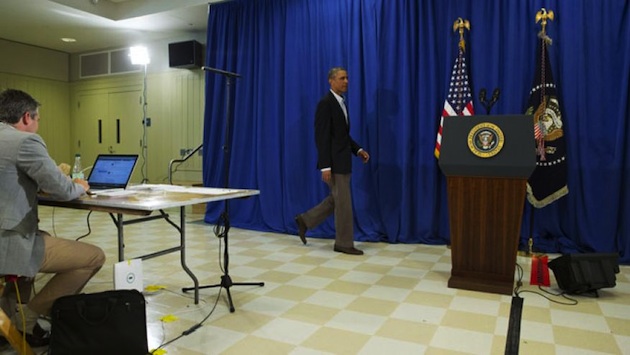 Iraqi Prime Minister Nouri al-Maliki has resigned from his post, setting the stage for a peaceful transition to power and the formation of a new government. The Obama administration decided weeks ago to encourage Iraqi politicians to get behind Haider al-Abadi in an effort designed to form a multi-sectarian government and push out al-Maliki.
"We are prepared to consider additional political, military and security options as Iraq starts to build a new government," Secretary of State John Kerry said Wednesday. Secretary of State Chuck Hagel also said the Obama administration "is prepared to intensify its security cooperation as Iraq undertakes and makes progress toward political reform."
Meanwhile, President Obama said Thursday that U.S.-led airstrikes have broken the siege by Islamic militants against religious minorities who were trapped on a mountain in northern Iraq. Thousands of Iraqi citizens were forced from their homes to seek refuge in the Sinjar mountain range or further south of the Kurdish provence of Dahuk.
"The situation on the mountain has greatly improved," Obama said, in brief remarks from Martha's Vineyard, where his family is on vacation. "We broke the ISIL siege of Mount Sinjar. We helped vulnerable people reach safety."
ISIL, also known as the Islamic State of Iraq and Syria (ISIS), gave Iraqi citizens just three options; convert, die of starvation or death by execution.
However, the president's claims did stop the United Nations from escalating their humanitarian efforts, and upgrading the situation in Iraq to a level 3 emergency.
The president said he does not expect it will be necessary for the United States to order an evacuation operation. Over the past week, U.S. forces delivered over 114,000 meals and 35,000 gallons of water to the trapped religious minorities.
Obama plans to authorize additional humanitarian missions elsewhere in the region. ISIL has managed to uproot 1.5 million people from their homes since the capture of Mosul, during which they seized U.S. arms and fissile nuclear material from the University of Mosul.
The president promised to continue airstrikes where necessary to protect American personnel in Iraq.
"The situation remains dire for Iraqis subject to ISIL's terror throughout the country," President Obama stated. The president's critics say his policies have led to the dire situation in Iraq. It wasn't too long ago that the president called the terrorist group "JV," a comment he won't soon live down.
Obama made it clear that he will not  assign "combat troops on the ground," even though ISIL still retains a bulk of U.S. military arms. He does not seem to mind airstrikes and said the U.S. is increasing military assistance to Iraqi and Kurdish forces.