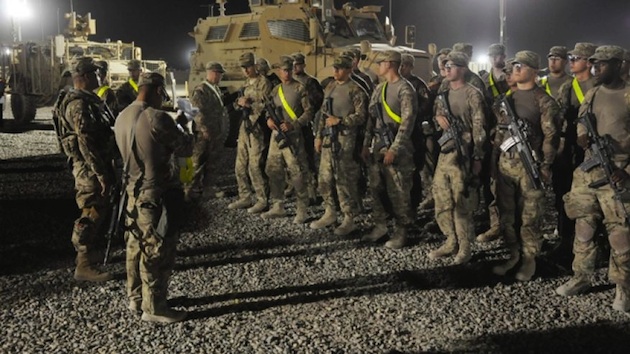 Approximately 250 hardened paratroopers from the Army's 82nd Airborne Division will deploy to Iraq at the end of the month, PPD confirmed Thursday. The order from the White House, which was first reported by the Army Times and announced by the administration on November 7, has garnered little attention from media outlets.
According to the White House, the troop role in Operation Inherent Resolve will only be to serve in "a non-combat role to train, advise and assist Iraqi Security Forces, including Kurdish forces."
The soldiers from 1st Battalion, 505th Parachute Infantry Regiment, 3rd Brigade Combat Team, 82nd Airborne of Fort Bragg, North Carolina, will begin deploying in late December.
However, despite what the White House says, the Pentagon told PPD they will be deployed for nine months to Central Command and "will have the responsibility to conduct security operations."
"The 1st Battalion, 505th PIR is a well-led and highly trained unit with extremely talented and adaptable paratroopers," said Col. Curtis Buzzard, the brigade commander, in a statement. "I know they are ready for any contingency and am confident they will accomplish the mission."
The recent increase of soldiers ordered by the Obama administration are separate from the 1,500-troop increase authorized on Nov. 7 by President Obama. Prior, the U.S. had 1400 U.S. troops in the now-failing state, which was left to the president in stable condition following the deeply unpopular, yet effective surge. The Nov. 7 increase more than doubled that figure, and now more conventional — yet, light and effective forces — are also joining the fight.
Contrary to the "no boots on the ground" narrative from the White House and their friendly news organizations, the 1st Infantry Division took command in Iraq on Oct. 31.
The announcement marks another admission by the White House — whether that admission is in policy or rhetoric is irrelevant — that they didn't heed the warnings of their own generals and Pentagon officials, including former CIA head and Sec. of Defense Leon Panetta.
In repeated appearances, Panetta has given no grey area on whether he believed the president chose politics over national security by withdrawing all U.S. troops from Iraq, and laid waste to the oft-heard claim that the Iraqis didn't want a troop presence.
"We had leverage. We could, for instance, have threatened to withdraw reconstruction aid to Iraq if al-Maliki would not support some sort of continued U.S. military presence," Panetta also explained in his recently released memoir. "Flournoy argued our case, and those on our side viewed the White House as so eager to rid itself of Iraq that it was willing to withdraw rather than lock in arrangements that would preserve our influence and interests."
Now, the Obama administration, headed up by an anti-war president, is forced to re-wage a war he made a political career out of condemning. Pentagon officials made clear that this is a move to expand the typical combat theater understood by them up until now. U.S. Central Command, or CENTCOM, says it will use these troops to establish two expeditionary units and assist operations centers in locations outside Baghdad and Erbil.
An official told PPD that this and other president orders to escalate operations are expected by those in the Pentagon, as advisors have made clear to the White House for weeks that the mission cannot be accomplished without an increased troop presence.
Officials said they will establish "several sites" in addition to the outposts by the two cities across Iraq to accommodate the training of 12 brigades, including nine Iraqi army and three Kurdish Peshmerga brigades. The operations are slated to be in northern, western and southern Iraq, officials have said.