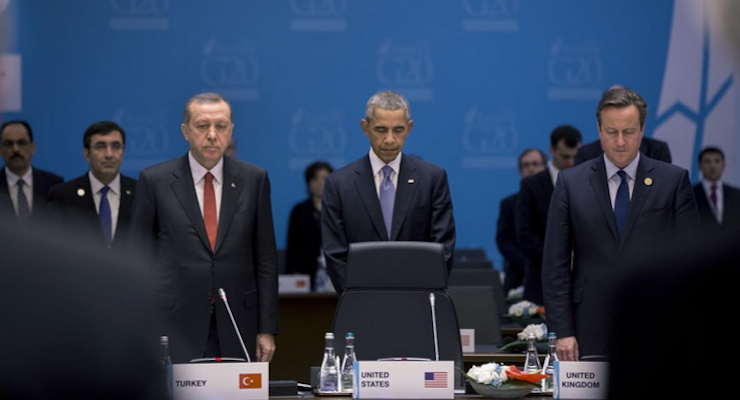 WARNING GRAPHIC: ISIS Executes Five "Spies" in Video Targeting David Cameron
[brid video="23977″ player="2077″ title="ISIS Video a Message to David Cameron"]
A new ISIS video serving as "a message to David Cameron" calls the British prime minister an "insignificant" leader, and a "slave" to a "pathetic" master–Barack Obama. The video may target Cameron and the U.K., but it represents a significant escalation of insults toward Western leaders.
The video, which is roughly 10 minutes long, features another masked man–as opposed to Jihad John, who was killed–with a British accent who slams the response to the caliphate established by force in regions located in what were previously territories within Syria and Iraq. Before he and other jihadists execute five alleged "spies," the executioner says the Islamic State will remain and "will continue to wage jihad, break borders and one day invade your land, where we will rule by the sharia."
Although most Western media outlets refuse to report the truth and, despite the violent nature of radical Islamists, most believe the best and most effective way to achieve global Islamic supremacy is to "break borders" and refuse to assimilate. Their plan is to simply use political correctness, progressivism and multiculturalism to breed out the values of Western populations.
And because of an utter lack of will and negligent refusal to admit the truth, it's working in countries like Great Britain, France and others. Here's what the data really reveal to us:
For instance, a recent BBC Radio poll found 45% of British Muslims agree that clerics preaching violence against the West represent "mainstream Islam." An ICM (Mirror) Poll found 1.5 Million British Muslims support the Islamic State, which is about half their total population. Further, one-third of British Muslim students support killing for Islam, according to the Center for Social Cohesion and a Wikileaks cable, while 78% of British Muslims overall support punishing the publishers of Muhammad cartoons (NOP Research).
While British security services are currently examining the content of the video the government has refused to comment at this time regarding British spies inside Islamic State territory, according to the BBC. The outlet also reported unnamed "experts" as saying the video was made to distract from recent Islamic State losses on the battlefield, such as the capture of Ramadi by the Iraqi security forces.
However, as previously explained, there is another war going on behind the scenes. It's an ideologically-driven, demographic war of migration and attribution. On this battlefield, they are winning.