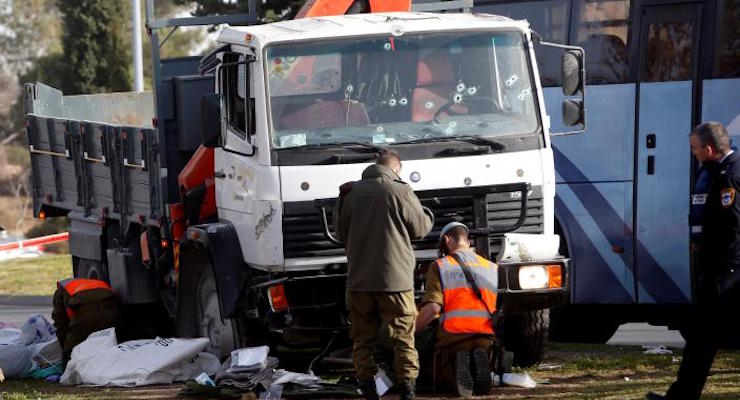 Four people were killed and 15 were wounded in Jerusalem when a Palestinian plowed a truck into a group of soldiers, in what police say called "a terrorist attack." Israeli police chief Roni Alsheich identified the driver, who was shot and killed, as a Palestinian from East Jerusalem. At least a dozen bullet holes riddled the windshield of the truck.
"It is a terrorist attack, a ramming attack," police spokeswoman Micky Rosenfeld said, adding that security had been heightened throughout Jerusalem in response.
The attack took place on the popular Armon Hanatziv promenade that offers a panoramic view the walled Old City of Jerusalem. Security camera footage showed the truck racing towards the soldiers, and then after a gap that apparently included scenes of carnage, reversing into them.
"He drove backward to crush more people," eyewitness Leah Schreiber told reporters. "That was really clear."
The victims included three women and one man, all in their twenties. Soldiers' deaths are announced in Israel only after families are notified.
It was the deadliest Palestinian attack in Jerusalem in months and targeted officer cadets who were disembarking from a bus that brought them to the Armon Hanatziv promenade. The attack comes shortly after a U.N. Security Council vote, which passed because the Obama administration abstained, condemned Israel for settlements in the West Bank and East Jerusalem.
Jerusalem Mayor Nir Barkat called on residents not to "let terror win" and said militants would "pay a heavy price."
"There is no limit to the cruelty of the terrorists who are willing to use any means possible to murder Jews and to damage the life routine of Israel's capital," Mayor Barkat said.
?‼️? #Israel: Terror attack in #Jerusalem. Truck drives into crowd. Kill and injured civilians and soldiers. pic.twitter.com/RMOzRxBKu7

— Onlinemagazin (@OnlineMagazin) January 8, 2017
Palestinian street attacks killed 37 Israelis and two visiting Americans in the past 15 months, alone.