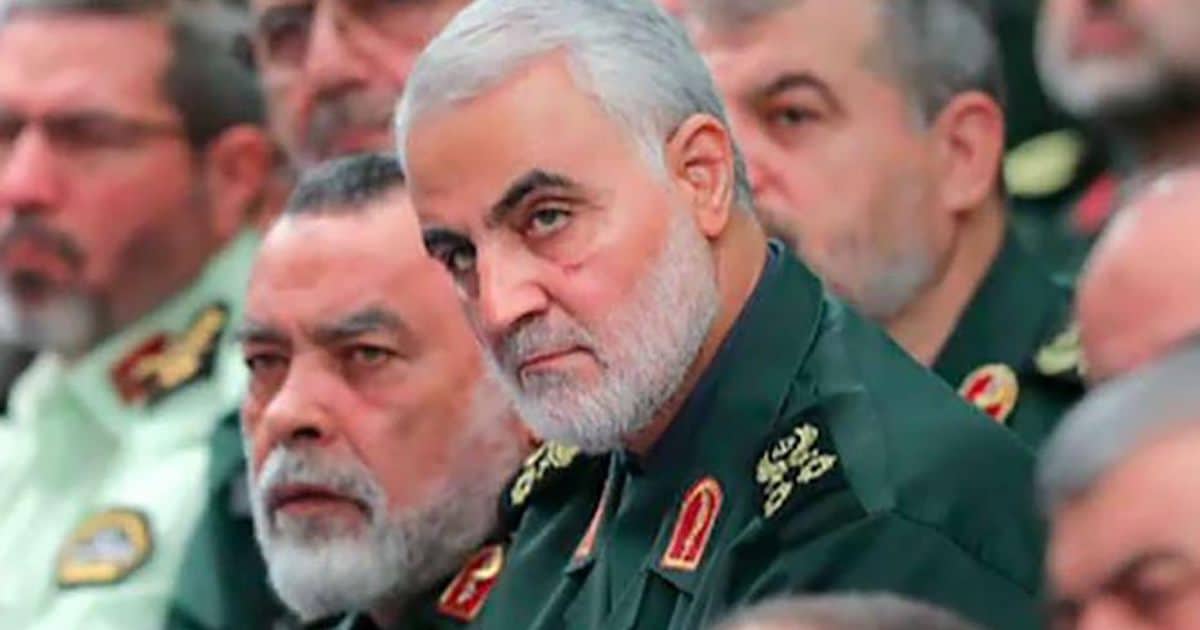 Trump's Cabinet Was Unanimous on Decision to Kill Soleimani
Iranian Major-General Qassem Soleimani instructed Shi'ite militia allies in Iraq to escalate attacks against U.S. targets as part of an elaborate strategy to redirect rising public outrage away from Iran and toward the United States.
Multiple military, intelligence and security sources tell PPD the Quds Force commander met with militia allies in Baghdad back in October, during the pause in protests known as the Tishreen Revolution.
Unprecedented Civil Unrest in Iraq
The ongoing demonstrations started as protests against corruption in the post-Saddam Hussein government. They have since escalated into calls to overthrow the administration and to stop Iranian intervention in Iraq.
The protests briefly paused on October 8 and resumed on October 25.
Prime Minister Adil Abdul-Mahdi announced on November 29 that he would resign. On December 26, President Barham Salih submitted a letter of resignation.
Soleimani's Shi'ite Strategy Session
The Shi'ite strategy session was called amid that increasing backlash to Tehran's growing influence in Iraq.
Soleimani, 62, told Abu Mahdi al-Muhandis—a top ally of Iran in Iraq who was also killed in the airstrike on January 2—to increase attacks using more sophisticated weaponry supplied by Iran. The plan ultimately aimed to provoke military responses by the United States.
Ominously, the meeting was held at a villa on the banks of the Tigris River across from the U.S. embassy complex in Baghdad that was attacked on December 31, 2019. Crowds of protestors and militia stormed the embassy in retaliation for U.S. airstrikes against bases for Kataib Hezbollah, a Shi'ite militia founded by Muhandis and trained in Iran.
The U.S. launched airstrikes on the bases after more than 30 rockets were fired at an Iraqi military base near Kirkuk on December 27. A U.S. civilian contractor was killed and four U.S. servicemen were wounded. Two Iraqi servicemen were also wounded in the attack.
U.S. Marines assigned to Special Purpose Marine Air-Ground Task Force-Crisis Response-Central Command in Kuwait regained control of the embassy on January 1. The next day, President Donald J. Trump ordered the airstrike that killed Soleimani and Muhandis.
Soleimani the Terrorist, Not General
"Soleimani was plotting imminent and sinister attacks against American diplomats and military personnel in Iraq," President Trump said. "But we caught him in the act, and terminated him."
The president's decision to kill Soleimani was unanimously supported by members of the Cabinet. President Trump said his administration's policy is "ambiguous to any terrorist who harms or intends to harm any American."
In April 2019, the Trump Administration announced the U.S. designated the Islamic Revolutionary Guard Corps (IRGC) a foreign terrorist organization (FTO). It marked the first time the United States had ever named a part of another government a FTO.
Muhandis, who was sentenced to death in absentia in Kuwait for his role in the 1983 U.S. and French embassy bombings, was also a designated terrorist.
The unprecedented decision put the IRGC on par with Hamas and Hezbollah. It had already been labeled a terrorist organization by Saudi Arabia and Bahrain.
The IRGC, which translates to Army of Guardians of the Islamic Revolution, is a branch of Iran's Armed Forces founded after the 1979 Revolution by order of Ayatollah Khomeini.
The Quds Force, or Jerusalem Force, is an elite special operations unit tasked with handling foreign operations. It typically does not engage directly. Instead, the Quds Force supports and relies on other terrorist organizations and allies.
That's precisely what Soleimani was doing before and during the time of his death in Iraq. Several weeks before the meeting in Baghdad, he ordered the IRGC to move Katyusha multi-rocket launchers, shoulder-fired missiles and other more sophisticated weaponry across the border.
Plausible Deniability for Iran
Two weeks later at the villa meeting, Soleimani instructed allied commanders to form new, unknown paramilitary groups to carry out rocket attacks on U.S. targets.
While Kataib Hezbollah was tasked with carrying out the plan—largely due to the group's ability to use drones to scout targets for the Katyusha rocket launchers—Soleimani wanted plausible deniability for Iran and Shi'ite militia allies.
U.S. military and intelligence sources claim forensics indicate the rockets tie the attacks to Iran, particularly through Kataib Hezbollah and Asaib Ahl al-Haq.
Three more rockets were fired from the Green Zone last night.
But thus far, Soleimani's plan executed by Muhandis was not eliciting their desired military responses by the United States, ones large enough to cause significant civilian casualties.
The two men were expected to discuss future attacks to provoke larger, more controversial U.S. responses when they and five others were killed in their vehicles leaving the Baghdad airport.