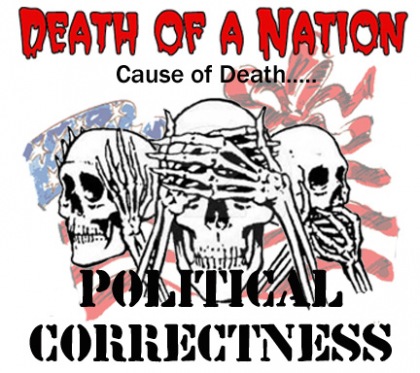 Political Correctness or PC is a term reserved for a way of putting a spin on things to offend as few people as you can, while still getting your point across. It's also come to fit the Progressive Movement's whole persona in recent years. An all-inclusive, "let's play nice" mentality that really isn't nice at all, and infringes on an individual's right to free speech.
PC is an infringement on individualism and the First Amendment, make no bones about it. The First Amendment makes no exclusion for a person or persons to make racial or offensive comments. In America, you have a right to be a bigot. Or at least you did, until about 1985.
If you remember back then, several journalists in radio and broadcasting were under fire for what was considered racially charged remarks. One incident, however, came to be emblematic of PC — the Al Campanis incident. In 1986, Campanis, during an interview with "Nightline" said blacks "may not have some of the necessities to be, let's say, a field manager, or, perhaps, a general manager" for these positions. Elsewhere in the interview he said that blacks are often poor swimmers "because they don't have the buoyancy."
Campanis for years had been a supporter of minorities in coaching jobs in MLB, and many rallied to his defense.
After he was fired and years later, of course, they spoke up.  No one dared speak up to defend him at the time of the incident, at least not anyone of note.
Whether or not the comments were racially insensitive or not, is not relevant; Campanis was terminated for exercising his right to free speech.  No one protested, no one complained. He was simply fired. There was no investigation as to whether he used racial differences in the promoting or the firing of minorities either — this was strictly a termination over his comments.
As years went by, PC became broader in its definition and its application. PC has become so widespread now, that blind people picket a Mr. Magoo movie claiming it perpetuates stereotypes.
In short, we have freedom of speech in this nation, as long as you don't offend anyone. Of course, that means we no longer have freedom of speech.
Proponents of PC argue that the constitutional amendment protecting freedom of speech does not apply in these cases, because it was not government that passed laws to bar such behavior, only private industry exercising its right to hire fire or discipline anyone they want. Fair enough. But by setting the precedent and the definition of the protections of the First Amendment so low, you now have a situation where PC is being applied even in basic arguments of politics.
Our President says we need to be more "civil" in our discourse, the VP called Tea Party members terrorists, Hollywood empty heads claim conservatives are racists, and one Congresswoman the other day out and out called on conservative to "shut up."
Like anything else, give them an inch and they will go a mile.
All of it, and the relationship between PC and discrimination are really the same issue — the application of law and rights equally among the members of society. Comments that are unacceptable by a white man are perfectly legitimate by a black man. Speech that is vile and directly violent, such as the speeches by Malcolm X, or the president's own pastor are looked over, while Herman Cain suggesting that blacks are "brainwashed" by the left is a racially charged and motivated comment.
It is the cart before the horse, using the tools of speech and argument to shut down and muzzle those that dissent simply because of the content of the speech. This is the real danger, and why progressive political theory and its cousin PC speech ultimately can create more discrimination, hate and dissension than an open discourse of ideas.
In short, say the wrong thing and you will be punished. Say the right thing and you will be rewarded. This is the machinations of "plantation" behavior, making individuals subservient to a greater authority and the will of the mob, rather than by the rule of law. It is the first step in the breakdown of a free society.
Discrimination can come in many flavors and when you discriminate against anyone, for any reason, or neuter the protections of the Constitution, you make society less free for everyone and allow the power players of corruption to run roughshod over the people.
Thomas Purcell is host of the Liberty Never Sleeps podcast show and more of his work can be read at libertyneversleeps.com