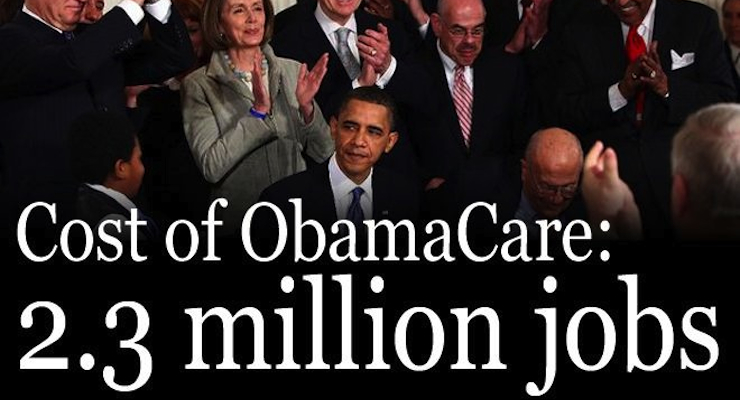 The CBO has once again been forced to backtrack from their inaccurate scoring of a big government entitlement, adding a hardly noticed footnote to a revised report projecting the cost of ObamaCare. President Obama and the Democrats have been citing the CBO to support their claim that the Affordable Care Act, otherwise known as ObamaCare, will reduce the deficit by more than $120 billion over the next decade.
Republicans have always pushed back on that math, handling the CBO with kid gloves rather than indicting the so-called bipartisan agency for what it is, which is an agency established to justify big government programs born during the "Great Society" reform era. Out of all the big entitlement programs ever scored by the CBO, just one — Medicaid Part D, a program unlike ObamaCare that was predicated upon free-market competition — has cost less than the CBO had forecast.
"CBO and JCT can no longer determine exactly how the provisions of the ACA that are not related to the expansion of health insurance coverage have affected their projections of direct spending and revenues," the CBO wrote in a tiny footnote. "The provisions that expanded coverage established entirely new programs or components of programs that can be isolated and reassessed. Isolating the incremental effects of those provisions on previously existing programs and revenues four years after enactment of the ACP is not possible."
The footnote was first caught by Roll Call earlier this week. Still, it wasn't until today that it received the attention of health care policy experts who are now condemning the CBO for pulling away from its earlier forecasting. Yet, despite all of their grumbling, the reason behind their retreat exemplifies the inherent flaw with the CBO, big government programs and particularly ObamaCare.
Basically, the CBO had based its original estimate on the assumption that the law, which included over $700 billions in Medicare cuts and tax increases to finance insurance subsidies — would actually be implemented lawfully and as written. In reality, President Obama has unilaterally delayed and altered the law whenever it was politically beneficial to himself and Democrats for him to do so.
Further, the projection for the number of Americans willing to participate in the exchanges was way off.