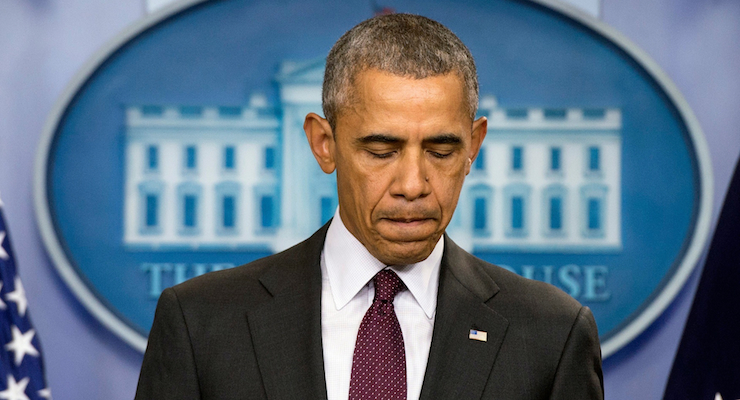 Why is It Obama Never Tells Us What Gun-Safety Laws He Wants to Pass?
I don't necessarily blame President Obama for seeking to politicize tragic mass shootings. His actions may be a bit unseemly, but also understandable if he truly believes that disarming law-abiding people is the best way to reduce carnage.
That being said, this charitable interpretation only applies if the President sincerely pushes his preferred policies. Yet, Charles Krauthammer, writing for National Review, points out that there's a remarkable disconnect. The President constantly talks about the need to enact common-sense" gun laws, but he never tells us what those laws would be.
Within hours, President Obama takes to the microphones to furiously denounce the NRA and its ilk for resisting "commonsense gun-safety laws." His harangue is totally sincere, totally knee-jerk, and totally pointless. …Nor does Obama propose any legislation. He knows none would pass. But the deeper truth is that it would have made no difference. …notice, by the way, how "gun control" has been cleverly rechristened "commonsense gun-safety laws," as if we're talking about accident proofing.
I'm not someone can be simultaneously sincere and evasive, but let's set that aside. Dr. Krauthammer explains that Obama engages in empty rhetoric because his real goal is truly radical and impractical.
the only measure that might actually prevent mass killings has absolutely no chance of ever being enacted. …As for the only remotely plausible solution, Obama dare not speak its name. He made an oblique reference to Australia, never mentioning that its gun-control innovation was confiscation… Obama can very well say what he wants. If he believes in Australian-style confiscation — i.e., abolishing the Second Amendment — why not spell it out? Until he does, he should stop demonizing people for not doing what he won't even propose.
So why doesn't the President say what he believes?
Is it because he respects the Constitution? (it was hard to write that sentence without laughing)
Is it because he knows it is political poison? (a rather plausible answer)
Is it because he knows it will lead to massive civil disobedience? (if ObamaCare is any indication, he doesn't care whether laws actually work)
I'm not sure what motivates the President, but this very clever video from Reason TV shows what would be needed to confiscate guns.
[brid video="17685″ player="1929″ title="How to Create a GunFree America in 5 Easy Steps"]
As we've come to expect from the folks at Reason, an excellent job of combining humor and reality. Sort of a mix of this satirical video and this fact-based video.
By the way, since many statists think Australia is a role model for gun confiscation. let's take a closer look at that issue. Here are two charts from the guys at Powerline Blog. The first chart shows the big drop in murder rates in the United States during a period when gun ownership was increasing and citizens enjoyed greater freedoms such as concealed carry.
Now look at the data on the murder rate in Australia, with special attention to the change (actually lack of change) following the 1996 gun ban.
John Hinderaker helpfully explains what is shown in these charts.
Whatever Australia did, it was not as successful in reducing homicides as what we have done here in the U.S. This chart comes from the Australian government. Note that there was no apparent reduction in homicides after the gun confiscation/ban/buyback of 1996. Years later, the homicide rate declined slightly, as it did throughout the developed world… But nowhere near as sharply as the homicide rate has declined here in the United States since the mid-1990s. Whatever we have done in the U.S., whether or not you credit more liberal carry laws and more widespread ownership of handguns, it has worked far better than the approach to homicide that has been taken in Australia
There are lots of factors that determine gun violence, of course, so I'm not hopeful many statists will be convinced by John's comparison. But I do hope that this evidence, when combined with all the other research ongun ownership and crime, may lead more middle-of-the-road people to the right conclusions. In the meantime, our leftist friends can rely on their version of social science research.