For a wide range of reasons, the federal government should get out of the redistribution racket. Welfare programs are costly, but they're also not among the enumerated powers granted to the federal government by the Constitution.
But for those who don't care whether the nation abides by its legal rule book, there's also a very compelling argument that better policy can be achieved by ceding responsibility for anti-poverty initiatives to state and local governments.
As shown by the 1996 welfare reform, you're likely to get changes that are good for both taxpayers and poor people. We even see some glimmers of progress now that states have more ability to police the fraud-riddled food stamp program.
The Heritage Foundation recently published a report on what happened in Maine when the state started to impose a modest work requirement on childless beneficiaries.
Food stamps is one of the government's largest means-tested welfare programs, with roughly 46 million participants and costing $80 billion a year. Since 2009, the fastest growth in participation has occurred among able-bodied adults without dependents (ABAWDs). …Maine implemented a work requirement for ABAWDs. As a result, their ABAWD caseload dropped by 80 percent within a few months, declining from 13,332 recipients in December 2014 to 2,678 in March 2015.
And here's a very powerful chart from the study.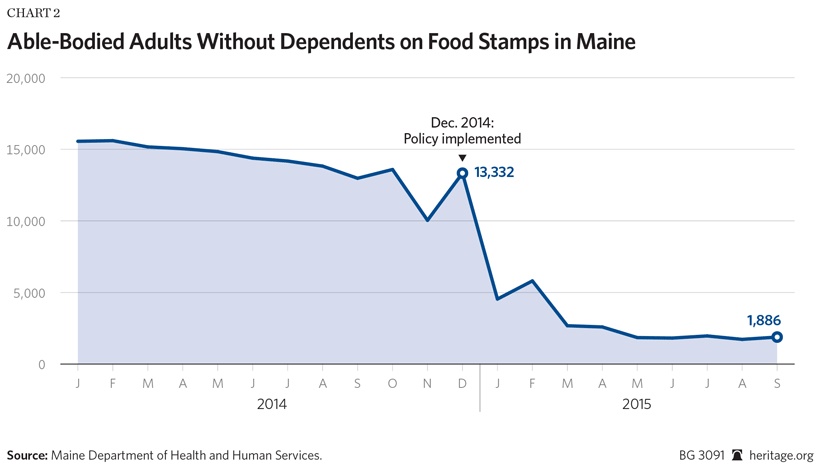 Wow, more than 4 out of 5 recipients decided to drop off the rolls rather than get a job.
Which shows that they never needed the handouts in the first place, already had a job in the shadow economy, or got a new job.
Investor's Business Daily summarizes the situation with characteristic clarity.
The number of childless, able-bodied adult food stamp recipients in a New England state fell by 80% over the course of a few months. This didn't require magic, just common sense. …This is a remarkable change and needs to be repeated in government programs across the country. How Maine achieved this is no mystery. Gov. Paul LePage simply established work requirements for food stamp recipients who have no dependents and are able enough to be employed.
This type of reform should be replicated, with big savings for taxpayers and even bigger benefits for those who shake off the emotionally crippling burden of dependency and become self sufficient.
The Heritage report says that if the Maine policy were repeated nationally, and the caseload dropped "at the same rate it did in Maine (which is very likely), taxpayer savings would be over $8.4 billion per year." "Further reforms could bring the savings to $9.7 billion per year: around $100 per year for every individual currently paying federal income tax." On top of the savings, there would be the added benefit of increasing the number of productive members of the economy, and cutting the cycle of government dependence that is ruinous to a society. …putting the able-bodied in position to be self-sufficient is a service to them, helping them shake their soul-strangling dependency on the state.
By the way, Maine isn't the only state that is trying to be responsible and proactive.
Wisconsin also is taking some modest steps to curtail dependency. Here are some blurbs from a story in the Wisconsin State Journal.
The 2013-15 state budget created a rule for some recipients of the state's food stamp program known as FoodShare: If you're an able-bodied adult without children living at home, you must work at least 80 hours a month or look for work to stay in the program. That rule went into effect in April, and between July and September, about 25 percent of the 60,000 recipients eligible to work were dropped from the program when the penalty took effect, according to DHS data.
That's good news for taxpayers.
But there's also even better news for some of the recipients.
…about 4,500 recipients found work.
Yup, sometimes a bit of tough love is what's needed to save people from life-destroying dependency.
That's the good news.
The bad news is that these reforms in Maine and Wisconsin are just drops in the bucket. The federal government mostly has been a destructive force in recent years, working to expand the welfare state (in some cases using utterly dishonest means).
And even when Washington hasn't been trying to make things worse, many state and local governments are perfectly content to watch federal money flow into the their state, even if the net result is to trap people in poverty.
Which bring us back to the main policy lesson. We need to get Washington out of the business of redistributing income. To the extent government involvement is necessary, state and local governments should be responsible for both raising and spending the money.
[mybooktable book="global-tax-revolution-the-rise-of-tax-competition-and-the-battle-to-defend-it" display="summary" buybutton_shadowbox="true"]