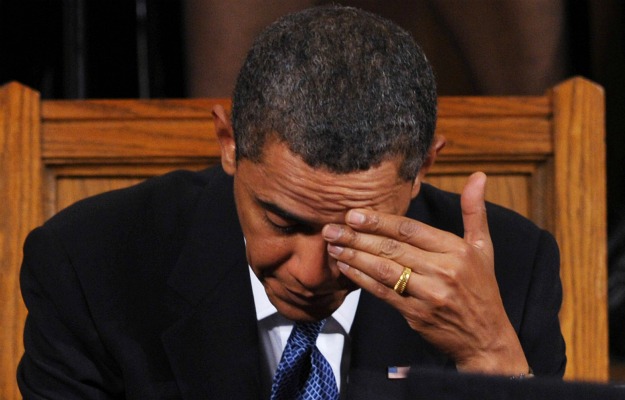 The latest Obama approval rating polls suggest the president's numbers are not likely to rebound ahead of the 2014 midterm elections. As I have continuously hammered, because of the strong relationship between presidential approval rating and midterm election outcomes, this is bad news for Democrats.
As of March 26, Obama's PPD average job approval rating is 43 percent approval to 53.5 disapprove, a disapproval spread of 10.5 percent. Excluding Rasmussen Reports, which recently I compared to other pollsters to justify my low-accuracy assessment and, my charge they have moved decidedly in favor of the left following their abysmal showing in 2012, the highest approval rating for Obama was measured by TheEconomist/YouGov survey at 44 percent. Unfortunately, that is for the president and Democratic candidates, these numbers come after a week of what appeared to be a slight uptick in the average job approval.
That's all over now.
Two factors, I would argue, are keeping the president's numbers in the low 40s, with an occasional threat to fall back down in the dirty-thirty region.
There is an age-old adage among political scientists, which was heard frequently after George H.W. Bush was defeated by Bill Clinton, and it says foreign policy cannot help a president's numbers a great deal, but it sure can sink them.
The latest Fox News Poll found 53 percent of respondents say the U.S. is "weaker and less powerful" than it was six years ago before President Obama took office. Further, 55 percent say Obama is not a "strong and decisive" leader, with a negative 53 to 37 percent approval on foreign policy, overall.
The second issue, clearly, is ObamaCare. A Democratic pollster sent out a mayday this week when she advised Democrats not to defend a law that was "flawed from the beginning," and deeply unpopular. But, as I warned before the FL-13 special election, polling is overestimating Democratic support and underestimating Republican enthusiasm. The Democratic pollster who conducted the George Washington University poll, however, is not.
"There is a huge turnout disadvantage and challenge," Democratic pollster Celinda Lake said Tuesday at a breakfast with reporters. "There is always a challenge in turnout in an off year, but it's really dramatic this time."
She is absolutely correct. Since Nov. 2013, when the failed rollout accompanied the revelation President Obama lied about Americans being able to keep their plans, or their doctors, the president has been seen as dishonest and untrustworthy. He has also been personally like throughout the majority of his tenure, but no more.
Nothing is impossible in politics, as we've seen time and again. Yet the data in this specific circumstance are pretty clear, thus far. Look for Democrats to turn to wedge issues as we get closer to Nov., because as of now, Obama's job approval rating is not likely to recover before it's too late.
And, it may just never recover.