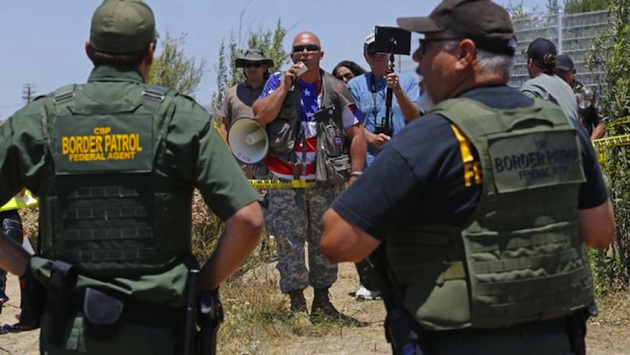 With a massive number of illegal aliens pouring across the border, the issue of illegal immigration has surpassed dissatisfaction with government and the economy as the top problem facing the U.S. today, American say. A new Gallup survey found the percentage of Americans citing immigration as the top problem has skyrocketed to 17 percent, which is up from 5 percent in June and the highest seen since 2006.
"As a result, immigration now virtually ties 'dissatisfaction with government,' at 16 percent, as the primary issue Americans think of when asked to name the country's top problem," said Lydia Saad at Gallup.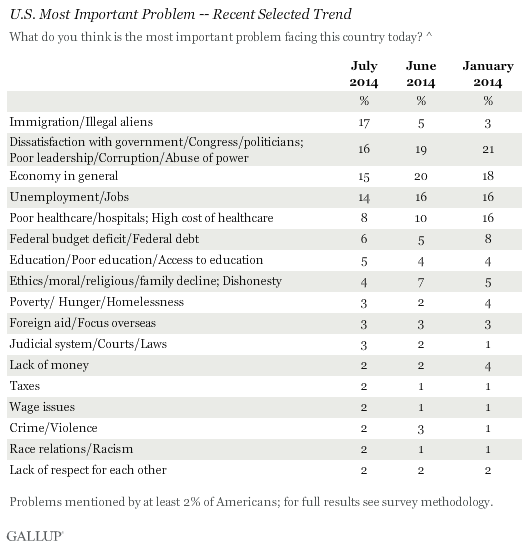 Whatever way you try to read it, the data is not good for President Obama and the Democratic Party. When respondents were asked to say which party can better handle the issue, Republicans were again at parity with Democrats, with each party enjoying 35 percent support among Americans. While this may not seem terrible for Democrats, historically, it's a disaster.
Republicans enjoyed similar levels of support relative to Democrats on this question in September, 2010 — 40 – 38 percent — just before voters gave the president's party a historic "shellacking" in the midterm House and Senate elections. Also, Republicans were practically tied with Democrats in 1994 (41 – 37 percent) and 2002 (38 – 36 percent), two cycles Gallup noted Republicans made big gains in the midterms.
"The only recent midterm election year in which Republican parity with the Democrats on this measure did not foretell Republican gains in the midterms was in 1990," Saad noted, "but that year an unusually high proportion chose neither party as the best for handling the top issue."
And the same can be observed for Democrats on the question. In 2006, the Democrats enjoyed a record 15-point advantage right before they won control of both houses of Congress. However, with Democratic Minority Leader Nancy Pelosi calling the border crisis "an opportunity," it isn't at all surprising Americans view the party with less trust.
"This crisis that some call a crisis, we have to view as an opportunity," Pelosi said.
However, the American people couldn't disagree more with the minority leader's assumption. "In fact, more Americans think immigration should be decreased than increased, and by a nearly two-to-one margin, 41 percent vs. 22 percent," Saad said commenting on another recent Gallup survey.
Similarly, a new survey from Pew Research found Americans say by a 42 – 40 percent margin that they trust Republicans more on issues of immigration, while just 28 percent say President Obama is doing a good job dealing with the issue.
Interestingly, Americans who express the most dissatisfaction and concern over the border crisis are disproportionately older, a recently reliable Republican voting bloc needed to turn out in November if Republicans hope to retake the Senate.
Outrage over the border crisis has been growing since busloads of illegal immigrants were turned back by flag-waving protestors in Murrieta, California, back in early July and rerouted to San Diego by Homeland Security. Prior, Arizona Governor Jan Brewer raised awareness to the practice when she slammed President Obama in a letter, citing the administration's "dangerous and unconscionable" policy of dumping illegal aliens in cities around the state without her knowledge.
The San Diego border patrol union confirmed shortly after that illegal immigrants were spreading scabies and other diseases, and at least 4 cases of TB were confirmed by nurses by July 7.
"While the 17 percent of Americans naming immigration as the top problem is not large in absolute terms, the fact that the issue is of particular concern to Republicans and older Americans — both groups that Republicans need to turn out in force in the midterms — could be critical to the outcome," Saad said.