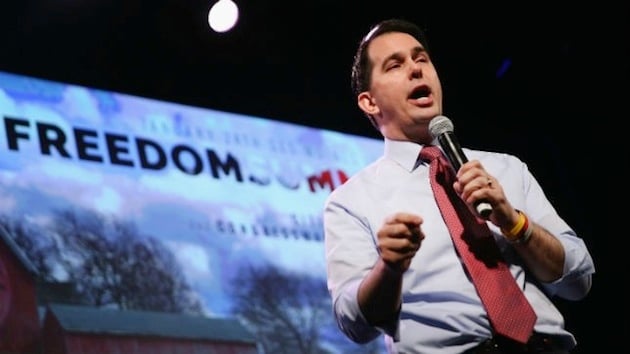 Wisconsin Gov. Scott Walker has surged to the top in the first-in-the-nation caucus state of Iowa, according to the stellar-rated Des Moines Register Poll. Republican caucus-goers obviously loved what they heard from Walker during his speech at the Iowa Freedom Summit last weekend, a headline-grabbing performance that prompted PPD to name him the event's biggest winner.
"King-a-palooza launched him," Des Moines Register pollster J. Ann Selzer said. "It's not that they like him, they love him."
Thirty-two percent of likely GOP caucus-goers have a "Very Favorable" view of him — a higher number than anyone else in the poll — while 60 percent have a "Favorable" view of the man Seltzer described as a "47-year-old, Harley-riding preacher's son."
The polling results are notable for several reasons. First and foremost, Selzer & Co. has been awarded a "Stellar" rating from PPD's Pollster Scorecard, a rating held by only the most accurate pollsters. Ann Selzer has a habit of making other pollsters look like amateurs who cannot properly gauge her state, i.e. Clinton vs. Obama (2008) to Ernst vs. Braley (2014).
That said, the results are exactly what we expected given the 2016 GOP nomination's fundamentals, and the reaction to last week's speech. Walker has the unique ability to bridge the divide between the establishment and conservative wings of the GOP. Further, PPD's research finds his electoral record demonstrates a consistent ability to draw the support of 6 – 7 percent of the presidential electorate in Wisconsin that otherwise supported Democrats, a voting bloc we have dubbed the Obama-Walker voter.
And there are a large number of them in Iowa, a statistic establishment GOP voters would do well to keep in mind.
When asked whether Walker was too conservative or too moderate, 56 percent said he was just about right, and with 34 percent saying they weren't sure, Walker has plenty of room to grow.
Another piece of data that is sure to rattle the establishment wing involves libertarian-leaning Kentucky Sen. Rand Paul, who not only came in a close second to Walker among likely caucus-goers, but also demonstrates a potential ability to straddle the philosophical divide. 2008 caucus winner Mike Huckabee came in third, while former Florida Gov. Jeb Bush and New Jersey Gov. Chris Christie are both stuck in single digits.
However, although Sen. Paul is just one point behind Gov. Walker, the fact he doesn't have a "Gov." in front of his name is a problem for a number of caucus-goers and the ground operators listening to Walker last weekend.
Meanwhile, Gov. Bush finds himself with a serious problem his brother, the 43rd President of the United States, never had. Iowa Republicans aren't particularly keen on him, at all. Even though 29 percent have a "Mostly Favorable" view of him, 25 percent have a "Mostly Unfavorable" view of the man big donors chose over 2012 Mitt Romney this cycle. Gov. Romney decided this week to leave the nomination up to younger, fresher faces to decide, giving a statement to supporters that clearly demonstrated little love for the idea of a Bush presidency.
Romney's top advisor in Iowa, Dave Kochel, signed on with Jeb in the lead-off caucus state. It would appear Kochel has his work cut out for him. Unlike Walker and Paul, Bush is a known quantity, and if there are two arguments PPD has consistently made, they are 1) Scott Walker is the most likely dark house and candidate to bridge the ideological divide in the party and, 2) Bush likely had one direction to go — down.
The Des Moines Register/Bloomberg Politics Iowa Poll of 402 Republican likely caucusgoers was taken Jan. 26-29 by Selzer & Co. It has a margin of error of plus or minus 4.9 percentage points.
[scribd id=254312953 key=key-j1Ya5vrGdh1RXyICePld mode=scroll]