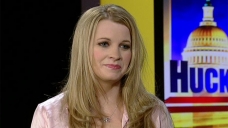 Former POW Jessica Lynch appeared Saturday on The Huckabee Show on Fox News to discuss the current chaos in Iraq. Jessica Lynch is a former Quartermaster Corps Private First Class (PFC) in the United States Army, and was held as a prisoner of war by the Iraqi military during the 2003 invasion of Iraq.
She was rescued by U.S. Special Forces on April 1, 2003, an operation that marked the first successful rescue of an American POW since World War II and the first ever of a woman. Lynch, then a 19-year-old supply clerk serving in the 507th Maintenance Company, was injured and captured by Iraqi forces after they were ambushed on March 23, 2003 near Nasiriyah. The group made a wrong turn near a major crossing point over the Euphrates River northwest of Basra.
She was initially listed as missing in action (MIA). Eleven other soldiers in the company were killed in the ambush.