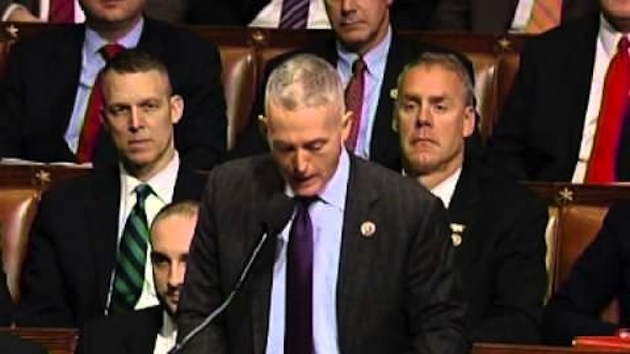 The Republican-controlled House voted 236 to 191 Wednesday to block the president's executive order on immigration, and Rep. Trey Gowdy (R-SC) was in form on the floor.
"This is not a fight between Republicans and Democrats," Rep. Gowdy said. "This is not even a fight over immigration reform. This is a fight over whether this branch of government will ever find the courage to stand up for itself. The same document that this and all presidents swear to defend gives this body certain tools. Tools like the power of the purse and it's about damn time we use that tool."
Gowdy, and other Republicans who voted in favor of the bill that defunded President Obama's order that grants amnesty to roughly 4 million in the first year, were applauded by conservative activist groups Thursday morning. The bill now moves to the Senate, where the Senate Conservatives Fund intends to mount an effort to recruit Democrats who may support the president's order, which he stated at least 23 times he did not have the authority to do, but not how the process played out.
"Now that Republicans control the Senate, they are the only ones who can take this bill off the Senate floor," Senate Conservatives Fund President Ken Cuccinelli said in an email. "If Democrats want to filibuster the bill, they should be forced to do so in front of the cameras for everyone to see."
Several Democrats have raised concerns over the president's action last year, and it is these members that high on Cuccinelli's list. Republicans would need to draft at least six of them if they hope to offset their own members who may get weak in the knees. A whopping 26 Republicans joined the Democrats to vote against an the amendment, which was sponsored by Rep. Marsha Blackburn (R-TN).
"Some Democrats may support amnesty, but don't like the way it was done," he said. "This is their chance to show their independence and to listen to the American people."