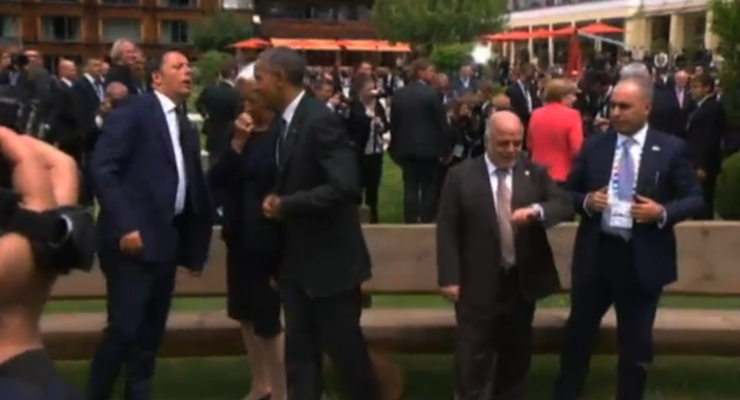 [brid video="9590″ player="1929″ title="Obama Snubs Iraqi PM alAbadi at G7 Summit"]
President Obama is taking some heat from critics this week after video footage appears to so an awkward moment when he snubs Iraqi PM Haider al-Abadi. While attending the G-7 summit in Germany, the Iraqi prime minister sat down next to Obama, who likely had no idea he was even there.
Of course, even if we conclude he did not, which you can do for yourself by watching the video, it does reenforce the sentiment that President Obama is completely aloof, at best, and unaware of his surroundings. As Mara Liasson, a liberal and the national political correspondent for National Public Radio said on Special Report with Bret Baier Monday night, the scene serves as a metaphor for a president who is also aloof and unaware of the foreign policy reality under his administration.
Obama was speaking with Italian Prime Minister Matteo Renzi and International Monetary Fund Christine Lagarde when Abadi approached with his translator. Obama, engaged in conversation with the other two, didn't turn around or seem to have any idea that the prime minister was behind him. After Obama stood, Abadi did the same, taking an exaggerated look at his watch and his translator putting his arms up in a shrug, before walking away.
Obama, Abadi and other members of the G-7 summit were supposed to be discussing a strategy for combatting the Islamic State. However, considering the scene we witness in the video and the fact Obama once again told reporters at a press conference that "we don't yet have a complete strategy" to combat the militant terror army, there is little wonder the Iraqi leader made the recent comments he did.
READ ALSO — Iraqi PM Haider al-Abadi Slams U.S.-led Coalition for Spread of ISIS
On Tuesday, al-Abadi blamed the U.S.-led coalition that is training his security forces for the spread of ISIS in his country.
He said ISIS "is a failure on the part of the world" to offer an alternative to militant Islam, adding the international community has "a lot of political work" in their own countries.