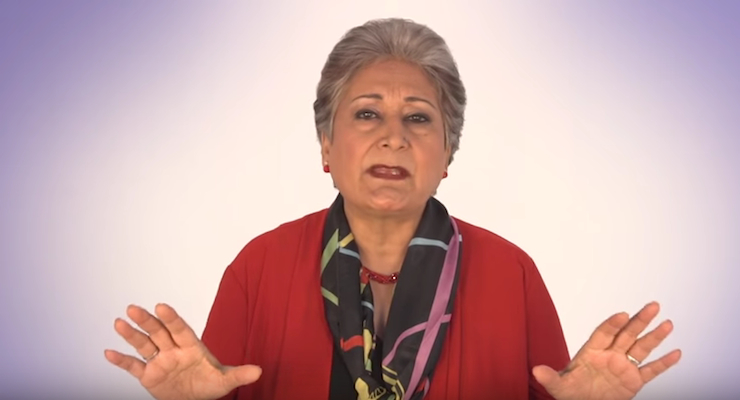 Explaining the Spheres of Radical Islam
[brid video="22272″ player="2077″ title="By The Numbers The Untold Story of Muslim Opinions & Demographics"]
Raheel Raza, a female Sunni Muslim and true human rights advocate, reveals the truth about radical Islam "by the numbers" in a new video produced by The Clarion Project. Ms. Raza, the president of Muslims Facing Tomorrow, has herself been a target of radical Islam and hosted the video to start an honest discussion about Muslim opinions and demographics.
"The numbers are right here for all to see. It's time for an honest conversation about one of the most important issues of our time," Raza said. "By silencing the debate about radical Islamists' beliefs we abandon our own core beliefs of truth, free speech and tolerance. And we abandon human rights in favor of political correctness. Together we have begun the conversation. Now it's time for you to have your say."
Raza breaks down the 3-tiered spheres of radical Islam, which includes violent jihadists, Islamists and fundamentalists. Taken with the data from a Pew Research survey, the results are very concerning. So, we asked our resident polling and data expert to verify and comment on Raza's argument in the video. His response was equally disturbing.
"She's speaking truth to power, plain and simple," Rich Baris, PPD's senior political analyst said. Ms. Raza and The Clarion Project did the nation a great patriotic service by producing this film. Unfortunately, they may be painting too rosy of a picture."
While Pew Research is a viable, trustworthy polling firm in the mainstream media, PPD's research shows they 1) often underestimate radical values held by Muslims inside and outside the U.S. juxtaposed to other surveys and, 2) are complacent in helping the Left obfuscate radical Islam with moderate Islam.
"National discourse rarely identifies or defines which Muslim views are collectively deemed radical," Baris said. "Of course blowing yourself up for Allah is widely considered to be radical. But as Ms. Raza points out, there are central tenets of fundamentalist Islam that are adhered to by millions of Muslims around the world. We in the West believe these views to be radical. But rather than underscoring this important distinction, Pew instead chooses headlines that are blatantly bias or PC."
A recent Pew study cited in the video and criticized by Baris was entitled "Most dislike ISIS in Muslim countries." Yet another recent Pew study was entitled "Muslims and Islam: Key findings in the U.S. and around the world." Baris says these headlines and oft-touted top line numbers are highly misleading and help to make it all too easy for the same groups Ms. Raza cites in the video–groups our own president would have you believe are moderate–to conflate the issue.
Raza notes in the video that groups like the Council on American-Islamic Relations (CAIR) hold many of the same beliefs as jihadists carrying out terror attacks, such as implementing Islamic Sharia law and global domination. CAIR, other groups, and even pop culture celebrities like Ben Affleck resort to PC tactics when someone or group makes an effort to advance the conservation and expose the truth.
"Either way, Ben Affleck, President Obama and most of the self-appointed defenders of Islam are either lying or don't know what they are talking about," Baris said. "The myth that holds the vast majority of Islam is moderate is just that–a myth."
Join the Conversation. It is, indeed, time for you to have your say.