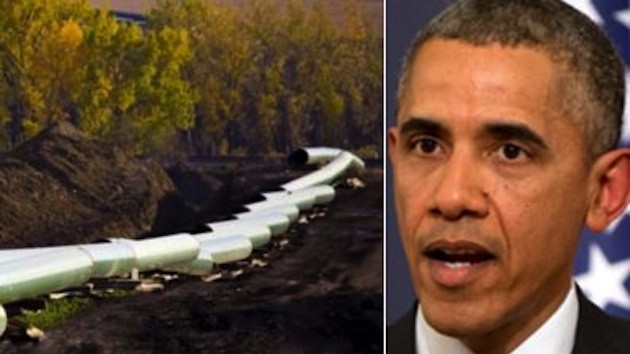 Last week, Congress authorized construction of the Keystone XL pipeline, setting up the first real veto showdown of President Obama's tenure. He delayed construction of the project, despite several reports from his own State Department showing more carbon gases would be emitted from transportation via railway in the absence of its construction.
After the State Department reports were released, the White House repeatedly cited the lawsuit that — at the time — was making its way through the Nebraska judicial system to the state's high court, where it was ultimately thrown out. Then, the president fell back on the review process confined to an undefined "comment period" within an unclearly defined bureaucracy in the executive branch.
"Americans are urging the President to finally heed scientific conclusions his own State Department already reached," Majority Leader Mitch McConnell, R-Ky, said. "Powerful special interests may be demanding that the President veto Keystone Jobs, but we hope he won't."
But Obama wasn't always so anti-pipeline.
On March 22, 2012, while sitting on a stage in Cushing, Oklahoma, President Obama announced an order to expedite a pipeline project that would help move oil more quickly and efficiently from Cushing to refineries in the Gulf of Mexico. In the middle of a heated presidential campaign, he pledged his administration would encourage oil development and infrastructure. While he did say his administration would do so in a manner that is "safe and healthy to the American people," to determine such a standard was the job of the State Department review process.
So, what happened? Why the change of heart?
As PPD previously reported in September, just one month prior to the 2014 elections, radical climate-change activist Tom Steyer gave the biggest super PAC donation of the cycle. Steyer, who first made his money as a hedge-fund manager, dished out a whopping $7.5 million to his own group, NextGen Climate.
He also gave a half-million dollars to Senate Majority PAC, the biggest-spending Senate Democratic super PAC orchestrated by the former Senate majority leader Harry Reid. The pack put out more than 40,000 Senate-focused television ads last election cycle, which was far more than any other outside spending group.
The contribution by the PAC to the Democrat money advantage during the 2014 cycle is actually understated by that number. For every 20 ads run last cycle, one was put out by Reid's group that was greatly funded by Mr. Steyer, who also kicked out another $150,000 to the League of Conservation Voters Victory Fund, another left-wing environmental group.
Steyer made headlines when he promised that he would give $50 million of his own money — and bundle $50 million more — which could be used for any Democratic campaign that was anti-Keystone XL pipeline. Steyer's hedge fund, coincidentally, employs a strategy of hedging against companies that produce traditional energy resources, as well as production itself.
Even though the Democrats took a historic thumping in 2014, money talks. Steyer didn't buy a loss with that money. And perhaps more importantly, the prevailing left-wing wisdom holds that the party didn't move far enough to the left prior to the elections. It is likely former Sen. Mary Landrieu would disagree — considering Keystone failed in the Senate by one vote just hours before Louisiana voters sent her packing — but that is the perceived reality for the modern Democratic Party.
"If the President does ultimately bow to these special-interest demands, that's a discussion we can have then," McConnell said. "But either way, Americans should know this: the new Congress won't stop pursuing good ideas."
To be fair, PPD recently reported there are a number, a growing number, of Democrats in the House and Senate urging the president to sign the legislation. Not only lawmakers, but the Democratic strategists looking at the polls are beginning to question the left's prevailing wisdom, though they remain the party's minority voice.
A recent PPD Poll of 694 registered voters found 69 percent support construction of the pipeline outright, up from 65 percent measured last year. However, 72 percent support its construction when respondents are told of the administration's own findings.
"The Keystone Jobs bill is just common sense," McConnell added. "That's why this bipartisan legislation already passed the Senate with support from both parties. That's why labor unions support it. That's why the American people support it.
The record, as well as the president's own words, show Obama was far more friendly to pipeline construction proposals in 2012. Even if only for political expediency, President Obama was for pipelines before Tom Steyer was against them.
(H/T Don Smith Show for drumming up the footage!)