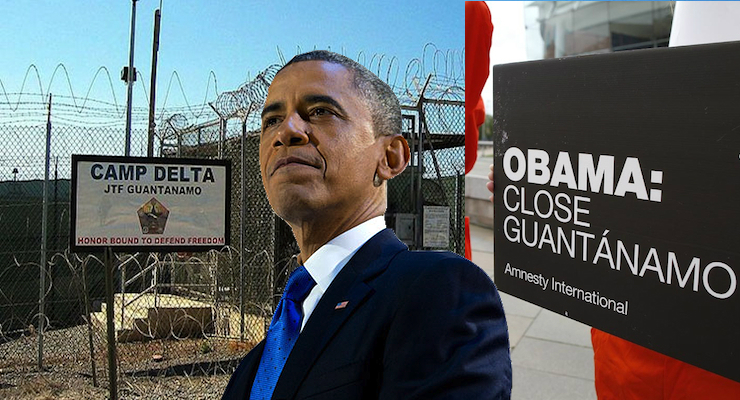 President Obama has directed the Pentagon to release a plan next week to begin to end his unpopular years-long push to close the Guantanamo Bay detention center. The administration intends to move Guantanamo detainees serving life to a Colorado prison known as "the Alcatraz of the Rockies," a once-shot down plan that is sure to anger opponents.
The move will make good on a campaign promise the president mad ein his 2008 White House bid to close Gitmo and the administration will argue keeping the detention center open would not be in the United States' best financial, national security and foreign policy interests. Of course, the backdrop will be in the name of justice, an indictment on the fact that some of the detainees have been held for nearly nine years without trial or sentencing.
Pentagon sources tell PPD that the prison in Florence, Colorado, isn't the only facility being considered for the plan. In fact, it is just one of seven U.S. facilities located in Colorado, Kansas and South Carolina on the table for discussion. The news follows a statement made by White House Press Secretary Josh Earnest this week, claiming the Obama administration is trying "very hard" to transfer at least 53 more detainees out of the 112 remaining before the end of 2015.
According to a recent poll, voters continue to oppose President Obama closing Guantanamo Bay and don't believe his administration over the U.S. intel community regarding the rate of return. Just 28% of American registered voters in January supported Obama closing Gitmo, and 59% said the administration isn't being truthful when they claim only 6% of detainees have returned to the War on Terror battlefield. The intel community has estimated the recidivism rate is at least 3o%, if not higher.
According to a recent report, U.S. intel officials believe upwards of 20 to 30 Guantanamo Bay detainees released by the Obama administration in the past few years alone have joined the Islamic State (ISIS), while upwards of 30 percent are suspected or confirmed of returning to Islamic terrorist activity.
Similarly, a Rasmussen Reports poll found that just 29% of likely U.S. voters believe the Guantanamo prison camp should be closed, which was up slightly from the 23% measured in April 2013. Rasmussen, historically, found more support for the prison's closure than other pollsters. But even the current level is down from a high of 44% in January 2009, when Obama first announced his plans to do so. Now, a significant 19% are undecided.
A June 13 Gallup poll found just 29% of Americans support closing the terrorist detention camp and moving its prisoners to U.S. prisons, while 66% opposed doing so. As PPD research has repeatedly observed, ideology is the most predictive factor when determining a respondent's answer, not party preference or ID.
Lawmakers on both sides of aisle have been critics of the move in the wake of several disturbing developments, even successfully blocking several releases. For instance, as PPD previously reported, former Gitmo detainee—Mullah Abdul Rauf, a former Taliban commander and prisoner at Guantanamo Bay released by the Obama administration—established the first Islamic State base in Afghanistan. The area is now under Islamist control and the president has been forced to leave behind thousands of U.S. forces beyond his own self-imposed deadline.
Legally, a final decision to on a U.S. facility and closure requires congressional approval, which lawmakers say is not at all likely. However, Earnest flatly said that President Obama has not ruled out signing an executive order or presidential memorandum, the latter he has done more than any other president, to close the facility. It wouldn't be the first time the president ignored federal law when trying to close Guantanamo.
A recent Government Accountability Office investigation concluded that the Obama administration violated the law when it ordered the Pentagon to swap the Taliban Five detainees for Sgt. Bowe Bergdahl, a known deserter who was held prisoner in Afghanistan for five years after abandoning his post. The government watchdog agency said the administration's failure to notify the relevant congressional committees at least 30 days in advance of the exchange was a clear violation of the law.
Worth noting, PPD confirmed in Oct. that an Army officer is expected to recommend Bergdahl face a lower-level court martial that would not only spare him the possibility of jail time for leaving his post in Afghanistan, but also remain in the Army with a reduced rank. Nevertheless, under current law, which was passed in a broad bipartisan fashion, the executive branch is prohibited from releasing Guantanamo detainees without first receiving the aforementioned notice and approval.
Nevertheless, the administration argues that transfers aren't subject to the same legal standard, and have commissioned an assessment team to review several prisons in recent months to identify their advantages and disadvantages, including costs for renovations and construction, the capacity to house troops and hold military commission hearings, as well as health care facilities. The Colorado facility, which  already houses convicted terrorists such as Unabomber Ted Kaczynski and Zacarias Moussaoui, a conspirator of the Sept. 11, 2001, attacks.