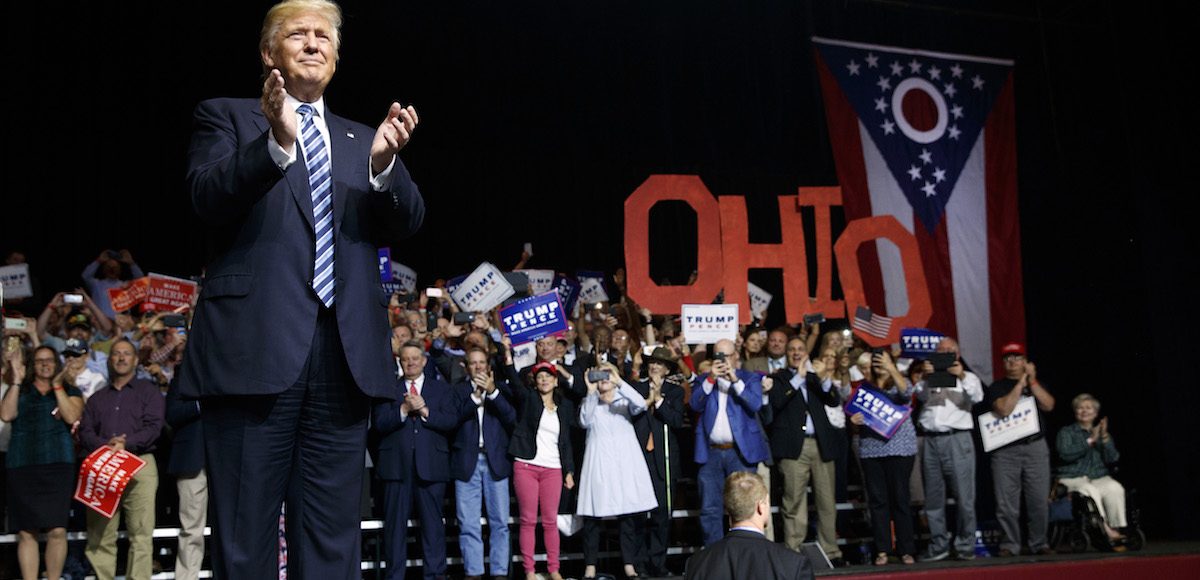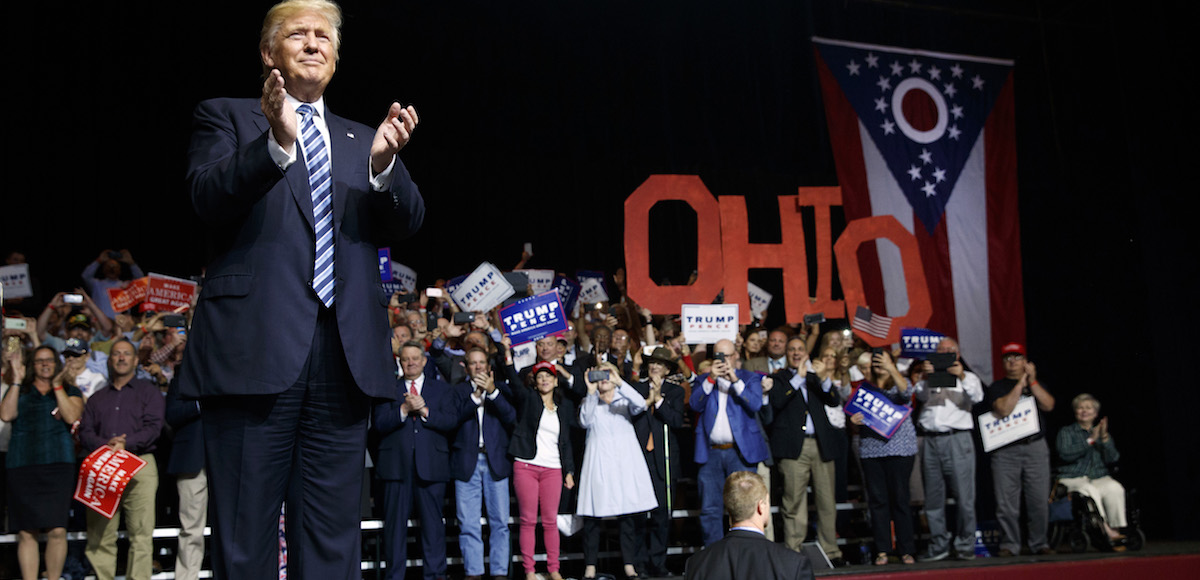 President Donald J. Trump was in Ohio last week to gin up support in Middle America for his plan to modernize the nation's infrastructure. The President, who overwhelmingly carried the Buckeye State, said it was "time to rebuild our country" and to "put America first."
"America must have the best, fastest and most reliable infrastructure anywhere in the world," President Trump said. "We will fix it," said Trump, standing along the Ohio River. "We will create the first-class infrastructure our country and our people deserve."
While his national numbers have taken a dive, the PPD Buckeye State Battleground Poll shows he remains popular in Ohio. PPD Battleground State Likely Voter Profiles show the same is true for most other states the president carried in November.
We think there's at least an economic reason for this.
The ADP National Employment Report and the Gallup U.S. Job Creation Index show Trump states in the South and Midwest are leading the nation in job creation. A review of private sector job creation data show Trump voters are disproportionately benefiting from the Trump economy.
Let's start with the Gallup U.S. Job Creation Index, which returned to its record high in May.
In general, the South, a typical vote-rich region for even typical Republicans and, the Midwest, which is not, have led the way in job creation. Meanwhile, the East, a democratic-led and voting stronghold, is lagging far behind Trump country with an average of +31 ( up to May). That compares to +42 in the South and +38 in the Midwest.
"The East has experienced virtually no growth since last fall," Art Swift of Gallup noted.
That hasn't always been the case and, even though the East generally tracks lower, the disparity is greater in the last few months as job creation in the South and Midwest grow at a faster rate.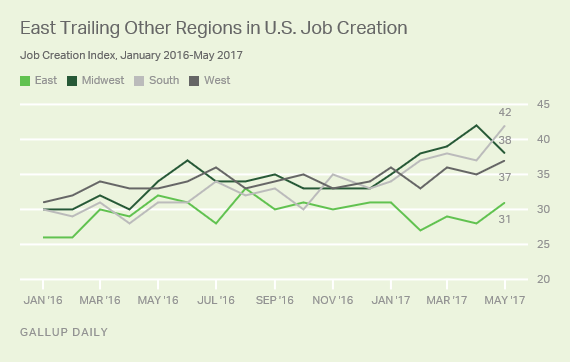 Worth noting, while most psephologists refer to Pennsylvania as being part of the Blue Wall in the Rust Belt Midwest, job creation data considers it an eastern state. Pennsylvania voted for President Trump in November, the first time it went Republican since 1988, and also happens to be one of only 3 states adding jobs at a significant rate.
The West, a region that is made up of states that are evenly split–Alaska, Washington, Oregon, California, Arizona, Idaho, etc–averaged +37.
Since President Trump took office, employees in the South and Midwest have been markedly more likely to report net job creation.
The U.S. Job Creation Index results are surprisingly in line with payroll process ADP's findings.
The ADP National Employment Report found the U.S. private sector added 253,000 jobs in May, of which a staggering 98,000 were created in the South and 46,000 in the Midwest. Florida (+13,500) and Texas (+30,900), both of which being the two most populous states in the South, led their region.
That's roughly 39% (South) and 18% (Midwest), respectively, the latter being disproportionately smaller in terms of population. Of the 3 states leading the way in the Midwest, only Illinois didn't vote for President Trump. Ohio and Michigan are the other two.