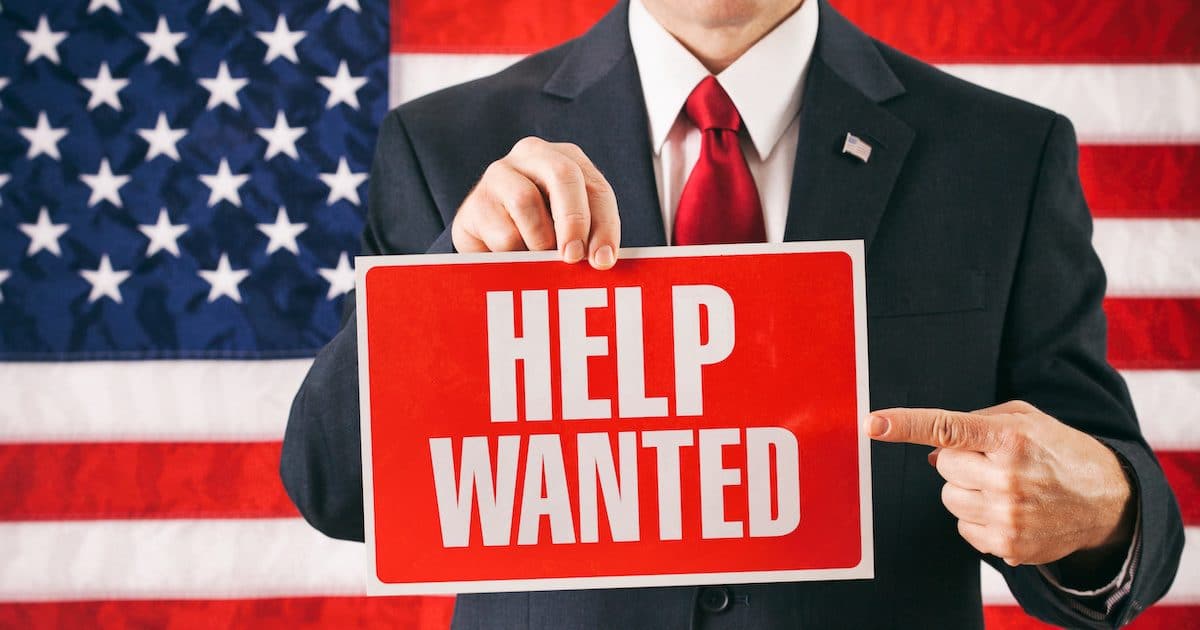 Job Growth Revised Higher for Prior Two Months, Strongest Year Start Under Trump Administration
Total nonfarm payrolls rose 237,000 in February and the unemployment rate ticked down to 3.5%, according to the U.S. Bureau of Labor Statistics (BLS) monthly jobs report. The Employment Situation is the latest indicator the labor market is weathering the coronavirus.
The headline jobs number exceeded the high end of the forecast range. Forecasts ranged from a low of 149,000 to a high of 220,000. The consensus forecast was 177,000.
"The February jobs numbers easily beating expectations should have been one of the most predictable beats in years," Tim Anderson, analyst at TJM Investments on the New York Stock Exchange (NYSE). "Non farm payrolls increasing by these numbers should not be that big of a surprise."
"In February, we had three consecutive reports of weekly jobless claims at 210,000 or lower, the best 3-week stretch on record."
The change in total nonfarm payroll employment for December was revised higher by 37,000 from +147,000 to +184,000. The change for January — which was already a big number — was revised higher by 48,000 from +225,000 to +273,000.
With these revisions, job gains for the two months combined were 85,000 higher than initially reported. It also marks the strongest two-month start to the year for job creation under the Trump Administration.
"The Department of Labor continues to implement the President's policies that are helping workers and their families thrive, including closing the skills gap through apprenticeships, and bringing more Americans off the sidelines for good, safe, family-sustaining careers," U.S. Secretary of Labor Eugene Scalia, said in a statement.
"The signing of USMCA and Phase I of the China Agreement establish sound footing to continue economic expansion this year and beyond."
Labor Force Participation
The labor force participation rate remained at 63.4%, a very positive sign for the labor market. The employment-population ratio edged 0.1% lower to 61.1%, but is up by 0.5% over the year.
Forecasts ranged from a low of 63.3% to a high of 63.5%. The consensus forecast was 63.4%.
Most notably, labor force participation rates for Hispanic and African American workers continued to rise in February, by 0.3% and 0.7%, respectively.
Total Nonfarm Private Payrolls
Total nonfarm private payrolls increased by 228,000, also crushing the forecast. That's the second straight month forecasts for private payrolls have been significantly beaten.
Forecasts ranged from a low of 140,000 to a high of 170,000. The consensus forecast was only 155,000, a still solid number.
Worth noting, the ADP National Employment Report released earlier this week found the U.S. economy added 183 private sector jobs in February after adding 291,000 in January. Both numbers beat the forecasts.
Construction added a solid 42,000 jobs in February, following a similar gain in January (+49,000). In 2019, increases in construction jobs averaged 13,000 per month, but now reflect surges in construction spending and builder confidence.
In February, employment gains occurred in specialty trade contractors (+26,000) and residential building (+10,000).
Wages
Wages, or average hourly earnings (AHE) for all employees on private nonfarm payrolls, increased by 3.0% over the last 12 months in February.
Wages have risen by at least 3% for 19 consecutive months.
Forecasts for wages ranged from a low of 2.9% to a high of 3.2%. The consensus forecast was 3.0%.
Average hourly earnings of private-sector production and nonsupervisory employees increased by 8 cents to $23.96 in February.
AHEs for all employees rose by 8 cents to $23.96, while private nonfarm payrolls increased by 9 cents to $28.52.
"While this is an A+ jobs report by any measure, it will be overshadowed by the rampant fear and panic over the Coronavirus," Mr. Anderson added. "That panic is causing at least 10 times more damage to financial markets that the virus, itself."
You Might Also Like