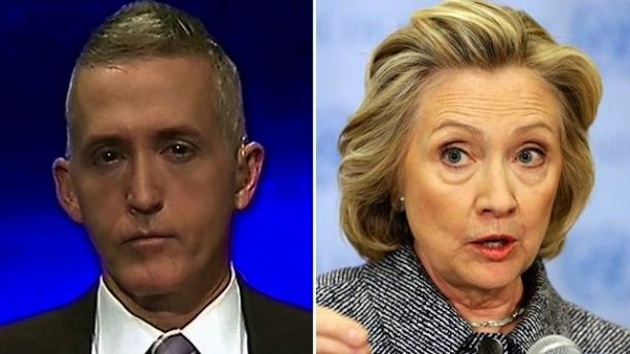 Rep. Trey Gowdy, R-S.C., the chair of the House Select Committee on Benghazi, confirmed Friday Hillary Clinton unilaterally decided to wipe her server clean.
"We learned today, from her attorney, Secretary Clinton unilaterally decided to wipe her server clean and permanently delete all emails from her personal server," Gowdy said in a statement Friday. "Not only was the Secretary the sole arbiter of what was a public record, she also summarily decided to delete all emails from her server ensuring no one could check behind her analysis in the public interest."
The development comes after the Benghazi committee extended the deadline at Clinton's request for a previous request, and subpoenaed Clinton's emails for an independent review executed by a neutral third party. House Speaker John Boehner had backed the move by Gowdy, telling reporters last week Mrs. Clinton "must turn over her computer server to an independent third-party investigator."
"After seeking and receiving a two week extension from the Committee, Secretary Clinton failed to provide a single new document to the subpoena issued by the Committee and refused to provide her private server to the Inspector General for the State Department or any other independent arbiter for analysis," Gowdy said.
Chairman Gowdy's office did not immediately reply to an inquiry from PPD asking what steps — if any — he will take following the development.
Rep. Elijah Cummings (D-Md.), a ranking member on the committee, dismissed Gowdy's reaction as a political move.
"This confirms what we all knew—that Secretary Clinton already produced her official records to the State Department, that she did not keep her personal emails, and that the Select Committee has already obtained her emails relating to the attacks in Benghazi," the Democratic lawmaker said in a statement. "It is time for the Committee to stop this political charade and instead make these documents public and schedule Secretary Clinton's public testimony now."
Islamic terrorists connected to al Qaeda, who the Pentagon knew had previously declared Libya "an Islamic state," attacked the U.S. diplomatic compound in Benghazi on the evening of September 11, 2012.  U.S. Ambassador Christopher Stevens and U.S. Foreign Service Information Management Officer Sean Smith were both killed in the initial wave. A few hours later, a second terrorist strike targeted a different compound located approximately one mile away, killing CIA contractors Tyrone Woods and Glen Doherty and injuring 10 others.
Recently uncovered emails obtained by Judicial Watch reveal top aides for then-Secretary of State Hillary Clinton always knew the Benghazi mission compound was under attack from a terrorist group, and Clinton herself lied to the victims' families.  The documents, which were obtained as a result of a Freedom of Information Act lawsuit against the State Department, make no reference to a spontaneous demonstration or Internet video.
Clinton issued an official statement claiming the assault was the result of "a response to inflammatory material posted on the Internet." Shortly after, while speaking at the ceremonial return of the victims' bodies, Clinton said that the attack was prompted by "an awful Internet video that we had nothing to do with," promising the families that the man who made the video would pay.
The emails obtained reveal correspondences between Clinton aides Cheryl Mills and Jacob Sullivan (among others), both of whom are on the partial list of notable witnesses to be questioned by the House Select Committee on Benghazi, during and immediately after the attack. But there was no mention of the secretary, herself, and it was recently revealed that Mills and Sullivan may have used private email accounts when corresponding with Clinton.
According to the document released by the Clinton camp , the following is how Clinton's personal attorneys deemed which emails would be preserved:
First, a search was done of all emails Clinton received from a .gov or state.gov account during the period she was secretary of state — from 2009 to 2013.
Then, with the remaining emails, a search was done for names of 100 State Department and other U.S. government officials who Clinton may have had correspondence with during her tenure.
Next, the emails were organized and reviewed by sender and recipient to "account for non-obvious or non-recognizable email addresses or misspellings or other idiosyncrasies."
Lastly, of the emails still left over, a "number of terms" were searched, including "Benghazi" and "Libya."