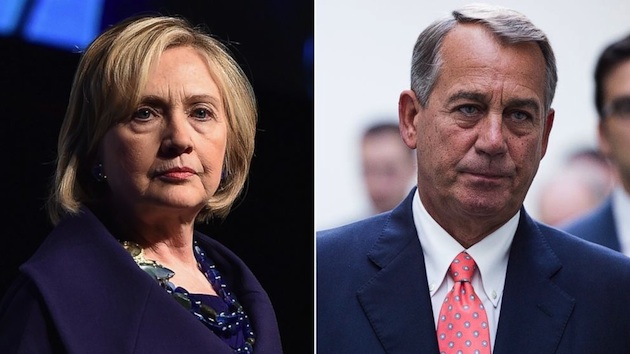 WASHINGTON — House Speaker John Boehner, R-Ohio, told reporters Tuesday that former Secretary of State Hillary Rodham Clinton must turn over her computer server to an independent third-party investigator.
The speaker's comments come just one day after D.C. began to whisper he would announce this week a new investigation into Hillary Clinton's email practices, including her own admission that her team deleted more than 31,000 emails because she determined them to be personal.
Boehner said that Clinton must surrender all of her emails to an independent party who can decide what was in fact personal and what was government-related, though contended there are no changes in the House investigations.
According to the document released by the Clinton camp this week, the following is how Clinton's personal attorneys deemed which emails would be preserved:
First, a search was done of all emails Clinton received from a .gov or state.gov account during the period she was secretary of state — from 2009 to 2013.
Then, with the remaining emails, a search was done for names of 100 State Department and other U.S. government officials who Clinton may have had correspondence with during her tenure.
Next, the emails were organized and reviewed by sender and recipient to "account for non-obvious or non-recognizable email addresses or misspellings or other idiosyncrasies."
Lastly, of the emails still left over, a "number of terms" were searched, including "Benghazi" and "Libya."
A select committee is investigating the deadly Sept. 11, 2012 attack on the U.S. Consulate in the Libyan city, which resulted in the deaths of four Americans, including U.S. Ambassador Chris Stevens, State Department employee Sean Smith, and security contractors Tyrone Woods and Glen Doherty. Mrs. Clinton's role the night of the attack remains very much in question, as does her honesty to the victims' families in the days after.
Recently uncovered emails obtained by Judicial Watch and first covered by PPD reveal Clinton's top aides always knew the Benghazi mission compound was under attack from a terrorist group, and Clinton herself lied to the victims' families.  The documents, which were obtained as a result of a Freedom of Information Act lawsuit against the State Department, make no reference to a spontaneous demonstration or Internet video.
The House Select Committee on Benghazi has extended the deadline for Clinton to turn over any emails related to the terror attack.
Rep. Trey Gowdy, R-S.C., the committee's chairman, had given Clinton until this past Friday to respond to a subpoena of documents held in her private e-mail server. However, committee spokesman Jamal Ware said late Monday that the deadline had been extended by two weeks to March 27.
Further, Rep. Jason Chaffetz, R-Utah, the chair of the House Oversight and Government Reform Committee, said his panel will focus on the open records law and the ultimate fate of Clinton's emails.