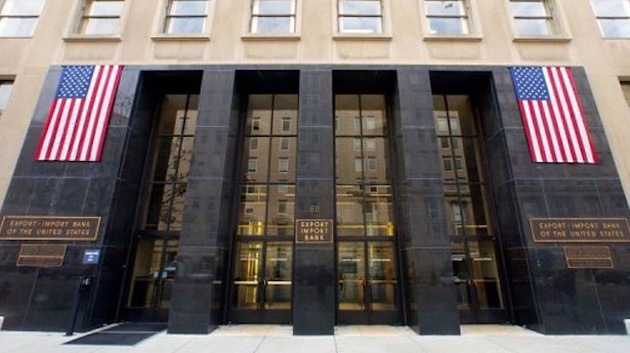 Washington, DC – After nearly succeeding in their efforts to allow funding for the scandal-laden Export-Import Bank to expire, the Club for Growth is refocusing its efforts. The pro-economic freedom and growth activist group is launching "#50 Reasons to End the Export-Import Bank," a new phase in its campaign to block congressional funding and reauthorization.
According to a Club email sent to PPD, each weekday the @Club4Growth Twitter account with tweet a new reason why funding for the Ex-Im Bank should expire when the bank's authorization ends on June 30, 2015.
"Congress must end the Export-Import Bank," said Club for Growth President David McIntosh. "Nearly 99 percent of the U.S. businesses that export goods do so without any help from Ex-Im, and it's a federal agency that is rife with corruption."
Late last year, allies in the Chamber of Commerce, K Street and on Wall Street rallied to ensure conservatives in Congress didn't slam the revolving door that has become the Ex-Im Bank shut. However, despite the Club's repeated warnings that the bank was a "slush fund for corporate welfare," the extent of the bank's criminal activity is just now becoming public.
Former Ex-Im Bank loan officer Johnny Gutierrez was charged with bribery last week for accepting cash bribes 19 different times during a period stemming from 2006 to 2013. Further, new testimony from Mark Thorum, the assistant inspector general for inspections and evaluations at the Ex-Im Bank, and Kimberly Gianopoulos, the director of international affairs and trade at the Government Accountability Office, revealed 31 instances of alleged fraud by employees at the bank are currently under investigation.
Rep. Jim Jordan, Chairman of the House Oversight and Government Reform Committee, released a joint statement along with Chairmen Jeb Hensarling (House Financial Services Committee), Jason Chaffetz (Oversight and Government Reform) and Bill Huizenga (Financial Services Subcommittee on Monetary Policy and Trade), which makes clear the future of the culturally and systemically corrupt institution is very much in doubt.
"On the heels of news that Johnny Gutierrez was indicted for bribery, it is alarming to hear that even more indictments of fraud related to Ex-Im Bank activities are expected," the joint statement stated. "While this is disturbing enough, the fact that we learned of this only at the end of nearly three hours of testimony, is further evidence of the Bank's continued and brazen efforts to avoid transparency and accountability. With the Bank's charter expiring this summer, this adds to the already long list of significant concerns we have over its future viability."
The Export-Import Bank, which was established in 1934 by Franklin D. Roosevelt, supposedly exists to "facilitate exports and imports and the exchange of commodities between the United States and other Nations." Proponents of the Ex-Im Bank argue that the loans, which are funded by money borrowed from the U.S. Treasury, are necessary to gain a competitive advantage in the global economy.
However, as PPD has repeated investigated and reported, the Ex-Im Bank perpetuates corporate welfare, corruption and crime at the expense of the taxpayers. Last summer, big business Democrats led by New York Sen. Chuck Schumer, who is widely expected to take over for the soon-to-be retired Minority Leader Harry Reid, D-Nevada, began kicking up lobbying and legislative efforts to save their crony cash cow.
Proponents of and lobbyists for Ex-Im began handing squishy Republican lawmakers in swing districts friendly reminders in the form of index cards highlighting which companies in their districts received funds from the bank. The card even identified how many people were employed as a result of the bank's crony deals, an effective lobbying trick that came directly from corporations such as Boeing Co. (NYSE:BA) and General Electric Co. (NYSE:GE), as well as the U.S. Chamber of Commerce and the National Association of Manufacturers.
"I'm sure the handful of big corporations which benefit from Ex-Im can compete just fine without government handouts. With 10 weeks until Ex-Im's reauthorization deadline, the Club wants to make sure Members of Congress and the public know why it should be left to die after June 30th," McIntosh added. "Typically, there are top 10 lists, but Ex-Im's corporate handouts are so bad that we have the top 50 reasons to end it. "
Unlike other sacred cows in Washington D.C., some don't see Sens. Schumer and Elizabeth Warren, an alleged populist darling of the left who supported reauthorization, going to bat for the bank.
"In the grand scheme of things, the Export-Import Bank isn't the worst government program or the one that most needs to be abolished," CATO economist and PPD contributor Dan Mitchell noted. Even though Mitchell and other budget hawks acknowledge entitlement programs are a far greater threat to America's long-term fiscal stability than the Ex-Im Bank, "with Medicaid serving as a particularly sobering example," he admits achieving significant cuts to the third rail of American politics would be extremely difficult.
"But here's the deal," Mitchell added. "In the case of the Export-Import Bank, though, victory is possible. Authorization for this odious form of corporate welfare automatically sunsets later this year."
Whether the Ex-Im Bank is reauthorized or not will more than like have consequences on the new Republican majority and their inevitable 2016 nominee, because unlike entitlement spending that requires approval from the House, the Senate, and a signature from President Obama, the Ex-Im Bank is doable.
"In other words, so long as either the House or the Senate say no, taxpayers win," Mitchell added. "This is why getting rid of the Export-Import Bank is a real test of whether Republicans are serious about shrinking the size and scope of government."
Indeed, if the GOP cannot deliver on a "no-brainer" such as the corrupt, crony Ex-Im Bank, their voting base will no doubt wonder if they can deliver on any promise, at all.