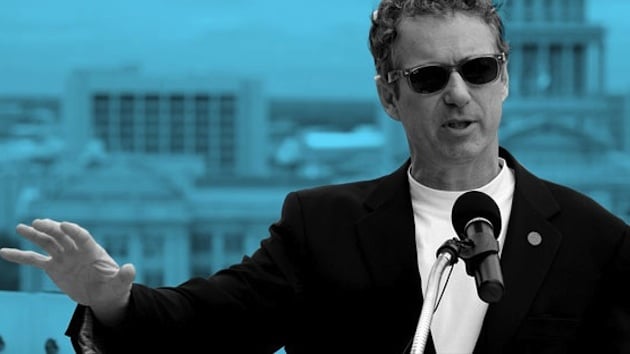 Sen. Rand Paul, R-Kty., announced on April 7 that he will run for president in 2016 during the "Stand with Rand" rally at the Galt House Hotel in Louisville, Kentucky. Behind him is a team that is two years in the making. However, first Paul will have to secure the Republican nomination in a growing and deep GOP bench.
Here are a list of names representing the most influential political advisors and operatives behind Team Rand Paul 2016, who will work tirelessly to get him there. The early staffing moves from various candidates will all be introduced to PPD's viewers and subscribers in PPD's new series, Team 2016: Players, Pollsters And Pockets Behind The Campaign.
• Chip Englander was tapped to be Paul's campaign manager in January. In 2013, the senator began visiting constituencies Republicans have failed to court in recent elections, reaching out to minority voters in inner-city neighborhoods. If Paul wanted to advance his unconventional efforts, then hiring Englander, the former campaign manager for Illinois Republican Bruce Rauner, who defeated incumbent Democratic Gov. Pat Quinn last November, was the smart choice.
• Doug Stafford has been with Paul since his 2010 Senate race and will serve as his chief political strategist. Stafford was brought over from RANDPAC, where he was the executive director. He is widely believed to be the most influential advisor in Paul's ear, and has taken the lead in the senator's presidential aspirations since 2013.
• Tony Fabrizio is an experienced Republican pollster who has polled for 1994 Republican presidential nominee Bob Dole and Florida Gov. Rick Scott. While we haven't seen the internals from the Scott campaign, we have been told that Fabrizio nearly pegged Scott's winning margin.
• Vincent Harris will be digesting data from Austin, as well, while serving as Paul's digital strategist in charge of his dominant online presence. Harris knows what he is doing. He also handled digital strategies for Ted Cruz during his grassroots-driven upset Senate victory and Sen. Mitch McConnell's 2014 campaign, which election all models save for PPD thought might actually be competitive. He resume also includes the failed 2012 bids by former House Speaker Newt Gingrich and former Texas Gov. Rick Perry, as well as the resounding come-from-behind victory by Israeli Prime Minister Benjamin Netanyahu's Likud Party.
• Rachel Kania will join Harris at Paul's Austin office as a senior field and technology strategist.
• Rex Elsass, who served as media consultant for Paul in 2010, never really left his side. He will continue to do what he does best.
• Steve Grubbs is Paul's man in the first-in-the-nation Hawkeye State caucus. Having a man serve as chief Iowa strategist who was also the former chairman of the Iowa Republican Party, is a smart play.
• Mike Biundo is currently the chief New England strategist for RANDPAC. Biundo served as Rick Santorum's national campaign manager in what was an impressive but ultimately failed 2012 run. We introduced him here because it is widely expected he will serve as coalitions director and a national senior adviser.
• Chris LaCivita, a veteran GOP strategist, is a senior adviser running Paul's Palmetto State operation. He has come to the rescue of several notorious underdogs far from South Carolina, however, including Kansas Sen. Pat Roberts in 2014. The incumbent was trailing Democrat-pretending-to-be independent Greg Orman by double-digits before going on to defeat him by a similar margin.
• Steve Munisteri is the former chairman of the Texas Republican Party, and currently serves as a senior adviser to Sen. Paul. His job primarily involves messaging and strategy, but is also advising Paul campaign in the Lone Star State. Munisteri has known the Pauls for roughly 4 decades, going back to when he worked on Ron Paul's congressional campaigns (including his Senate race) from the late 1970s to early 1980s. Rand Paul became acquainted with Munisteri when he was a college student at Baylor and hung around Young Conservatives of Texas, a group Munisteri founded.
• John Yob, who served as the national political director for Sen. John McCain's 2008 primary victory, will have the same job at RANDPAC.
• Sergio Gor, who until recently served as a spokesman for both RANDPAC and Paul's official office, is Paul's campaign communications director.
There are several other names that are worth mentioning, in large part because they are either gearing up to officially join the campaign or play an important supportive role. In the case of Sen. Paul, unlike the other GOP candidates, the campaign will seek to expand on a formative operation and ground game built up by his father.
Iowa
For instance, in addition to Munisteri, David Fischer, who served in various capacities in Ron Paul's presidential campaigns, is an influential player in Iowa's Liberty Movement. He will play a pivotal role in the Hawkeye State, though we still don't know what that will be, officially.
John Tate was Ron Paul's 2012 presidential campaign manager, a player in Paul's Senate bid, and is expected to get on board at RANDPAC. Meanwhile, Jesse Benton, who is married to Rand Paul's niece, has worked for both Ron and Rand Paul and, according to sources, will also soon be a part of a pro-Paul super PAC.
A.J. Spiker, also a former chair of the Iowa Republican Party, will be another Hawkeye State adviser. He remains close to Ron Paul, played a key role in his last presidential bid, and will look to drive up engagement from the father's surprisingly strong liberty coalition.
New Hampshire
David Chesley, the former Republican National Committee state director, is Paul's political director in New Hampshire. Tammy Simmons is RANDPAC's New Hampshire operations director, and a state representative from vote-rich Manchester, which gives her access to an already-built network of supporters.
Home Base
Paul has thus far lined up almost the entire Kentucky delegation behind him, including Senate Majority Leader Mitch McConnell. Jim Milliman, Paul's Blue Grass State director for his Senate office, played a huge role in Paul's campaign announcement that took place in Louisville. Before Paul brought on Englander as his campaign manager, Milliman was knee-deep in Paul's minority outreach at home. He is crucial to the senator's electability argument, which holds he is best suited to broaden the GOP's base.
Final Thoughts + Video
The GOP Establishment's consultant class quietly — and sometimes publicly — mocked Englander's strategy for Rauner to reach out to traditional Democratic voters, including inner-city minorities, many of whom endorsed and subsequently voted for him. Rauner, who PPD accurately predicted would win, proved the talking heads wrong.
As PPD recently examined, polls suggest Sen. Paul has a far better shot at winning the nomination and a general election juxtaposed to previous libertarian and libertarian-leaning candidates than other pundits want to admit. Paul has consistently run stronger than other GOP hopefuls against Hillary Clinton and, though this could easily change in the world of politics, has thus far demonstrated the greatest potential to expand the party's appeal.
[brid video="7243″ player="1929″ width="630″ height="354″]