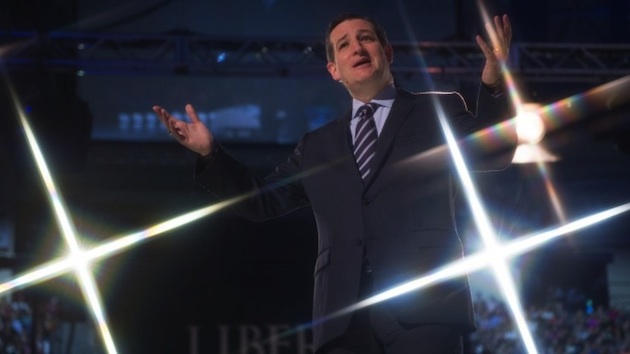 Sen. Ted Cruz, R-Texas, on March 23 became the first Republican to announce that he will run for president in 2016 during a speech at Liberty University in Lynchburg, Va. He hammered home his campaign's theme of "courageous conservatism" at the largest the Christian university in America, and the world.
Cruz, who is running as a Washington outsider with a relatively smaller campaign staff, will have to secure the Republican nomination in a growing and deep GOP bench if he, or other hopefuls, want to become president. Whether you agree with him or not on the issues, no one can say that Cruz doesn't do what he says or isn't the man he purports to be. Take one look at his staff, which is not saturated with big Beltway names or longtime D.C. residents, and you know what his strategy entails.
Here are a list of names representing the most influential political advisors and operatives behind Team Ted Cruz 2016, who will work tirelessly to get out the evangelical vote, as well as energize and expand the conservative base. The team members are mostly Lone Star State Republicans with a good deal of experience doing just that. The early staffing moves from various candidates will all be introduced to our visitors and subscribers in PPD's new series, Team 2016: Players, Pollsters And Pockets Behind The Campaign.
THE CAMPAIGN
Jeff Roe, founder of the Kansas City-based political consulting group Axiom Strategies, which has worked on numerous congressional races, will serve as Cruz's campaign manager. His resume includes Mike Huckabee's 2008 presidential primary campaign, when he shocked pundits by winning the Iowa caucus, and public opinion campaigns involving voter identification laws. Roe also worked as a political consultant to former Texas Gov. Rick Perry in 2012.
Chad Sweet, co-founder of the Chertoff Group, a security consulting group started with former Department of Homeland Security (DHS) Secretary Michael Chertoff, will serve as Cruz's campaign chairman. Sweet also served as chief of staff.
Chris Wilson, the former executive director of the Texas Republican Party and Oklahoma City-based pollster and consultant, will serve as Cruz's director of analytics and research. It is also worth mentioning that Chris Perkins, who is Wilson's business partner, is also going to have a role in the campaign.
Jason Miller, a partner and executive vice president at the conservative firm Jamestown Associates. He has extensive experience in House and Senate races, and served as the deputy communications director on former New York City Mayor Rudy Giuliani's 2008 presidential campaign. As Cruz's senior communications adviser, he will be paying close attention to the data Wilson is pulling in, and is a perfect fit. His firm is known for butting heads with party committees, just like Sen. Cruz, himself.
Catherine Frazier will serve as Sen. Cruz' national press secretary, another logical decision considering she is his Senate spokeswoman. Frazier is also a Lone Star State player. She came after years of service with Gov. Rick Perry, including his failed 2012 presidential bid.
Brian Phillips will work closely with Frazier as the senator's rapid response director. He has a good deal of communications experience, including serving as Utah Sen. Mike Lee's communications director.
Rick Tyler, a long-serving spokesman for former House Speaker Newt Gingrich, will serve in the same role for Ted Cruz. He will serve as national campaign spokesman.
Jason Johnson, a seasons Texas-based Republican consultant and one of the men behind Cruz's Senate upset victory over Establishment favorite Lt. Gov. David Dewhurst, will serve as chief strategist. His resume, which includes chief of staff for now-Gov. Greg Abbott, who he helped to elect as AG in 2002, is filled with Lone Star State campaigns.
Austen Furse, a Texas businessman and former director of policy planning under President George H.W. Bush, will serve as policy director.
Victoria Coates, Cruz's national security advisor in the Senate, is now his senior foreign policy adviser. She is behind Cruz's hawkish foreign policy and served as an aide to former Secretary of Defense Donald Rumsfeld.
Nick Muzin, a Palmetto State veteran who worked for Sen. Tim Scott, is Cruz's senior adviser. Will get more into the team in South Carolina, but Muzin will no doubt be an asset to Cruz in the early state primary. Muzin also had the connections to make introductions to the Jewish Republican donor class.
Josh Perry will do what he does best, which is handle the day-to-day operations as a digital strategist. He also played this role in Cruz's Senate office, where he tweeted for Cruz. He was affiliated with Vincent Harris, which is an Austin-based digital consultant who did a little work with Cruz. Harris, as we outlined in Meet Team Paul 2016, went to work for Sen. Paul.
Here is a sample of his retweet work:
#ReadyForHillary to return all money raised from foreign nations? Add your name: https://t.co/Hh1t8sDsBu

— Team Cruz (@TeamTedCruz) April 22, 2015
And here is another sample.  retweeting Mark Halperin's take on the petition:
Smart. @tedcruz using petition calling on @HillaryClinton to give back foreign $ to build up email database. pic.twitter.com/IPgnHBqWwT

— Mark Halperin (@MarkHalperin) April 22, 2015
Mark Campbell, a well-known Republican consultant, will serve as political director. Campbell also ran Giuliani's 2008 presidential campaign and multiple other presidential campaigns.
Before we get into the individual early states, it is worth mentioning that you will see a pattern. Sen. Ted Cruz has populated Team Ted Cruz 2016 with two players; one that knows his or her state better than outside strategists and consultants; and, a trusted Lone Star State member of the inner circle. While it appears Cruz understands getting vital information from the local activists and players is absolutely necessary, he also wants an inner circle member overseeing things, as well.
IOWA
• Bryan English, a social conservative player, will spearhead Sen. Cruz's efforts in the Iowa caucus. English, a former staffer for Rep. Steve King, will work with Jon McClellan, a Cruz regional political director based out of Houston, to maximize evangelical turnout in the first-in-the-nation Hawkeye State caucus.
NEW HAMPSHIRE
• Ethan Zorfas, who served in multiple capacities for Rep. Frank Guinta, will be a chief political consultant in the Granite State. The experience Zorfas gathered in the epic Guinta vs Shea-Porter races gives him insight into a swingy and, very important, region of the state. David Sawyer, a Houston-based regional political director will also play a major role in the campaigns efforts in New Hampshire.
SOUTH CAROLINA
• LaDonna Ryggs, a big grassroots player in the Palmetto State, will head up Cruz's efforts in South Carolina. Ryggs, along with Muzin, will focus on maximizing turnout from and widening margins in the conservative Upstate region of the state.
DEEP POCKETS
• Lauren Lofstrom, a former fundraiser for Gov. Perry in 2012 and associate of the Republican Governors Association, is serving as the campaign's finance director. Her experience has given her connections and access to Texas money. We fully expect her to do her job well and outperform media expectations.
Speaking of outperforming media expectations, Keep the Promise or some variation of it make up four super PACs supporting Sen. Ted Cruz. The PACs wowed pundits and pols alike after reportedly raising some $30 million for Cruz in the first couple weeks after his announcement. Austin-based attorney Dathan Voelter serves as treasurer for three, while New York-based Jacquelyn James serves as treasurer for one. Robert and Diana Mercer, as well as their daughter Rebekah, come from a wealthy New York family and the word is that they are backing one of the PACs. Stand for Principle, an Atlanta-based super PAC tied to Cruz's college friend, David Panton, is run by Maria Strollo Zack. John Drogin, Cruz's 2012 campaign manager, is the executive director of Make D.C. Listen.
[brid video="7250″ player="1929″ width="630″ height="354″]