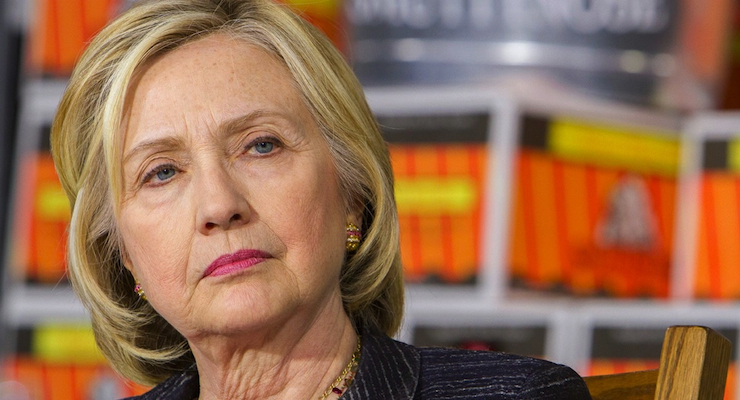 Former secretary of state and first lady Hillary Clinton announced on April 12 that she will run for president via a video released on social media.
Here are a list of names representing the most influential political advisors and operatives behind Team Hillary 2016. The early staffing moves from various candidates will all be introduced to PPD's viewers and subscribers in PPD's new series, Team 2016: Players, Pollsters And Pockets Behind The Campaign.
While many of the power brokers on Team Hillary have been in the Clinton Rolodex for a long time, some are new names that advocate new strategies that more closely resemble President Obama's philosophy on winning elections than her husbands. That is, Mrs. Clinton will slice and dice the electorate with a highly polarizing message in the hope to hold together the Obama coalition of minorities and young women, etc., rather than appeal to Americans as a whole, as her husband did in 1992 and 1996.
"One of the hardest things to do in politics is dispense with old behavior," said Dan Pfeiffer, a former Obama adviser. "That will be a challenge. But they're setting themselves up to avoid that. She hired people with a sense of where the electorate is now, not where it was in 1992."
Still, the camp is crawling with veteran Clinton allies, who know her strengths and weaknesses and seek to re-introduce Clinton as an advocate for Americans trying to improve their economic and social standing.
The core group of dozens of staffers operating out of two full floors at 1 Pierrepont Plaza in Brooklyn Heights will try to distract away from scandals, including her use of a personal email server while she was secretary of state and the foreign money that has flowed to the Clinton Foundation, with hyper-polarized attacks that serve up red meat to the liberal base.
Here is a list of influential players, strategists and deep pocket donors that will help her carry out this election strategy.
THE CORE CAMPAIGN
• John Podesta, the trusted aide to both Bill Clinton and Obama with ties to both uber-left outlets Media Matters and Think Progress, is Hillary's campaign chairman. Podesta, the founder of the liberal think tank the Center for American Progress, was former President Clinton's chief of staff in the White House and was the go-to guy for scandal damage control.
He will tap Neera Tanden, a longtime Hillary Clinton confidante and the current president of the Center for American Progress, to help the Clinton campaign fire back against criticism and validate her proposed policies using what you are meant to believe are independent, valid policy studies and analysis.
• It would not be a stretch to claim that Robby Mook, Hillary's current campaign manager, had more to do with longtime-Clinton buddy and now Virginia Gov. Terry McAuliffe's 2013 Virginia governor race victory. It was always the plan to get the crucial swing state of Virginia under their friend's control prior to the election because of the ground power and electoral influence that comes with holding a state's governor mansion during a presidential election cycle.
Mook, who is only in his mid-30s, prefers to digest data over showboating in the spotlight. He is a serious, competent and capable choice for campaign manager. Mook, who also served as executive director of the Democratic Congressional Campaign Committee, previously worked for Clinton's 2008 presidential bid and helped her cross the finish line in Nevada, Ohio and Indiana during the Democratic primary.
• Joel Benenson, Obama's former pollster, is one of those new recruits we talked about prior to leading with trusted confidantes. Benenson is all about getting to the bottom of what people want to hear, and then helping the candidate to hone that message. He did so against Clinton in 2008 for Obama, and will serve now as Clinton's chief strategist and pollster.
• John Anzalone and David Binder, two top pollsters also from Team Obama, will work closely with Benenson. Anzalone, according to operatives close to the Hillary camp, will focus on the early states of Iowa and New Hampshire.
• Marlon Marshall, a highly influential White House aide in the Obama administration, is expected to be Clinton's director of state campaigns and political engagement.
• Jim Margolis, another familiar name from the Obama campaign, is Clinton's new media adviser. In addition to serving as a senior adviser to Obama in his 2012 reelection effort, Margolis has also served in a similar capacity — though often as a behind-the-scenes consultant — for a number of other Democratic senators. In fact, the most notable, would be the outgoing Senate Minority Leader Harry Reid, D-Nevada, who was ousted after the Republican midterm wave in 2014 when he and the party lost control of the upper chamber for the first time since 2006.
• Tony Carrk, also a former cubicle at the Center for American Progress action fund, will serve as Clinton's research director.
• Marc Elias, who serves as the chair of political law practice at the prominent law firm Perkins Coie, will serve as general counsel to the Clinton campaign. He also served as general counsel to John Kerry's failed 2004 presidential campaign.
• Garry Gensler, a former Commodity Futures Trading Commission chairman, is chief financial officer. Gensler is a former Goldman Sachs executive who has also worked to regulate Wall Street, a balance that may be helpful for Clinton, who enjoys support from many wealthy Wall Street donors, but who is also seeking to strike a populist note on economics.
• Jennifer Palmieri, the former White House communications director, will do what she does best. She will serve in the same capacity for the Clinton campaign this cycle. But this isn't her first rodeo with the Clinton's, despite her rumored allegiance to the Obamas. Palmieri not only worked in the Clinton White House before the Obama administration, but also at Podesta's Center for American Progress.
Seeing a pattern yet?
• Kristina Schake, who formerly served as a top aide to first lady Michelle Obama, will be deputy communications director. Mandy Grunwald, another longtime Clinton advisor who not worked on Clinton's 2008 campaign but also both of Bill Clinton's campaigns and administrations, will balance out the new Obama team talent as a senior media consultant.
• Brian Fallon, formerly a spokesman at the Department of Justice as well as for Sen. Chuck Schumer, D-N.Y., will serve as Clinton's national press secretary.
• Amanda Renteria, a failed California Democratic candidate for Congress in California and the state Senate's first Latina chief of staff, will serve as political director. Renteria also worked for Sen. Debbie Stabenow, D-Mich., but her real role will be to help Hillary balkanize and galvanize the Hispanic vote.
• Brynne Craig, Clinton's former scheduler and McAuliffe's political director, will be tapped as her deputy political director. Meanwhile, Dennis Cheng, who served as chief development officer at the Clinton Foundation, is expected to be finance director despite the recent cloud of scandal over the foundation. In fact, other key players with ties to the Clinton foundation, including Craig Minassian, the foundation's chief communications officer, and Kamyl Bazbaz, Chelsea Clinton's chief spokesman, will also be rolled out to serve in similar capacities.
• Nick Merrill will handle the day-to-day interactions with the national press covering the campaign, though there hasn't really been any interaction with the candidate, herself. Though we couldn't confirm it, it was allegedly Merrill who gave the order to tell the press that Clinton's speech in Austin, Texas would serve as the Q&A session for the outraged press. He worked with Clinton at the State Department and will serve as traveling press secretary. Dan Schwerin, a Clinton speechwriter and key advisor during the lackluster rollout of Clinton's memoir, "Hard Choices," will work side-by-side with Merrill.
• Jesse Ferguson, a former spokesman for the Democratic Congressional Committee (DCCC) in Washington, will handle daily press interactions as a national press secretary.
• Karen Finney, the former Clinton lackey-turned-MSNBC host, will be a senior spokeswoman and a strategic communications adviser.
DIGITAL CAMPAIGN
• Teddy Goff, who was the head of Obama's national digital campaign operation, will serve as a top digital adviser with Andrew Bleeker, another Obama digital guru.
• Stephanie Hannon, a former Google executive, is chief technology officer, whiel Katie Dowd, who worked for Hillary at the State Department and the Clinton Foundation, will be digital director.
• Jenna Lowenstein, the former vice president of digital engagement at EMILY's List,will be deputy digital director.
GROUND GAME
• Adam Parkhomenko, as founder and executive director of Ready for Hillary, has already spent two years of his life nudging Hillary to enter the race. Obviously, he had the easiest job in the world, considering everyone knew she would run. Parkhomenko will be director of grassroots engagement.
• Jeremy Bird and Mitch Stewart, two tech gurus in Obama's 2012 GOTV efforts, are expected to advise Clinton as outside consultants.
Iowa
• Matt Paul, a veteran Iowa Democratic operative, will run her organization in the Hawkeye State. Michael Halle, a top adviser on McAuliffe's team, Troy Price, and Michelle Kleppe, an Obama campaign alum, will help run the field operation.
New Hampshire
• In the Granite State, Mike Vlacich, who led incumbent Democratic Sen. Jeanne Shaheen's 2014 reelection campaign against Scott Brown, will serve as the state director in New Hampshire. Kari Thurman, who was Shaheen's political director, will also aid Vlacich in his efforts.
SUPERPACs
• Jim Messina and Buffy Wicks, two well-known top former Obama advisors, are running Priorities USA Action, a liberal super PAC that was created to back Obama in 2012. Except, in 2016, they will now help try to elect Clinton. Former — and widely known to be the failed — Michigan Gov. Jennifer Granholm,  is a co-chairman, while Jonathan Mantz, a longtime Clinton man, is the senior finance adviser. Mantz also served as Clinton's 2008 finance director.
• David Brock, of the tax-exempt leftwing hit job outfit Media Matters, has now founded and will run American Bridge, a Democratic super PAC. Burns Strider runs Correct the Record, a wing of American Bridge, and the rapid response arm of the operation.
CLINTON'S INNER CIRCLE
• Huma Abedin, the controversial wife of now-disgraced former Rep. Anthony Weiner, D-N.Y., and one of Hillary Clinton's top aides at the State Department, is a highly trusted and influential figure in Hillary Clinton's circle. Abedin, whose father's widow is a leading member of a women's auxiliary organization of the Muslim Brotherhood, is serving as vice chairwoman of the campaign.
Politically speaking, her family's ties to the Muslim Brotherhood may not be the most potentially damaging piece of information to the campaign. The mere presence of Huma Abedin, as well as others we are about to address, may make it more for Hillary to put questions behind her.
She, according to information revealed in FOIA requests filed on behalf of Judicial Watch, was also involved in using Hillary's private email server to avoid the proper procedures of the official State Department email network.
• Cheryl Mills has been a Clintons loyalist for a period of years that dates back to the Clinton White House. But she is also knee-deep in the questions surrounding Clinton's tenure at the State Department and even has ties to the Clinton Foundation. She was general counsel to Hillary Clinton's 2008 campaign, and even though she does not yet have an official title on the campaign, she is and will remain highly influential.
Mills, along with Jake Sullivan, whom we will discuss next, are both on the shortlist of Clinton confidantes set to testify in front of the House Select Committee on Benghazi. Emails obtained by PPD clearly show Mills and Sullivan both knew that the Benghazi terror attack that killed four Americans, including Ambassador Chris Stevens, had nothing to do with an Internet video.
• Jake Sullivan, mentioned above, now serves as a senior policy adviser on the campaign and previously served as a deputy policy director on Clinton's 2008 presidential campaign. Worth noting, as a matter of political consequence, he boasts his increased role in laying the groundwork for a preliminary nuclear deal with Iran. Clinton's two other senior policy advisers, who along with Sullivan are helping to shape the campaign's foreign policy message, are Maya Harris, another former employee at the Center for American Progress, and Ann O'Leary, who was then-Sen. Clinton's legislative director. Harris has focused much of her research on international human rights issues, while O'Leary's expertise in early childhood education.