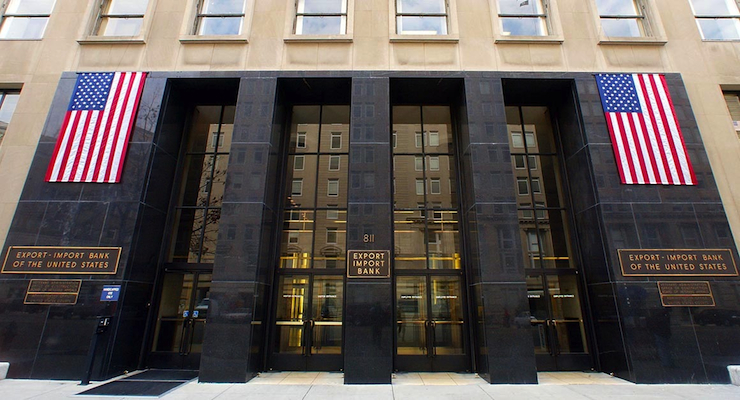 Conservatives in the House of Representatives are closer than ever to victory over the fight to allow the reauthorization for the Ex-Im Bank to expire. With the Export-Import Bank's charter expiring on the final day of the month and only four scheduled legislative work days left before the week-long July 4 recess, congressional aides tell PPD that GOP leaders have no plan to take up a reauthorization bill that would provide credit and financing.
"There is no chance for reauthorization this session," one aide told PPD. "This was something supporters of expiration baked into the cake weeks ago."
In fact, proponents of expiration in the House had long-believed that separating approval for reauthorization from "essential, must-pass" funding measures was the key to legislative victory. While the longer-term fate of Ex-Im would still be uncertain, expiration at the end of the month would undoubtedly mark a long-sought victory for House conservatives and the pro-free market Club for Growth.
"The list of conservatives who want to end the Export-Import Bank is growing," said Club for Growth President David McIntosh. "Republican presidential candidates, congressional leaders, and committee chairmen in the House and Senate are lining up AGAINST Ex-Im. Meanwhile, there's overwhelming support FOR Ex-Im from Hillary Clinton, Barack Obama, and liberal Democrats."
A prior effort to slam shut what has become a revolving door of "corporate welfare" between big government and big business at the Ex-Im Bank last year narrowly failed when allies in the Chamber of Commerce, K Street and on Wall Street rallied to ensure its survival. At the House hearing on reauthorization, lawmakers were handed a friendly reminder in the form of index cards noting which companies in their districts receive funds from the bank and how many people are employed as a result of those projects.
The Democrat-organized lobbying trick came directly from Sen. Chuck Schumer, D-N.Y., and allied lobbyists at corporations such as Boeing Co. (NYSE:BA) and General Electric Co. (NYSE:GE). It was also supported by typically pro-GOP business groups such as the U.S. Chamber of Commerce and National Association of Manufacturers.
But, Citizens Against Government Waste, Senate Conservatives Fund, Heritage Action for America, Generation Opportunity and the Club for Growth, all made pulling the plug on the Ex-Im Bank a top priority this session.
The Club for Growth, in particular, mobilized and garnered an unprecedented level of support for expiration. The Club's first round of Ex-Im ads began airing in April in the congressional districts of Reps. Bill Flores (TX-17), Renee Ellmers (NC-02), Stephen Fincher (TN-08) and Buddy Carter (GA-01). The second round of ads began airing May 22 in the congressional districts of Reps. Bill Shuster (PA-9) and David McKinley (WV-1).
Ad campaigns slated for May 22 also targeted the districts of Reps. Rob Bishop (UT-1) and Chris Stewart (UT-2), but were ultimately canceled after both came out with strong statements opposing reauthorization. Reps. Alan Grayson (FL-9) and Patrick Murphy (FL-18), two potential primary opponents for the Democratic nomination in Florida's open Senate seat in 2016, were also targeted on an issue that could prove sticky for Murphy if he decides to run. Those like Grayson on the far left have shown a propensity to ally with conservatives on expiration.
Nevertheless, the campaign kicked off just as charges of corruption at the bank began to surface.
Former Ex-Im Bank loan officer Johnny Gutierrez was charged with bribery in April for accepting cash bribes 19 different times during a period stemming from 2006 to 2013. Further, recent testimony from Mark Thorum, the assistant inspector general for inspections and evaluations at the Ex-Im Bank, and Kimberly Gianopoulos, the director of international affairs and trade at the Government Accountability Office, revealed 31 instances of alleged fraud by employees at the bank are currently under investigation.
Still, proponents of the Ex-Im Bank argue that the loans, which are funded by money borrowed from the U.S. Treasury, are necessary to gain a competitive advantage in the global economy. But even that argument hasn't held up to scrutiny.
"Defenders of the program say it's necessary for American exports, but only a tiny share of exports get these subsidies," CATO economist and PPD contributor Dan Mitchell said. "It's preposterous to claim the Ex-Im Bank plays a big role."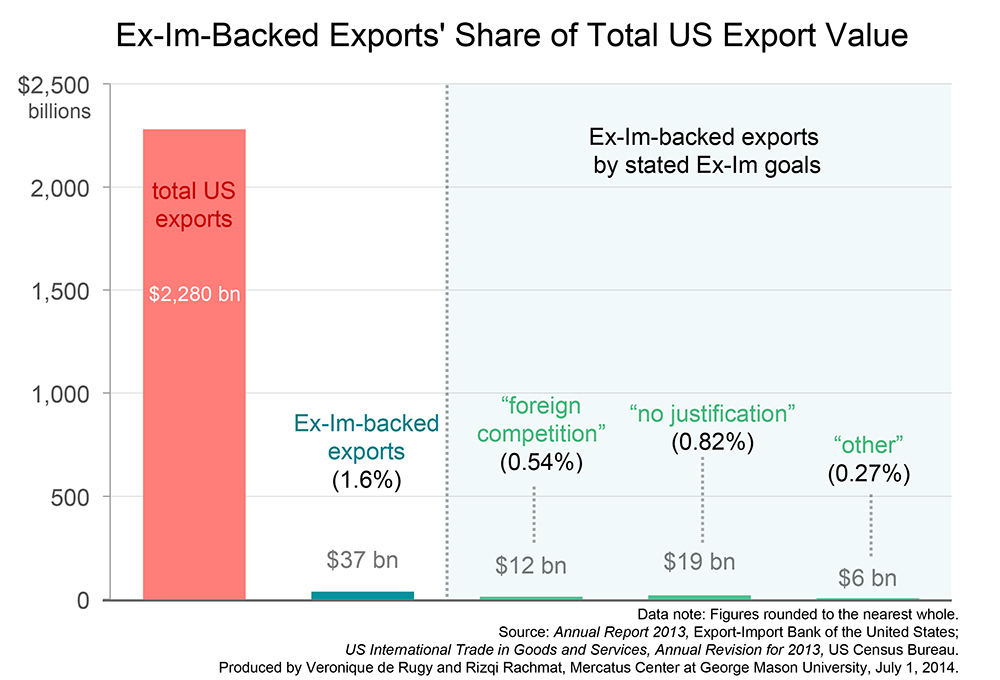 Though Speaker John Boehner, R-Ohio, is a supporter of Ex-Im, he now finds himself standing with the scandalized bank against two of the three top House Republicans — Majority Leader Kevin McCarthy of California and Majority Whip Steve Scalise of Louisiana — as well as House Ways and Means Committee Chairman Paul Ryan of Wisconsin.
"The opposition to Ex-Im knows what it is: a corrupt federal agency that hands out corporate welfare with American tax dollars," Mr. McIntosh said.
Boehner, in a pinch, said that if Rep. Jeb Hensarling, R-Texas, a key bank opponent, moved a reauthorization bill out of the Financial Services Committee, then he would ensure a floor vote. That represented the best chance — which speaks to the bank's dim outlook — for the speaker and other proponents to sneak in reauthorization at the last minute.
Meanwhile, the Club was planning to go down to the wire on the House floor.
The group released another round of TV ads just over a week ago in the congressional districts of Reps. Bruce Westerman (AR-4) and Phil Roe (TN-1), which aired on broadcast and cable TV in Little Rock and Fort Smith, Arkansas, and in the Tri-Cities area of northeast Tennessee.
"The Club hopes that Phil Roe and Bruce Westerman will join that opposition and stand against any reauthorization of Ex-Im," McIntosh said of the new ad campaign, which are part of an overall $1 million effort that includes digital advertising.
At least for now, considering expiration appears imminent, Reps. Roe and Westerman are breathing a sigh of relief that they may just be able to dodge the issue.