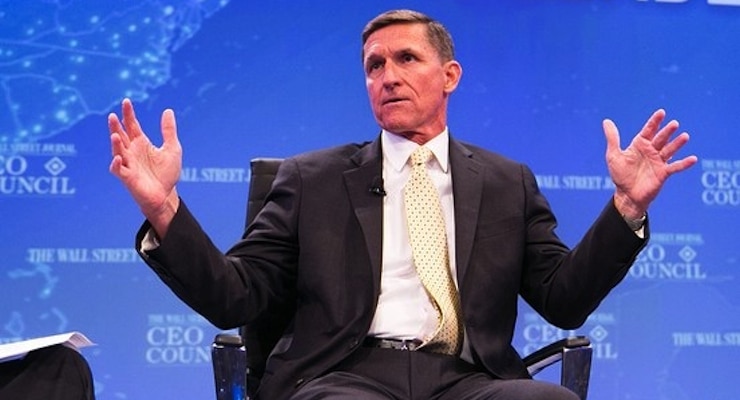 Gen. Flynn: 'He [Obama] Shouldn't Be Surprised' by Rise of Islamic State
[brid video="22707″ player="2077″ title="Lt. Gen. Michael Flynn Reacts to Obama Security Scandal ISIS Strategy"]
Retired Lt. Gen. Michael Flynn said Thursday that President Obama was "not going to get a rosy picture" during his visit to the National Counterterrorism Center in McLean, Virginia. The trip follows another visit on Monday to the Pentagon made by the president to receive an update on the threat from Islamic terrorism, and with the hope he can reassure an increasingly concerned public.
"He's not going to get a rosy picture from the National Counterterrorism Center today and it's not going to be one of an organization, in terms of the Islamic State, that is set back or a jayvee team," Gen. Flynn said. "The National Counterterrorism Center has been very, very consistent for a longtime. I'm talking years as to the threat that we're facing from al-Qaeda, the Islamic State and these Islamists."
But the president has yet to offer a new strategy, leaving himself open to criticism, the nation threatened by radical Islam and members of his own party increasingly nervous heading into the 2016 election cycle.
"He shouldn't be surprised."
Gen. Flynn, who also served the former director of the Defense Intelligence Agency under the president, called Obama's refusal to change course a "tragedy." He noted how he and others in the intelligence community who are deeply concerned with the rising threat of radical Islam "would've cheered the president" if he laid out a new strategy during his widely criticized Oval Office address.
On his way to Hawaii, Mr. Obama will stop in San Bernardino, Calif., to meet privately with the families of the 14 victims of the most deadly Islamic terror attack since September 11, 2001. Syed Farook, 28, and Tashfeen Malik, 27, killed 14 and wounded 22 others on Dec. 2 at a Christmas party for county workers. Farook, an American-born citizen, and his jihadist wife Malik, a Pakistani national who came to the U.S. on a K-1 visa, were killed by police shortly after the attack.
Meanwhile, when asked on "America's Newsroom, Gen. Flynn offered some disturbing insight into reports claiming administration officials told intelligence agencies to whitewash the spread of radical Islam.
"I think you're right. I think there's more that is going to come out." Flynn added. "History will not be kind to those who were potentially involved in this thing."