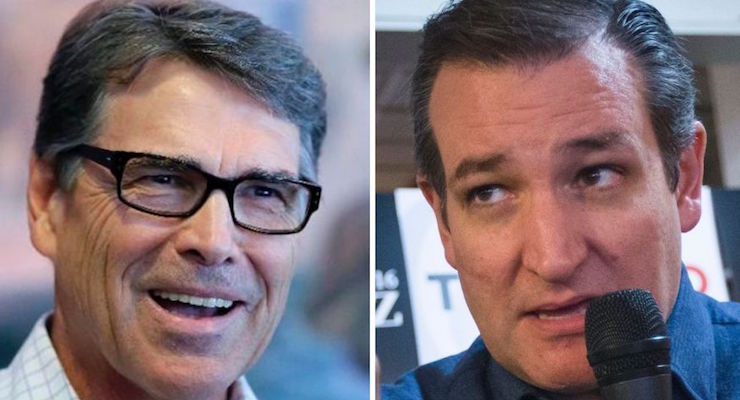 DES MOINES, Iowa – Former Texas Gov. Rick Perry, who dropped out of the Republican presidential race last year, is endorsing fellow Texan Sen. Ted Cruz for president, Fox News first reported early Monday. The move comes as Cruz trails Perry's former political rival and GOP frontrunner Donald Trump both nationwide and in the aggregate PPD average of Iowa caucus polls.
PPD has confirmed the endorsement decision has been made.
"What I am looking for is someone who is a principles conservative," Gov. Perry said.
Perry said Cruz is a "consistent conservative candidate" who would take on the Washington establishment. The former Texas governor, the state's longest ever in history, said that he got to know Cruz over the last couple of months and that he was nothing like the caricature the media has created.
"He's one of the best listeners I've ever come across in the political arena," Perry said Monday morning. "He knows what he doesn't know, and he's not just listening quietly, he's processing. And I can't tell you what a virtue that is in this business for the President of the United States."
However, Cruz was also the governor's former political rival, supporting Lt. Gov. David Dewhurst against the senator in his 2012 Senate bid. Obviously, Perry's disdain for Trump runs deeper. Perry vehemently rejected the premise that the endorsement was more against Trump than pro Cruz.
"Oh absolutely, no."
Gov. Perry became the first candidate in the crowded 17-person GOP field to drop out, announcing he was suspending his campaign on Sept. 11, 2015. He was later joined by Scott Walker, Bobby Jindal, George Pataki and Lindsey Graham.
Prior to Perry, Graham was the only prior candidate to make an endorsement. The South Carolina senator announced his support for former Florida Gov. Jeb Bush earlier this month.