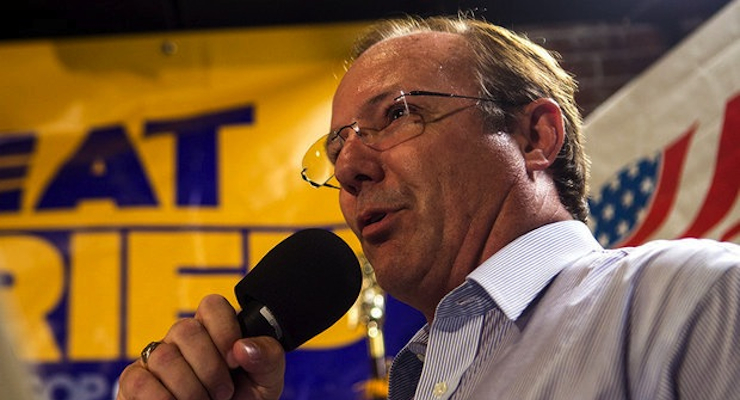 Retired Air Force Colonel Rob Maness announced Wednesday that he is running for the open U.S. Senate seat in Louisiana being vacated by Sen. David Vitter, who lost the gubernatorial election last month to Democrat John Bel Edwards.
Maness, who was the conservative favorite in the three-way "jungle primary" in 2014, earned a significant 14% of the vote in 2014, enough to force a runoff before throwing his support behind now-Sen. Bill Cassidy. With Maness on board, Cassidy easily defeated incumbent Democrat Sen. Mary Landrieu in the deeply red Pelican State.
"Washington is broken; politicians don't want to fix it. I do and I will. That is why I am running for United States Senate. We need leaders in Washington who will fight for us – not faux leaders who take a knee when things get tough" Maness said. "I truly believe that the biggest division in Washington, D.C. today isn't between conservatives and RINOS, it isn't even between Republicans and Democrats, its between those who went to Washington for the wrong reasons and want to preserve the status quo and those who will go to Washington to stand up and fight to actually change things."
The political environment may prove Maness to be a far better fit for an outsider with his experience this election cycle, particularly if voters' concerns continue to be dominated by terrorism. With the rise of the threat from Islamic terrorism at home and abroad, Maness brings experience to the table that is lacking in other potential GOP candidates.
He was on duty in the Pentagon during the September 11 terror attacks and has been widely praised for his casualty care and damage control efforts, as well as for being a commander of a combat B-1 bomber squadron. The retired colonel also commanded the sixth-largest Air Force Base in the world, conducted air intelligence operations and was awarded the Legion of Merit, the Bronze Star Medal, and the Air Medal (among many others).
"The people of Louisiana have my word: I will never stop fighting, I'll never back down, and I'll never kowtow to leadership when it's time to do what's right," Maness added. "Unlike the corrupt Washington politicians and the insiders that support them, I'll stand strong for liberty and will take seriously my oath to 'support and defend' the Constitution."
Louisiana Gov. Bobby Jindal, who recently ended his campaign for the Republican nomination, has been mentioned as another potential GOP candidate. However, his failed bid and low poll numbers aren't at all indicative that he could mount an overwhelming challenge to the "runner up" from the previous cycle. In 2014, conservative leaders and groups such as Governor Sarah Palin, the Senate Conservatives Fund, the Family Research Council and Eagle Forum, all endorsed his candidacy.
It's high time we work to restore the red, white, and blue in their boldest and brightest shades. Career politicians in Washington cannot return the blessings of lost liberties, or restore our country to that shining city on a hill – only we can do that. Our fight begins today."