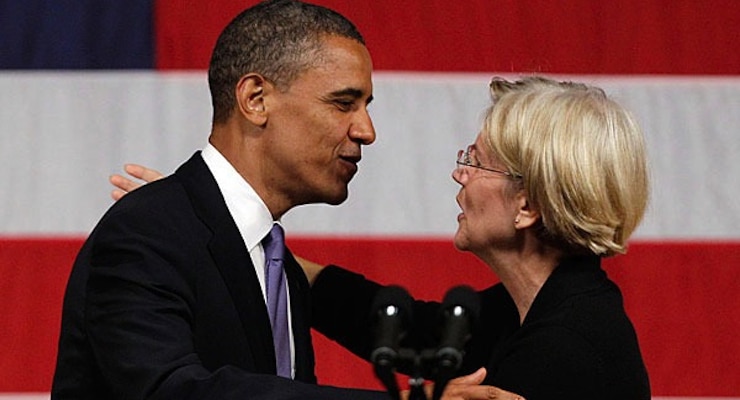 According to reports and multiple sources, both President Barack Obama and Massachusetts Sen. Elizabeth Warren are expected to endorse the presumptive Democratic nominee Hillary Clinton. According to sources, the endorsement from the senator could come as early as Monday and the president's will come sometime shortly after his meeting with Sen. Bernie Sanders.
The possibility of the president endorsing his party's nominee while she is the subject of two open criminal probes at the Federal Bureau of Investigation is raising eyebrows and causing some to question whether the fix is already in. The FBI is investigation whether Mrs. Clinton, the former secretary of state, mishandled classified information and broke the Federal Records Acts by using an insecure home brew server to conduct official State business.
Further, as PPD reported, the FBI has expanded that investigation into "public corruption" regarding the Clinton Foundation.
While President Obama is attempting to protect his legacy, as well as make good on the deal struck with the Clintons back in 2012, the endorsement represents a significant shift for Sen. Warren, a favorite darling of the radical left who refused to back Mrs. Clinton up until now. Sen. Warren, at least in statement, is staunchly anti-Wall Street and free market capitalism, and the former favors Mrs. Clinton.
However, she has also refused to endorse Vermont socialist Sen. Bernie Sanders, a colleague and fellow leftwing ideologue, helping to fuel speculation she is one of a few on the short list for Vice President. To be sure, many Democrats argue she is the best hope for Mrs. Clinton to bring back Sanders supporters, many of whom polls suggest will go to presumptive Republican nominee Donald Trump, who is far more aligned with them on trade and foreign military interventions.
Sen. Warren attempted to start an argument with Mr. Trump on Twitter last month, but he responded ten-fold by doing something other politicians are not willing to do–touch the third rails and talk about the taboos.
"Donald Trump was drooling over the idea of a housing meltdown because it meant he could buy up a bunch more property on the cheap," Warren said. "What kind of a man does that? Root for people to get thrown out on the street?"
In the case of Sen. Warren, she lied and claimed she was of Native American heritage to curry favor for an Ivy League education and later a career in the Ivory Tower of academia. It's not true, of course.
"Pocahontas is at it again," Trump said in an email to The Associated Press in response to questions about Warren's remarks. "She scammed the people of Massachusetts and got into institutions because she said she is Native American. She's one of the least successful Senators in the U.S. Senate."
When caught, she claimed it was a family story, which she believed because she has "high cheek bones" (no, we're not kidding). Now, she said Mr. Trump is just bring up "Brown's hate-filled attacks on my family," a reference to Sen. Scott Brown, whom she defeated in 2012. The media refused to cover the story and most politicians are afraid to bring it up, for fear of being lambasted by a friendly media.
Not Donald Trump.
Meanwhile, Sen. Sanders returned to Washington on Thursday for a meeting with President Obama–and later, outgoing Minority Leader Harry Reid, D-Nev.–where sources say he will agree to concede the nominatio for one of his key demands–remove Debbie Wasserman Schultz as the chairwoman of the Democratic National Committee.
Politics aside, Schultz has run the party into the ground since taken it over, which she did when Mrs. Clinton demanded it from Mr. Obama in exchange for party unity. As PPD previously reported, the Congressional Budget Office (CBO) told us they were asked to score a proposal by Schultz to redirect funds from research exploring cures for children's diseases to pay for the party's convention this summer.
But the movement in the party's far left wing to replace Chairwoman Wasserman Schultz is organic and predates her little proposal, culminating in Sen. Sanders stating publicly last month that she would not be reappointed if he wins the nomination.
Ironically, it was the desire for unity that landed the DNC chair her job and it is the desire for unity that very well may take it from her in the end.
When asked by reporters on Wednesday whether she believes Sanders will seek her removal during meetings with Mr. Obama and Sen. Reid, Wasserman Schultz said she's not worried about her job.
"I'm going to be remaining as the chair of the Democratic National Committee as President Obama has asked me to do until January 21, 2017, and I appreciate the president's support," she said. "I'm very confident that we are going to be unified."