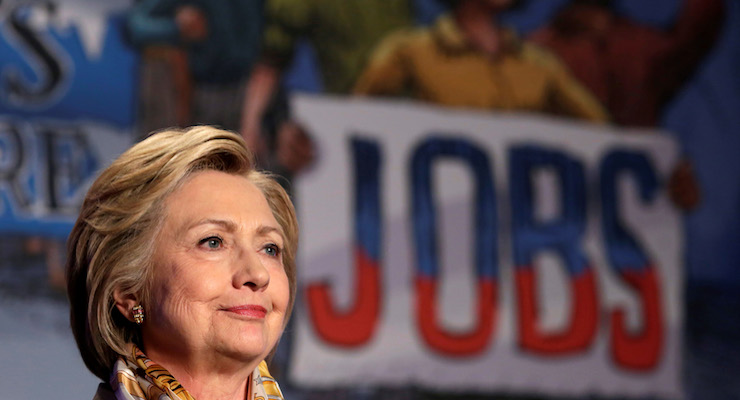 Sen. Bernie Sanders, I-Vt., on several occasions called on Hillary Clinton to release the transcripts of paid speeches given to investment banks like Goldman Sachs. In response, during the Democratic primary, Mrs. Clinton said on the campaign trail and in debates she would "look into" releasing the transcripts.
She never did and, now that we have Mrs. Clinton's remarks to Wall Street bankers and other big donors, we know why. The documents, which were released by the anti-secrecy group WikiLeaks, confirm whats Sen. Sanders, Democratic primary voters in Michigan and Republican rival Donald Trump have been arguing the entire time: Hillary Clinton is lying about her opposition to the Trans-Pacific Partnership (TPP), which she called "the gold standard" of trade deals.
As People's Pundit Daily previously reported, Mrs. Clinton's "dream is a hemispheric common market, with open trade and open markets." But a further review of the transcript reveals trade policy under a President Hillary Clinton is likely to be far worse than Sen. Sanders ever imagined.
The former secretary of state first flip flopped on TPP in October, 2015, when she was worried about Sen. Sanders on her left flank. She was hoping to mend frail relationships with labor unions, who are largely opposed to the trade deal. In a leaked email, the Clinton campaign was furious over AFL-CIO chief Richard Trumpka praising Vice President Joe Biden and insinuating Mrs. Clinton couldn't be trusted on trade, stating he "has been fighting for working people his whole life."
"It implies that HRC has not," the email from Clinton staffer Ann O'Leary to Adrienne Elrod and communications director Jennifer Palmieri reads. "Is there anything we can do to get him to add something nice about HRC?"
"I agree. He is annoying," Elrod responded.
In August, during an economic policy speech in Warren, Michigan, Mrs. Clinton tried to reenforce the claim she now opposes TPP and will as president.
"It is true that too often past trade deals have been sold to the American people with rosy scenarios that did not pan out," she said about Trump's charges that trade deals have wrecked American industry. "Enforcement –particularly during the Bush administration– has been too lax."
Mrs. Clinton also said she would appoint a special trade prosecutor to handle complaints and compliance against countries that cheat on trade. However, the transcripts from her speeches confirm suspicions and the donor money trail–she will be doing no such thing.
"There is so much more we can do, there is a lot of low hanging fruit but businesses on both sides have to make it a priority and it's not for governments to do but governments can either make it easy or make it hard and we have to resist, protectionism, other kinds of barriers," she said during a speech to Banco Itaú on May 15, 2013. Banco Itaú is a Brazilian bank that merged with Unibanco on November 4, 2008, to form Itaú Unibanco.
Virginia Gov. Terry McAuliffe, a longtime Clinton ally under federal investigation for public corruption, told Politico Mrs. Clinton will support TPP if elected.
"Listen, she was in support of it," Gov. McAuliffe said before quickly trying to walk it back. "There were specific things in it she wants fixed."
Except, that's not how trade negotiations work. The deal that was negotiated will be the only version of the deal that moves forward unless it is scrapped and negotiations completely restart.
McAuliffe's admission came less than 24 hours after Mr. Trump warned voters she would "betray" them and a day Mrs. Clinton told the head of the United Automobile Workers (UAW) that she would rewrite North American Free Trade Agreement (NAFTA), a trade deal her husband and former President Bill Clinton signed into law in 1993. It cost Americans millions of jobs in the Rust Belt and around the country. But her public promises don't match her private rhetoric to big donors behind closed doors, where she promises to expand NAFTA.
"Just think of what doubling the trade between the United States and Latin America would mean for everybody in this room," she told Banco Itaú a few months before her promise to the UAW. In remarks to Sanford Bernstein, now the global asset management firm AllianceBernstein L.P., she even discussed how annoying auto workers can be for other foreign leaders who donors wanted to get in on TPP.
"At what level, I can't predict, but it was a good sign when Prime Minister Abe said that Japan would negotiate on the Transpacific partnership, that is something that we tried to get prior prime ministers to commit to, and they were under pressure from the car industry and from the rice farmers and others, but he did say Japan wants to be part of the TPP," she said on May 29, 2013. "If they follow through on that, that will be a good sign."
Critics on both sides of the aisle say it will dictate the operations and give control to corporations of 40% of the global economy, as well as infringe on American sovereignty. The deal would completely eliminate tariffs that are considered barriers to free trade, which Mr. Trump and Sen. Sanders both argue will hurt American companies and workers.
"Greater connections in our own hemisphere hold such promise," Mrs. Clinton said, praising TPP in a paid speech to Canada 2020. "The United States and Canada are working together with a group of open market democracies along the Pacific Rim, Mexico, Colombia, Peru, Chile, to expand responsible trade and economic cooperation."
The deal is still deeply unpopular among base voters on both sides of the aisle and cost her the Michigan Democratic primary, despite leading by double-digits. It was the worst polling debacle since the 1984 New Hampshire Democratic primary. Apparently Michigan voters were on to her. Sen. Sanders and Mr. Trump aren't the only ones who ever questioned Mrs. Clinton's truthfulness regarding trade.
"The fact is, she was saying great things about Nafta until she was running for president," then-Sen. Barack Obama said during the 2008 Democratic nomination.
Mr. Obama was right about her not telling the truth. In a speech to the Canadian Bank of Imperial Commerce (CIBC) on January 22, 2015, she reassured big donors that they could count on her like they did her husband.
"He passed NAFTA," she said, despite knowing he would be "alienating a lot of the Democratic base." Only a few months later, Mrs. Clinton announced she was against TPP.
Meanwhile, Sen. Sanders naively endorsed Mrs. Clinton at the Democratic National Convention and nothing has changed. Clinton's delegates voted down amendments proposed by Sanders supporters to reject TPP in the Democratic platform. Further, the Clinton campaign was actively whipping delegates to oppose the "fair trade" language proposed by Sanders loyalists.
The proposed amendments would have put the Democratic Party on record for opposing a vote on the TPP during the lame duck session of Congress, when lawmakers gather after Election Day but before the new Congress' and President's terms begin in January.
The review comes after PPD reported Mrs. Clinton also told the National Multi-Housing Council that she has two different positions on policy, a public and private position.
"I mean, politics is like sausage being made. It is unsavory, and it always has been that way, but we usually end up where we need to be," she said. "But if everybody's watching, you know, all of the back room discussions and the deals, you know, then people get a little nervous, to say the least. So, you need both a public and a private position."