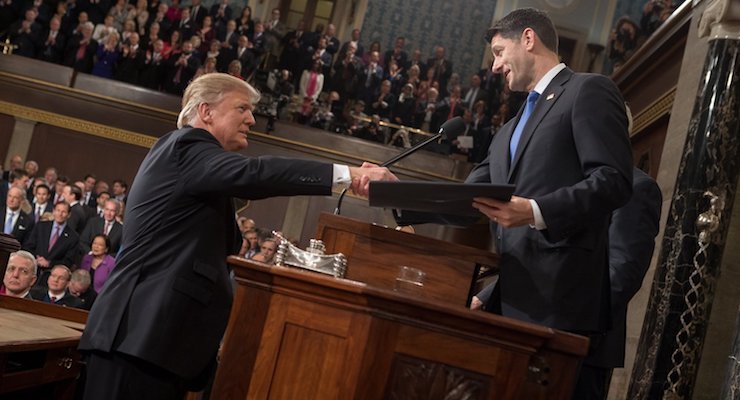 House Republicans have released the text of their long-awaited ObamaCare replacement bill, the American Health Care Act, which will be debated following repeal.
"ObamaCare is rapidly collapsing. Skyrocketing premiums, soaring deductibles, and dwindling choices are not what the people were promised seven years ago. It's time to turn a page and rescue our health care system from this disastrous law," House Speaker Paul Ryan, R-Wis., said in a statement. "The American Health Care Act is a plan to drive down costs, encourage competition, and give every American access to quality, affordable health insurance. It protects young adults, patients with pre-existing conditions, and provides a stable transition so that no one has the rug pulled out from under them."
President Donald J. Trump called on the U.S. Congress to "act decisively" during his address to a joint session of Congress, and Speaker Ryan said Republicans have answered that call. He thanked Health and Human Services Secretary Tom Price and the Trump Administration "for their commitment to keep this promise and get this right" amid continued chaos with the law.
United HealthGroup Inc. (NYSE:UNH), the nation's largest insurer, announced in April 2016 that the company would bail on all but a "handful" of ObamaCare exchanges in 2017. Regulators confirmed they are completely abandoning exchanges in Missouri, North Carolina, Pennsylvania, Tennessee and Washington state, while partially withdrawing from Georgia.
In August, Aetna (NYSE:AET), the nation's third largest insurer, announced the most significant withdrawal from the federal marketplaces set up by ObamaCare to date. Citing heavy losses, Chairman and CEO Mark T. Bertolini said Aetna would severely reduce its participation from 15 states to just 4 in 2017.
Now, nearly 33% of all U.S. counties have only one insurer offering plans on their state's exchange and 34% fewer doctors and other health care providers accept ObamaCare insurance compared to private insurance. In October last year, the Obama administration itself confirmed insurance premiums for a midlevel benchmark plan will increase an average of 25% across the 39 states served by the federally run online market before taxpayer-provided subsidies.
The ObamaCare replacement bill eliminates the individual and employer mandates, as well taxes associated with the healthcare law passed by the Democratic Party. It also aims to keep the more popular provisions such as allowing dependents to stay on their parents' plan until they are 26 years old, and prohibit health insurers from denying coverage or charging more money to patients with pre-existing conditions.
To pay for insurance, the bill gives Americans a monthly tax credit between $2,000 and $14,000 a year for low- and middle-income individuals and families who don't receive insurance through work or a government program. This provision is more controversial and is opposed by members of the House Freedom Caucus and Sen. Rand Paul, who said last weekend the government might as well just buy them insurance.
It encourages expanding Health Savings Accounts (HSAs) by almost doubling the amount of money people can contribute and increasing how people can use it. On Medicaid, the House adopted President Trump's plan to modernize and strengthen the entitlement by moving it to a "per capita allotment" basis, allowing states to play a larger role. In another adoptive presidential provision, the bill establishes a Patient and State Stability Fund.
"Working together, this unified Republican government will deliver relief and peace of mind to the millions of Americans suffering under ObamaCare," Speaker Ryan added. "This will proceed through a transparent process of regular order in full view of the public."
[social-media-buttons]
[pdfviewer width="740px" height="849px" beta="true/false"]https://www.peoplespunditdaily.com/wp-content/uploads/2017/03/AmericanHealthCareAct.pdf[/pdfviewer]