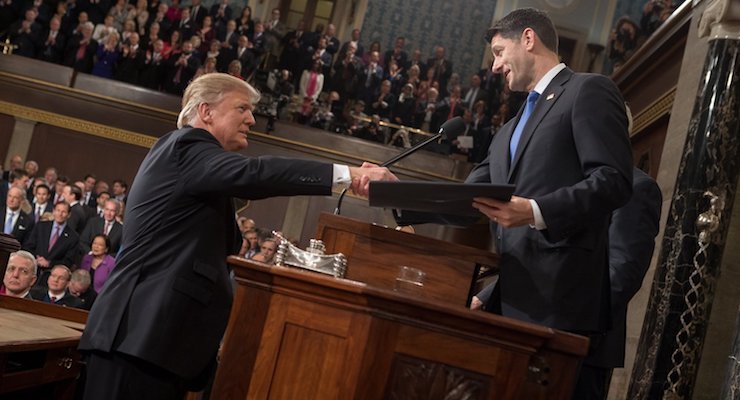 The Congressional Budget Office (CBO) released their highly-anticipated scoring of the ObamaCare repeal bill, the American Health Care Act (AHCA),  and its favorable. The report, which was anticipated to be a political hammer for Democrats, is a huge boon to President Donald J. Trump and House Speaker Paul Ryan, R-Wis., against more conservative opposition in the House and Senate.
"CBO and JCT estimate that enacting the legislation would reduce federal deficits by $337 billion over the 2017-2026 period," the CBO said. "That total consists of $323 billion in on-budget savings and $13 billion in off-budget savings. Outlays would be reduced by $1.2 trillion over the period, and revenues would be reduced by $0.9 trillion."
[social-media-buttons]
The loss of coverage is due by and large to the repeal of the mandate. Put bluntly, Americans receiving Medicaid are not those initially impacted by the repeal of ObamaCare. Rather those who lose coverage are Americans who were previously forced to purchase coverage under ObamaCare and are likely to choose not to after repeal.
"CBO and JCT estimate that, in 2018, 14 million more people would be uninsured under the legislation than under current law," the report says. "Most of that increase would stem from repealing the penalties associated with the individual mandate. Some of those people would choose not to have insurance because they chose to be covered by insurance under current law only to avoid paying the penalties, and some people would forgo insurance in response to higher premiums."
Health and Human Services Secretary Tom Price disputed the claim that up to 24 million could lose coverage by 2026, which is being touted by Democrats. As Secretary Price noted, it would require those who are on Medicaid to choose not to keep a free product, something that is highly unlikely given historic trends.
Worth noting, the CBO when scoring ObamaCare overestimated the amount of people who would gain coverage by the exact same number—24 million.
It's a shocking report considering the nature of CBO scoring methodologies. They use static scoring methods, not dynamic. Thus, it is entirely possible they are overestimated the rise in premiums and, therefore, overestimating the number of Americans who would choose not to purchase insurance coverage. House Republicans and the Trump Administration argue further amendments to the bill allow more competition by permitting the purchase of insurance across state lines, which is prohibited now.
More competition leads to lower costs as insurers compete for more business. As it stands under ObamaCare, they aren't just not competing but also not participating.
United HealthGroup Inc. (NYSE:UNH), the nation's largest insurer, announced in April 2016 that the company would bail on all but a "handful" of ObamaCare exchanges in 2017. Regulators confirmed they are completely abandoning exchanges in Missouri, North Carolina, Pennsylvania, Tennessee and Washington state, while partially withdrawing from Georgia.
[social-media-buttons]
In August, Aetna (NYSE:AET), the nation's third largest insurer, announced the most significant withdrawal from the federal marketplaces set up by ObamaCare to date. Citing heavy losses, Chairman and CEO Mark T. Bertolini said Aetna would severely reduce its participation from 15 states to just 4 in 2017.
Now, nearly 33% of all U.S. counties have only one insurer offering plans on their state's exchange and 34% fewer doctors and other health care providers accept ObamaCare insurance compared to private insurance. In October last year, the Obama administration itself confirmed insurance premiums for a midlevel benchmark plan will increase an average of 25% across the 39 states served by the federally run online market before taxpayer-provided subsidies.
Still, the CBO estimates that the 15 percent to 20 percent higher premium increases will be temporary and the American Health Care Act would actually reduce premiums after 2020.
"The legislation would tend to increase average premiums in the nongroup market prior to 2020 and lower average premiums thereafter, relative to projections under current law," the report adds. From the report:
Starting in 2020, the increase in average premiums from repealing the individual mandate penalties would be more than offset by the combination of several factors that would decrease those premiums: grants to states from the Patient and State Stability Fund (which CBO and JCT expect to largely be used by states to limit the costs to insurers of enrollees with very high claims); the elimination of the requirement for insurers to offer plans covering certain percentages of the cost of covered benefits; and a younger mix of enrollees. By 2026, average premiums for single policyholders in the nongroup market under the legislation would be roughly 10 percent lower than under current law, CBO and JCT estimate.
Speaker Ryan took a victory lap following the release of the CBO report.
"This report confirms that the American Health Care Act will lower premiums and improve access to quality, affordable care. CBO also finds that this legislation will provide massive tax relief, dramatically reduce the deficit, and make the most fundamental entitlement reform in more than a generation," the speaker said in a statement. "These are things we are achieving in just the first of a three-pronged approach. It's important to note that this report does not take into consideration additional steps Congress and the Trump administration are taking that will further lower costs and increase choices."
[social-media-buttons]
[pdfviewer width="740px" height="849px" beta="true/false"]https://www.peoplespunditdaily.com/wp-content/uploads/2017/03/CBO-Report-American-Health-Care-Act.pdf[/pdfviewer]