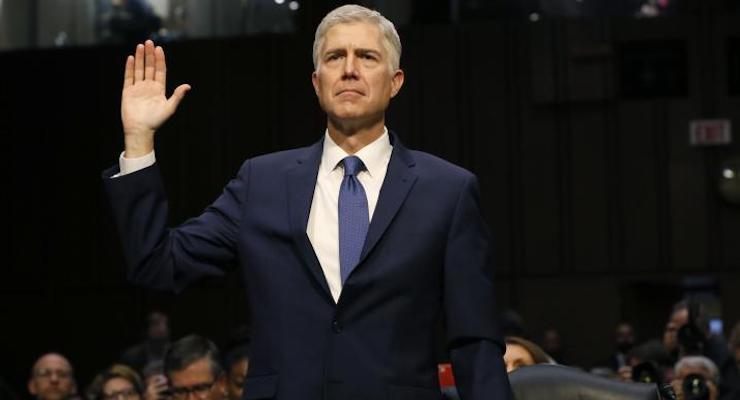 Judge Neil Gorsuch said in his opening statement on day one of his Senate confirmation hearing that "a judges job is to follow the words in the law, not replace them." Praising his former boss Justice Anthony Kennedy and his former mentor, the late Justice Antonin Scalia, President Donald J. Trump's pick for the U.S. Supreme Court made his judicial philosophy clear.
"Justice Scalia was also a mentor," he said. "He reminded us that words matter; that a judge's job is to follow the words in the law, not replace them with those that aren't."
Judge Gorsuch, 49, who serves on the U.S. Court of Appeals for the 10th Circuit in Colorado, touted that he has been in "the majority 99% of the time." Appointed in 2006 by President George W. Bush, he was previously a deputy assistant attorney general at the Justice Department and is the youngest Supreme Court nominee in 25 years. In July 2006, Judge Gorsuch was confirmed by the Senate unanimously by a voice vote, including the vote of Senate Minority Leader Chuck Schumer, D-N.Y.
The American Bar Association, which is a known leftwing association, has given Judge Gorsuch a stellar rating. But Senate Democrats have already said they will obstruct the confirmation, which comes as liberal judges in federal district and appellate courts have sought to use judicial activism to stop President Trump's key agenda items, including a temporary travel ban on 6 Muslim-majority nations known to be hotbeds of Islamic terrorism.
U.S. District Judge Derrick Watson, who was nominated to the federal bench by President Barack Obama, granted a temporary halt to President Trump's revised travel ban after the Ninth Circuit Court of Appeals blocked the first executive order. The very liberal court is the most overturned court in the country, seeing almost 90% of their rulings thrown out by the High Court.
Judge Watson's heavily criticized ruling was based on the Establishment Clause, meaning he agreed it was a faith-based ban despite 90% of the world's Muslim population not being impacted. President Trump called the ruling, which came less than two hours after the hearing, an "unprecedented judicial overreach." The judge in Hawaii conceded he couldn't stay within the letter of the law because it was President Trump who signed the executive order.
Judge Gorsuch slammed such activism as legislating from the bench.
"It's time to lose our egos and open our minds," he said, criticizing judges who are "secret legislators."
"If judges were just secret legislators, declaring not what the law is but what they would like it to be, the very idea of a government by the people and for the people would be at risk," Judge Gorsuch said.
Polls show most voters view Judge Gorsuch as mainstream and, further, more voters support his confirmation than they did for President Barack Obama's nominees. Him being viewed as mainstream is fueled in large part by 68% of likely voters believing the Court should rule based on what's written in the U.S. Constitution and legal precedents.