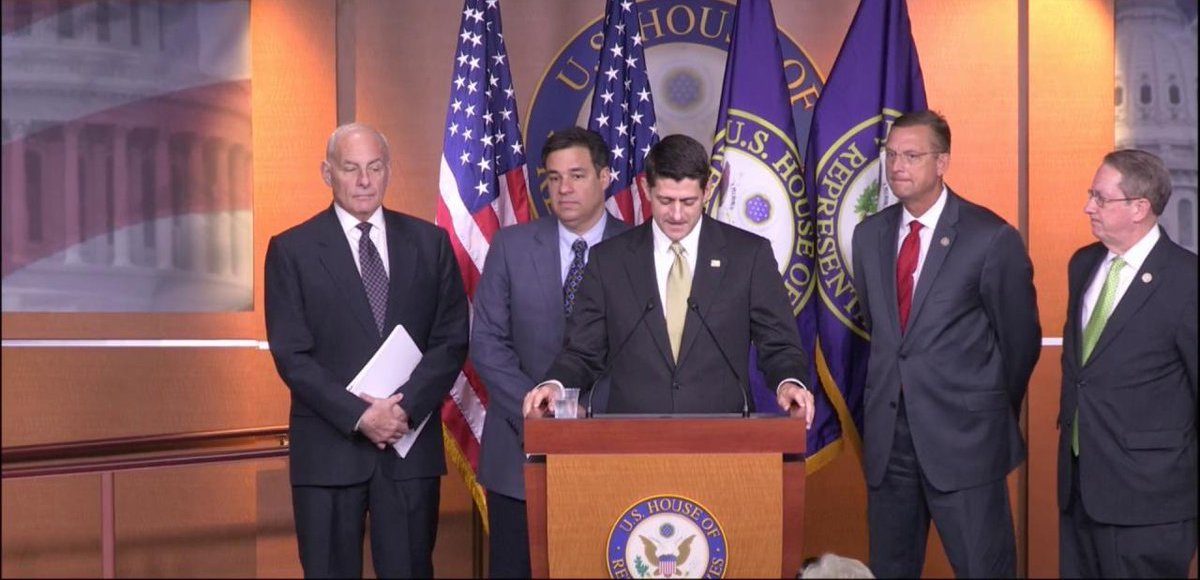 The Republican-controlled U.S. House of Representatives on Thursday approved Kate's Law and the No Sanctuary for Criminals Act to crackdown on illegal immigration. The two pieces of legislation face a tougher battle in the U.S. Senate, but remain widely popular among American voters.
The first, named after 32-year-old Kate Steinle, who was shot and killed on July 1, 2015 near San Francisco by Juan Francisco Lopez-Sanchez, passed with a vote of 257 to 157. Only one Republican voted no and only 24 Democrats voted yes.
"He shouldn't have been in the country and Kate shouldn't be dead," House Speaker Paul Ryan, R-Wis., said in a statement during his press conference on Thursday. "Sanctuary cities are putting lives at risk and we cannot tolerate that."
President Donald J. Trump, who made illegal immigration and related crime a centerpiece of his campaign, praised the passage on the bill on Twitter.
"Good news" the President wrote in a tweet, adding "House just passed #KatesLaw. Hopefully Senate will follow."
Kate's Law (H.R. 3004) will toughen the punishment for illegal immigrants who re-enter the country and give judges more discretion on detainment. On Thursday, President Trump highlighted other cases during a White House meeting with more than a dozen families of people who had been victimized by illegal immigrants, including Jamiel Shaw Sr.
Mr. Shaw, who characterized his growing relationship with the President as a "friendship," lost his 17-year-old son Jamiel to an illegal immigrant. He was shot and killed in California in March 2008.
"He was living the dream," Shaw said during the meeting. "That was squashed out."
The No Sanctuary for Criminals Act (H.R. 3003) would restrict eligibility to receive certain Department of Justice or Department (DOJ) of Homeland Security (DHS) grants for states and localities that do not comply with federal immigration law and reallocate those funds to those that are in compliance. It also provides for more robust detention of criminal aliens.
"The word 'sanctuary' calls to mind someplace safe, but too often for families and victims affected by illegal immigrant crime, sanctuary cities are anything but safe," Homeland Security Secretary John Kelly said in a press conference before the vote. "It is beyond my comprehension why federal state and local officials … would actively discourage or outright prevent law enforcement agencies from upholding the laws of the United States."
It passed by a vote of 228-195 with only 3 Democrats voting yes and 7 Republicans voting no.
A recent survey found 62% of likely voters want the DOJ to punish cities that provide sanctuary for illegal immigrants. Another recent Harvard-Harris poll found 80% of Americans believe local authorities should comply with federal immigration authorities.
"The Administration strongly supports House passage of H.R. 3003, the No Sanctuary for Criminals Act," the White House said in a statement. "This bill would ensure that American taxpayers are not subsidizing States and localities that work to affirmatively thwart Federal law enforcement efforts."